In recent weeks, an alarming number of rape cases have been reported across India. The incidents seem to be getting uglier and more frighteningly brutal as the country asks what measures can be taken to better protect women and girls.
The most gruesome case occurred last week in Rohtak, a town in the northern state of Haryana. A 23-year-old woman was gang raped by seven men, killed and smashed in the face with stones to conceal her identity. Her mangled body was reportedly found with stray dogs picking at the remains. Doctors were reportedly shocked beyond words at the extent of the assault. Two suspects have been arrested while the others are still on the run.
A few days later, a 22-year old woman from the northeastern state of Sikkim reported being gang-raped in the Delhi suburb of Gurugram by three men in a moving car. The culprits are still at large.
Both of these horrific crimes come shortly after India's Supreme Court upheld the death sentences of four men convicted of brutally raping and killing a medical student in Delhi in 2012. The incident grabbed international headlines and put a spotlight on the dire state of women's rights in India.
And the series of violence continues. Last week, a 24-year-old Mumbai woman, Priyanka Gurav, was killed five days after marriage. Her headless torso and other body parts were found scattered in a forest.
Last month, a ten-month-old baby girl was allegedly raped by a family member in Jamnagar district of the western state of Gujarat. A month earlier, a 15-year-old girl from the southern city of Chennai set herself on fire after being allegedly raped by her 36-year-old uncle who threatened to circulate the video of the act on social media.
How can the violence be stopped?
What will it take to stop the increasing cases of rape and sexual violence in India? There do not seem to be any easy answers, especially in a climate where sexual violence has become normalized and capital punishment against offenders has failed to act as a deterrent.
Another unfortunate aspect of this disturbing trend is an increase in the number of rape cases against children.
According to data compiled by the National Crime Records Bureau (NCRB) for 2015, 8,800 cases of child rape were registered across the country under the Protection of Children Against Sexual Offences Act. In at least a quarter of the cases, the offenders were found to be employers or relatives. Despite the painstaking data collected on crimes, India still does not have a national registry for sex offenders.
A new approach required
Activists say rape is as a social problem in India that is shrouded in shame and stigma in a country governed by conventional patriarchy. They are calling for whole-scale systemic changes.
"We make the mistake of focusing on gory and graphic details of such crimes," Kavita Krishnan, secretary of the All India Progressive Women's Association, told DW. "We need to look at a complete overhaul in terms of policing - more accountability from prosecuting agencies and more judges," She added.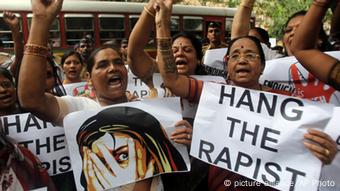 Public outcry against rape has steadily risen since a 2012 rape shocked the nation
Krishnan, who was at the forefront of protests during the 2012 medical student's death, also called for a more open "culture of conversation relating to consensual sex and autonomy for women."
The National Commission for Women (NCW), whose mandate is also to ensure that investigations by the police are expedited and monitored, believes there is now more reporting of sexual violence - which has led to increased media coverage.
"Filing of a first information report has now become mandatory for the police and that is why more and more women are coming out," Rekha Sharma, a NCW member told DW. "But what we also need urgently is a fast-track judicial system and a more pro-active police which is badly needed," she said.
The police-to-population ratio is woefully short in India. The country was short of more than half a million police officers as of January 1, 2015, the last date for which nationwide data is available. There were 17.2 million police officers across 36 states and union territories, when there should have been 22.6 million, according to the ministry of home affairs.
More women joining the workforce in cities is cited by some as a reason behind the huge spike in rape incidents in urban areas. In rural areas, the rising trend can be attributed to a pervasive caste system where the girls usually belong to a lower caste than the rapists.
Regardless of the social causes, activists are still shocked by the brutality and the kind of violence that is inflicted on women regularly.
"We can only deal with all this if we are willing to confront the many problematic choices we are making in terms of how we perceive social relationships. Here is where citizen engagement is a must," Akhila Sivadas, a development professional, told DW.
While the issue of women's safety continues to receive attention, India has to live with the uncomfortable fact that there is currently a big problem with sexual violence against her women and children.