US President Donald Trump landed in Hawaii on Friday on the first stop before an 11-day Asia trip that will see him visit Japan, South Korea, China, Vietnam and the Philippines.
Trump was scheduled to meet with leaders of the US Pacific Command for a classified briefing, before visiting with his wife Melania the USS Arizona Memorial at Pearl Harbor, the resting place of more than 1,000 sailors and Marines killed by a surprise Japanese attack on Dec. 7, 1941.
"We are going to visit very shortly, Pearl Harbor, which I've read about, spoken about, heard about, studied, but I haven't seen. And that is going to be very exciting for me," Trump said before meeting with military leaders.
Read more: In Asia, Donald Trump must act as explainer-in-chief
Trump's upcoming Asia trip: Japan proposes plan to counter China
The briefing at US Pacific Command, which covers the East Asia region, was expected to focus on North Korea.
North Korea's nuclear and ballistic missile programs and trade are the main items on the agenda of the president's trip to Asia.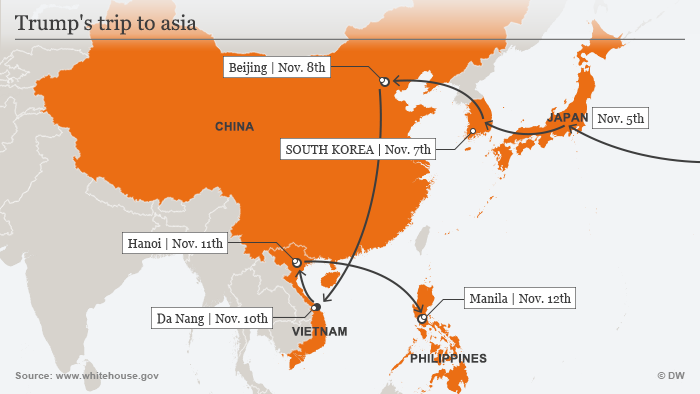 Possible meeting with Putin
"We'll be talking about trade. We'll be talking about, obviously, North Korea," Trump said before departing Washington. "We'll be enlisting the help of a lot of people and countries, and we'll see what happens. But I think we're going to have a very successful trip. There is a lot of good will."
Trump will fly on Saturday to Japan, a strategic US ally and economic partner worried about North Korea. The visits to South Korea and China are also expected to be centered on pressuring North Korea.
In Vietnam, Trump will attend the the Asia-Pacific Economic Cooperation summit in Danang and make a state visit to Hanoi. In the Philippines, the president will attend an Association of Southeast Asian Nations summit in Manila.
In Manila, Trump and Russian President Vladimir Putin may also meet to discuss North Korea, Syria and Ukraine.
The trip, the longest by a US president in nearly 25 years, comes as Trump faces renewed pressure at home over a widening investigation into ties between his campaign and Russia.
He will also be absent as the Republican-controlled Congress seeks to advance tax reform.
cw/bw (AP, dpa, Reuters)