Croatia initially welcomed the refugees but quickly became overwhelmed when more than 13,000 crossed in from Serbia within just 48 hours of Hungary closing off its border. Since Croatia is not in the Schengen zone, the refugees and migrants have had to attempt crossing into Slovenia through yet another border in order to be just a few steps closer to their desired destination. For most that destination is Germany, which is expecting upwards of 800,000 asylum seekers this year.
Slovenia has a population of just 2 million people and is an EU member state within the Schengen borderless travel zone, the first the refugees can reach without crossing into Hungary. However, passing through this country has not come easy. Many became stuck at the main border crossing - along the highway that connects the Croatian and Slovenian capitals. For four days, the border crossing at the Croatian border town of Bregana became a makeshift refugee camp, before Slovenia eventually allowed the rest of them in, but saying no more after that.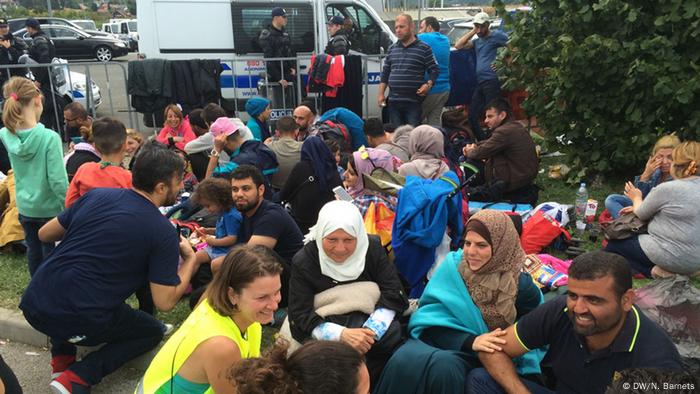 The border area has turned into a makeshift camp as hundreds wait to travel on to western Europe
Waiting game
23-year-old Farook, an Iraqi refugee from Kirkuk, waited three days to cross into Slovenia. A college student studying dentistry, sectarian battles at home left him with no future except for war and death so he decided to make an attempt to reach Europe. "People there said wait for the government, they will control everything. They can't control this, there's too many people, so we decided to come here on our own," he told DW. "I have relatives in Austria, so I want to try and settle there. My uncle and his wife passed through to Slovenia before me, but its ok, eventually I will get there," he said confidently.
13-year-old Sami, who asked not to reveal his real name due to fear about the safety of his family members back in Syria, is traveling with his older brother. They have a number of relatives in both Germany and Sweden. "My brother and I are trying to get to Hamburg because my brother wants to continue his civil engineering studies there," he told DW. "We want to live a happy life and a safe life," he added. "We are very friendly and don't want to create a danger for anybody."
Volunteers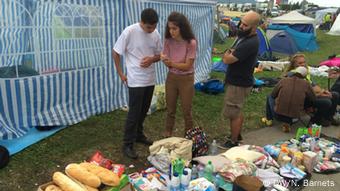 Volunteers like Ivana are critical of their government's response
Once word got out that refugees and migrants were stranded at the Slovenian border, volunteers from both sides poured in to help. Ivana heard about the situation and drove to the border from Zagreb with food, water, and toiletries such as wet wipes, hand sanitizer, and baby products. "It's what a normal person would do," she told DW. "There is no excuse nowadays not to react and act like you did not know." She also criticized her government's somewhat disorganized response to the crisis. "There could have been more preparation. Our government ignored it until they couldn't anymore."
The Croatian government for its part is responding humanely but is not holding back in its criticism of neighboring countries for their handling of the situation. Croatia sent trains and buses full of refugees arriving from Serbia north to the Hungarian border, despite the fact that Hungary is building a fence along its border, in order to force Hungary to let them through.
Croatia's eastern border with Serbia has become increasingly difficult to cross, with temporary closures and tighter security resulting in 20-kilometer-long lines of freight traffic waiting to cross. This sparked a protest by truck drivers on both sides, who blocked the main highway crossing, deflecting traffic to smaller crossings and causing delays there.
While EU-wide meetings are held to find a solution, an unprecedented number of refugees continues to pour into Europe. As the weather gradually begins to turn colder and stormier from the Aegean to the Alps, their journey into Europe is becoming ever more dangerous.