Austria further relaxed COVID-19 restrictions on Saturday, scrapping proof of vaccination or recent recovery as a requirement to enter shops and museums.
People in the country can now enter these public places as long as they are wearing FFP2 masks.
Curbs on the number of people attending public events have also been eased. However, spectators will have to wear face masks at events such as football matches.
People in Austria, except Vienna, will be allowed back into restaurants starting February 17, if they have tested negative. This rule applies to tourists as well.
Earlier, only those vaccinated or recovered were allowed to dine out.
Here are the latest major developments on coronavirus from around the world:
Europe
Germany saw renewed protests against COVID restrictions, with authorities estimating that thousands took part — but they were also opposed by counter-demonstrators.
The biggest demonstrations took place in Freiberg and Berlin, where participants from both sides amounted to around 3,000.
Authorities in the southern city of Ulm said they have launched an investigation into a 32-year-old man who showed up at an unsanctioned demonstration carrying an axe and wearing a gas mask.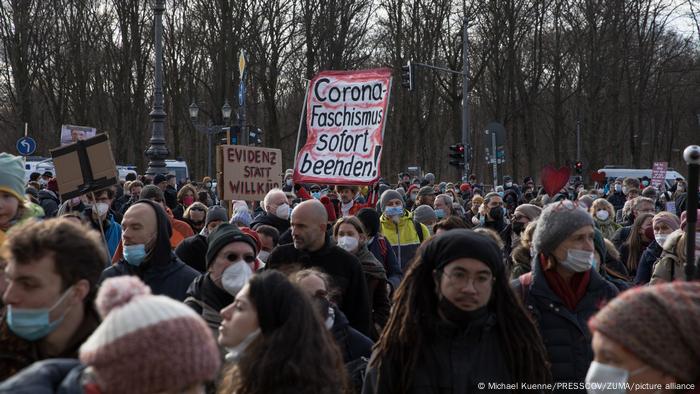 Around 3,000 anti-COVID vaccination protesters — and counter demonstrators — gathered in Berlin on Saturday
Health officials, meanwhile, reported 209,789 new infections in the past 24 hours, marginally lower than the figure last week, according to data from the Robert Koch Institute (RKI).
The country's seven-day incidence rose to a new high of 1474.3 compared with 1472.2 on the previous day. The RKI further reported 198 new deaths, taking Germany's total COVID death toll to 119,877.
German Vice Chancellor Robert Habeck said that the easing of coronavirus restrictions should be done in a phased and coordinated manner.
He said the first steps toward reopening should be agreed upon at a meeting between the federal and state governments.
"According to expert estimates, the peak of the omicron wave is to be expected in mid-February," he said. "We need to clarify what comes first, what the individual stages can look like for opening up, and what are the uniform federal criteria."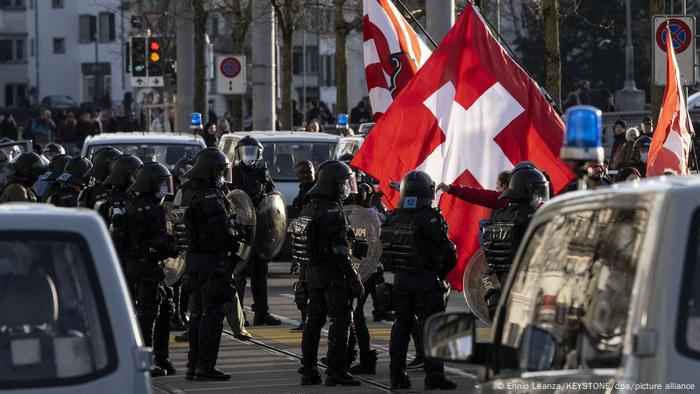 Thousands of counter demonstrators marched in opposition to a smaller anti-COVID curbs protest in Zurich, Switzerland
In Zurich, Switzerland, hundreds of people took part in an illegal demonstration against the country's current pandemic curbs — although the restrictions are in the process of being lifted. They were met by several thousand counter-demonstrators, who also gathered despite not being permitted to do so. Participants in the counter-demonstration marched through Switzerland's biggest city chanting: "Keep Zurich Nazi-free."
In France, Paris police fired tear gas against a small group of demonstrators who took part in a convoy demonstration, despite the vehicle protest being banned.
Thousands of police personnel were deployed in an effort to prevent a threatened blockade of Paris by anti-COVID vaccination activists.
The protesters have driven in convoys from across France, hoping to blockade the capital. They are demanding a withdrawal of the government's vaccine pass, which is required to enter most public spaces.
"If they block traffic or if they try to block the capital, we must be very firm about this," said Prime Minister Jean Castex.
Meanwhile, the French government has announced that a negative COVID-19 test was no longer required for vaccinated travelers arriving in the country.
From Saturday, "proof of vaccination will be sufficient to come to France whatever country you are coming from, just as it was before the spread of the omicron variant," a government statement said.
Norway is ditching almost all of its remaining lockdown measures as high levels of COVID infections are unlikely to jeopardize its health system, Prime Minister Jonas Gahr Stoere said on Saturday.
The Nordic country will still keep some restrictions in place for the Arctic archipelago of Svalbard.
The new measures, which will come into effect from Saturday at 1000 CET (0900 GMT), include relaxing the one-metre apart rule while citizens will no longer have to wear face masks in crowded environments. The removal of these restrictions will enable nightclubs and other affected entertainment venues to reopen.
Moreover, infected individuals will no longer have to isolate. Instead, they are recommended to stay home for four days.
"We are removing almost all coronavirus measures," Prime Minister Jonas Gahr Stoere told a news conference.
"The coronavirus pandemic is no longer a major health threat to most of us. The omicron virus causes far less serious illness and we are well protected by vaccines."
Asia-Pacific
China has given conditional approval for the use of Pfizer's COVID-19 drug, Paxlovid. This is the first oral pill specifically developed to treat the disease to be cleared in the country.
Paxlovid has been approved to treat adults who have mild to moderate symptoms and a high risk of developing severe disease, said Chinese regulator National Medical Products Administration.
"This is an important milestone in our fight against COVID-19," Pfizer said in a statement.
The pharma giant expects $50 billion (€44 billion) in 2022 sales of its coronavirus jab and therapeutic treatment. So far, the drug has been authorized in about 40 countries, including the US and Israel.
South Korea has reported a record high in daily infections. The country saw 54,941 new coronavirus cases on Friday, according to the Korea Disease Control and Prevention Agency. Its total infections stand at 1,294,205, with 7,045 additional deaths in the country of 52 million people.
In New Zealand, hundreds of demonstrators protesting COVID restrictions have gathered for a fifth day despite drenching rain.
The protests are inspired by Canada's self-styled "Freedom Convoy," trucker-led demonstrations against coronavirus restrictions.
In Wellington, they occupied and blocked several streets surrounding the distinctive "Beehive" parliament with their trucks, vans and motorcycles.
Similar scenes were witnessed in neighboring Australia, where several thousand protesters gathered at the capital's major showgrounds. Prime Minister Scott Morrison urged demonstrators to keep their protests peaceful.
Both New Zealand and Australia boast around 94% full vaccination rate.
rs, adi/dj (AFP, dpa, Reuters)