UK pupils are set to go back to school on March 8, with non-essential retail stores scheduled to open their doors against from April 12, Prime Minister Boris Johnson said on Monday.
Addressing the public, the UK prime minister said that the approach to lift the restrictions would be "gradual and cautious." The government hopes that the life in the country would return to normal by late June.
Britain is one of the countries hardest-hit globally by the COVID-19 pandemic, with more than 120,000 deaths from the virus. But it was also the first nation to begin a mass vaccination campaign.
The roadmap would only apply to England, with lockdown rules in Scotland, Wales and Northern Ireland overseen by devolved administrations in each country.
The success of the vaccine rollout means that more than 17 million people have now received at least a first vaccine dose — a third of the adult UK population.
Europe
The number of confirmed cases in Germany has increased by 4,369 to 2,390,928, according to the Robert Koch Institute (RKI) for infectious diseases. The reported death toll has risen by 62, bringing the total to 67,903.
The figure marks a significant decrease in the number of daily deaths, as Germany continues a monthslong lockdown which has seen nonessential businesses shut and private meetings limited.
German elementary schools and child daycare centers reopened on Monday in 10 German states despite a slight rise in infections.
Research carried out by political scientists from the southern German city of Freiburg revealed that only 20% of self-described voters for the far-right Alternative for Germany (AfD) party plan on accepting a vaccine.
Some 90% of supporters of three other main parties, the Greens, the center-left Socialist Party of Germany (SPD) and the center-right Christian Democratic Union and Christian Socialist Union (CDU/CSU) parties said they were willing to be vaccinated.
Among voters of the Left party, 80% were open to the vaccine, while 66% of the liberal Free Democratic Party (FDP) voters said they would happily receive the jab.
German brewers have been forced to throw away millions of euros worth of beer due to Germany's lockdown as pubs, bars and restaurants remain closed.
The brewers called on the government on Monday to include them in programs for financial aid for industries struggling during the crisis. Pubs and beers already receive government support, but brewers do not.
French pharmaceutical company Sanofi said on Monday that it would start producing doses of the Johnson & Johnson vaccine, aiming for as much as 12 million a month.
The company had already agreed to bottle and package vaccine doses for its rival BioNTech-Pfizer. Sanofi also has its own COVID-19 vaccine in development.
Italy extended a ban on travel between regions until March 27 fearing a new surge due to the spread of the more contagious new variant of the virus first discovered in the UK.
Health ministry officials also said that they planned to tell the different regions to use up all their available doses to give as many people as possible at least one shot rather than saving up doses for second shots.
Asia and Oceania
Japan will only receive limited doses of COVID-19 vaccines for the first months of the country's immunization rollout, the country's inoculation chief has said. Shots for the elderly will be distributed gradually.
Increased supplies from Pfizer, the maker of Japan's only approved COVID-19 vaccine, are not likely to reach the country until May.
Australia has kicked off its mass COVID-19 vaccine program. Front-line health care staff and senior citizens will be getting their doses first. Authorities hope to administer more than 60,000 doses by the end of the week.
New Zealand is lifting remaining the coronavirus restrictions from Auckland. The city was placed into a three-day lockdown earlier this month after several people tested positive, but the country has largely managed to stamp out the spread of the pandemic.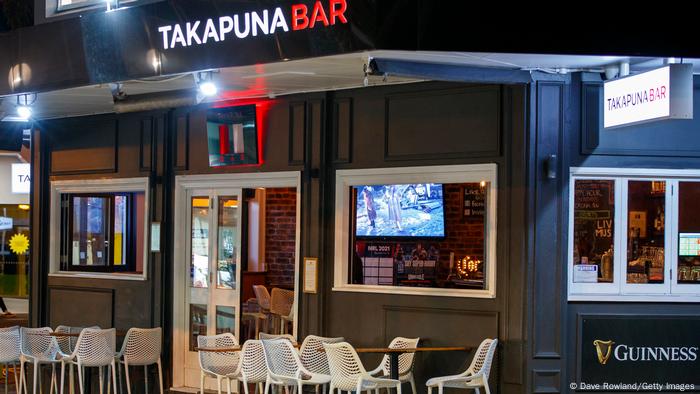 Auckland came out of a short three-day lockdown after a mystery cluster broke out
Doctors in South Korea have threatened to strike against legislation to strip them of their licenses following criminal convictions, creating fears of a possible disruption to vaccine distribution.
The country's vaccine drive is set to begin this week, and health care workers are scheduled to receive the first batch of the AstraZeneca vaccine on Friday. Seoul hopes to protect at least 10 million high-risk people by July, and reach herd immunity by November.
Philippine President Rodrigo Duterte refused to ease coronavirus restrictions before vaccinations are rolled out, according to his spokesman.
Duterte has been under pressure recently as businessmen push to have freedom for commercial activities.
The government has authorized the emergency use of Sinovac, AstraZeneca and BioNTech-Pfizer. But The Philippines has not received any COVID-19 vaccine shots yet.
The government aims to buy 148 million doses to inoculate 50 to 70 million Filipinos this year.
Gaza began a limited vaccination program after receiving doses donated by Russia and the United Arab Emirates. Officials are administering the first of their 22,000 Russia Sputnik V doses to health care workers, to be followed by patients with chronic diseases and those over 60 years old. A wider campaign in the territory, which has around 2 million inhabitants, will begin later.
Gaza received its first vaccine shipment last week after Israel approved a transfer of 2,000 doses that Russia had donated to the Palestinian Authority, which has limited self-rule in the occupied West Bank. It has separately received 20,000 Russian doses from the UAE.
Africa
President John Magufuli of Tanzania has finally started acknowledging that his country has a coronavirus problem, urging citizens to wear face coverings and take other hygiene precautions.
It marks a change of tack for Magufuli, who has claimed for months that the disease could be defeated by prayer.
Americas
President Joe Biden will commemorate the more than 500,000 lives lost from COVID-19 in the United States with a moment of silence and candle-lighting ceremony at the White House.
The nation is expected to pass the grim milestone on Monday.
ab,kmm/ csb (dpa, Reuters, AFP, AP)