How many people took to the streets in Chechnya's capital Grozny to protest against the persecution of the Rohingya people in Myanmar is unknown. But according to DW research, it must have been significantly fewer than the official figure of 1.1 million.
Monday's protest was organized by supporters of Chechen President Ramzan Kadyrov. That means school and university students, factory workers in factories and retirees will all have been strongly encouraged to take part, observers on the ground believe.
Read more: Ramzan Kadyrov wants to be global Muslim number one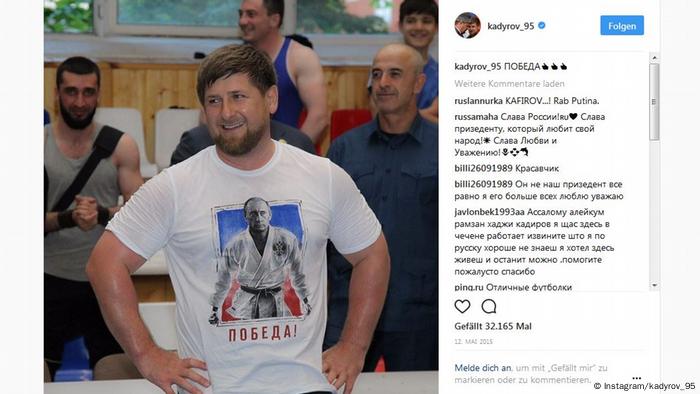 Ramzan Kadyrov is dedicated to maintaining his public image
Kadyrov wants to establish himself as a leader of the Muslim world. The discrimination of Rohingya in Myanmar has little to do directly with the North Caucasus region. But Kadyrov believes that his rallies will score him points with his compatriots and against the Kremlin, according to Moscow experts.
"He wants to be an influential leader in the Islamic world," said Alexei Malashenko from the Moscow-based "Institute for the dialogue of the civilizations." That could also explain why 41-year-old Kadyrov, a devout Muslim, regularly comments on the peace process in the Middle East and other occurances in the Muslim world.
Read more: Germany grants first visa to protect Chechen gays
Regional overlord
The demonstrations in Grozny called for Russian President Vladimir Putin to "use his international esteem to stop the genocide against the Muslims in Myanmar." Ramzan Kadyrov has consistently been supportive of Putin. And he could be expected remain so in the future, political scientist Malashenko believes.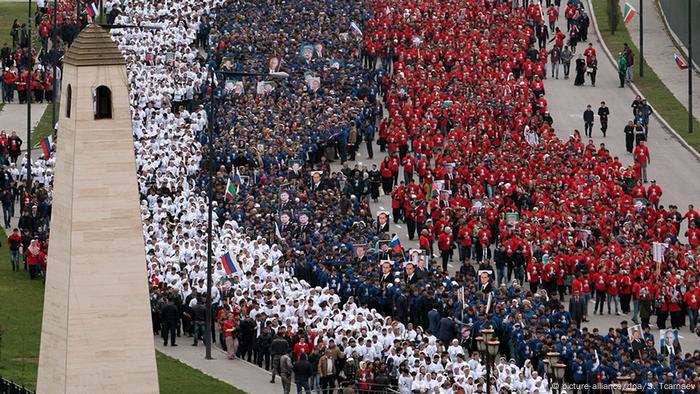 Vladimir Putin's birthday is celebrated in style in Grozny
Nonetheless Kadryov, the political overlord of the North Caucasus, feels entitled to comment on international politics. Yet the Kremlin is in fact responsible for the foreign policy of the otherwise autonomous republic Chechnya. It could see this as a provocation, but shies away from confrontations with Kadyrov. "Putin can't do without Kadyrov – and Kadyrov is dependent on Putin," Malashenko told DW.
Putin has since stated that Kadyrov's comments on events in Myanmar are simply his private opinion. There was no mention of the protests in Grozny, that have since died down. But people also took to the streets in Moscow, where they protested in front of Myanmar's embassy. This could prove problematic for the Kremlin. Security forces arrested 17 people, all reportedly from Chechnya.
Read more: Gay men flee persecution and honor killings in Chechnya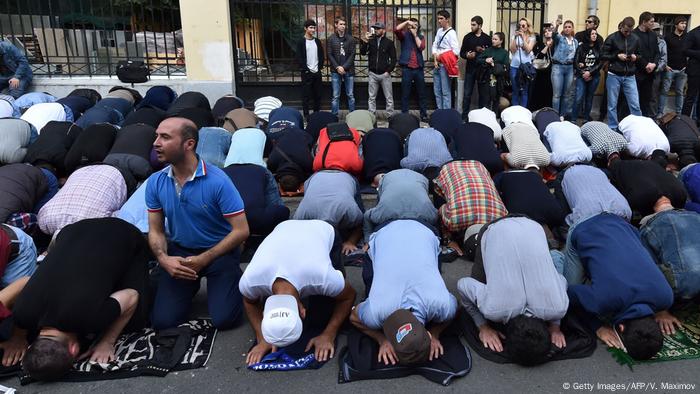 Hundreds of Muslims protested outside Myanmar's embassy in Moscow
Moscow blocks resolution
The Kremlin is trying to downplay the events in Myanmar. Putin's spokesman Dimitry Peskov refused to comment on the oppression of the Rohingya people. "We know that Muslims react very emotionally to the occurances in Myanmar," he said, adding that the Kremlin did not have an official stance on the events. Last year, Russia and Myanmar agreed that their military forces would work more closely together. Together with China, Moscow in March blocked a UN security council resolution that sought to protect the Myanmar minority.
This is also why no-one is expecting the Kremlin to condemn the administration in Myanmar. Steadily improving relations with China is of central importance to Russia. Beijing has traditionally been one of the patrons of Myanmar, so a good relationship with Myanmar could be key for Moscow, which is seeking to widen its political and economic influence in Southeast Asia.
Above all though, the Kremlin is desperate to prevent confrontation between Muslims and Buddhists in Russia itself. Another reason to give the Myanmar issue as little attention as possible.