Who are the Rohingya?
The Rohingya are an ethnic minority in Myanmar originating from the Indian subcontinent. For several centuries they have lived predominantly in Myanmar's western state of Rakhine — also known as Arakan. They are predominately Muslim.
Over 20,000 Rohingya moved from Myanmar into Bangladesh, then British-controlled Bengal, after Japanese forces invaded Burma in 1942 during the Second World War.
Thousands more crossed over following Burma's independence in 1948 when tensions grew between the Burmese government and Rohingya.
They are not officially recognized by the government as citizens, and for decades Myanmar's Buddhist majority has been accused of subjecting them to discrimination and violence.
Rohingya are considered to be one of the world's most persecuted minority groups by the United Nations and the United States. Thousands of Rohingya from Myanmar and Bangladesh flee their countries every year in a desperate attempt to reach Muslim-majority countries like Malaysia and Indonesia.
Read more: Myanmar: UN fears of growing 'humanitarian catastrophe'
Why are Rohingya stateless?
Before the current crisis, over 10% of the world's stateless people lived in Myanmar. Due to the nature of statelessness, the UN says exact figures are difficult to come by, which is why the UNHCR currently estimates that there are 10 million stateless people around the world. In a 2013 report, the organization put the total number of stateless people at 3.5 million.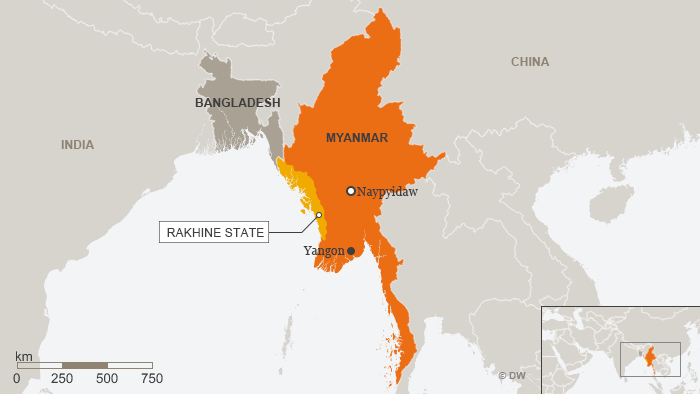 In 2014, the United Nations welcomed political and economic reforms in Myanmar, but expressed "serious concern" over the plight of the Rohingya community. The UN has demanded "equal access to full citizenship for the Rohingya minority."
But Myanmar's government has so far refused to grant citizenship to the Rohingya. It views the estimated 1.1 million people as illegal immigrants from neighboring Bangladesh. Myanmar also objects to the use of the term "Rohingya" in any UN resolution and says it makes the government's efforts more difficult in addressing the issue.
Myanmar says it is ready to grant Rohingya Muslims citizenship if they identify themselves as Bengalis — a term which members of the minority group object to strongly.
Read more: Opinion: The Muslim hypocrisy over Rohingya
The Rakhine Advisory Commission, headed by the late former UN Secretary-General Kofi Annan, released its 63-page report last year, noting the biggest obstacle to peace in Rakhine is the issue of citizenship.
"If this issue is not addressed, it will continue to cause significant human suffering and insecurity, while also holding back the economic and social development of the entire state," the report said.
The commission called on Myanmar's government to "establish a clear strategy and timeline for the citizenship verification process." In addition, the authorities should clarify the status of those whose citizenship has not been accepted and clarify whether it meets the international standards, it urged.
The commission specifically recommended the revision of the 1982 citizens' rights law, because the classification of a citizen in it is complicated and often tied to ethnicity.
Read more: Myanmar Rohingya crackdown: 'A textbook example of ethnic cleansing,' says UN
When did the conflict take a violent turn?
In 2012, clashes between the Rohingya and Buddhist nationalists led to scores of deaths, forcing tens of thousands of Rohingya to flee to Bangladesh, Malaysia, Thailand and Indonesia. Some 200,000 people — mostly Rohingya — have been living in camps in Rakhine since the 2012 clashes.
In October 2017, Rohingya militants attacked several security checkpoints and killed scores of police officers. Myanmar's security forces responded by launching counterterrorism operations against insurgents. Human rights groups, such as Human Rights Watch and Amnesty International, said these operations involved arbitrary killings, systematic rapes, the burning of houses and forced expulsions of locals.
In August 2018, violence broke out again in Rakhine when around 100 armed Muslim insurgents attacked security guards in the border region with Bangladesh. Myanmar's security forces and Muslim minority Rohingya militants accuse each other of burning down villages and staging mass killings. The sectarian violence has forced thousands of people to take refuge in neighboring Bangladesh.
Why is Bangladesh taking a hard line against Rohingya refugees?
Bangladeshi authorities have taken a hard line with Rohingya refugees, attempting to limit their numbers in their country. The South Asian country's authorities say they have a "zero tolerance" policy for Rohingya entering Bangladesh.
Bangladeshi authorities have intercepted, detained and forcibly returned Rohingya civilians fleeing along their border with Myanmar.
Despite these measures by Dhaka, thousands of Rohingya have managed to enter Bangladesh. Currently, nearly a million Rohingya are living in Bangladeshi camps, mostly in squalid conditions.
Read more: Death toll in Myanmar violence surges to 400 amid Rohingya exodus to Bangladesh
Are Rohingya becoming radicalized?
The conflict has included a religious dimension in the past few years, with reports of a fast-growing radicalization among Rohingya Muslims.
In December 2017, the International Crisis Group (ICG) said in a report that the group of Rohingya Muslims that attacked Myanmar border guards in October 2016 had Islamist links.
The Harakah al-Yakin (HaY) group, which was formed after communal violence in 2012, claimed responsibility for the October attacks and the Brussels-based ICG said that interviews with members of the group revealed that HaY had ties to outfits in Saudi Arabia and Pakistan.
The ICG said that the Rohingya who had fought in other countries, as well as some Pakistanis and Afghans, gave clandestine training to Rakhine villagers over two years prior to the October 2016 attacks.
Islamist groups such as the Taliban, "Islamic State" (IS) and al-Qaida in the Indian Subcontinent have often condemned the violence against Rohingya in Myanmar and called for a jihad against the authorities and the majority Buddhists.
Read more: Kofi Annan report warns of Rakhine radicalization amid deadly Rohingya attacks
What is Nobel peace laureate, Aung San Suu Kyi, saying about the Rohingya?
Myanmar's Nobel peace laureate and civilian leader Aung San Suu Kyi has criticized Rohingya "terrorists" for spreading "a huge iceberg of misinformation" about the crisis.
She faces a dilemma. As a human rights icon — as she is known internationally — it is her duty to raise her voice in support of the Rohingya plight and denounce the acts by the government and the majority Buddhists, and also by instigators in the Rohingya camps. But Suu Kyi, who is Myanmar's de facto leader, does not want to lose support of the majority Buddhists for raising her voice in support of the Rohingya.
How are Myanmar's neighboring countries reacting to the conflict?
Myanmar's treatment of the Rohingya has gained a regional dimension as Indonesia and Bangladesh also call on the international community to take action.
Several protests have been held in Malaysia and Indonesia against an alleged Rohingya "genocide" in Myanmar. Over the past several years, the treatment of the Rohingya has also become a major issue across the Islamic world.
Is Myanmar committing Rohingya genocide?
The Malaysian government and activists accuse Myanmar of committing genocide against Rohingya Muslims. Myanmar rejects these claims. Boris Barth, a historian who published a book on the history of genocide in 2006, told DW the term "genocide" should be used cautiously.
"I would only use it if it is clear that the government intends to eliminate a group of people, or a section of it. Moreover, I would like to emphasize that a stricter interpretation of the concept of genocide, as provided for by international law, is not a trivialization of the crimes that are not dubbed genocide," Barth said.
Is there more to the Rohingya conflict than meets the eye?
The general perception about Myanmar's Rohingya conflict is that it is a religious issue. But some analysts say the crisis is more politically and economically driven.
"Interreligious relations are very complex in Myanmar. Muslims, especially the Rohingya, are confronted with a deeply-entrenched Islamophobia in a predominantly Buddhist society and state. The fundamentalists claim that the country's Buddhist culture and society are under siege by Muslims, even more so when Myanmar is surrounded by many Islamic countries, like Bangladesh, Malaysia and Indonesia," Siegfried O. Wolf, director of research at the Brussels-based South Asia Democratic Forum (SADF), told DW.
But Wolf says there is an economic aspect to the issue as well. "Rakhine state is one of the country's poorest areas, despite being rich in natural resources. The Rohingya are thus considered an additional economic burden on the state, as they compete for the few available jobs and opportunities to do business," Wolf underlined, adding that the jobs and businesses in the state were mostly occupied by the Burmese elite.
"As a result, we can say that Buddhist resentment against the Rohingya is not only religious; it is also political and economically driven."