United Nations High Commissioner for Human Rights Zeid Ra'ad al-Hussein lashed out at Myanmar's government on Monday for what he termed a "clearly disproportionate" response to insurgent attacks on border guard posts last month.
"I call on the government to end its current cruel military operation, with accountability for all violations that have occurred, and to reverse the pattern of severe and widespread discrimination against the Rohingya population," Zeid said. "The situation seems a textbook example of ethnic cleansing."
Myanmar has refused access to human rights investigators.
The US White House called on Myanmar to "respect the rule of law, stop the violence, and end the displacement of civilians from all communities." The statement referred to a report presented to effective leader Aung San Suu Kyi in August by former UN Secretary General Kofi Annan, urging the security forces to "work with the elected government in implementing the Rakhine Commission's recommendations." It also called for media access to Rakhine state.
Read more: Myanmar's Rohingya: A history of forced exoduses
The German government, meanwhile, announced it was halting several aid projects across the country in protest to the violence.
Over 300,000 Rohingya have fled Myanmar to seek protection after an insurgent attack on security forces on August 25 in Rakhine sparked off a brutal military counteroffensive.
Hundreds of people, the majority of them Rohingya, have been killed in the violence that has seen many homes destroyed and several villages burned down.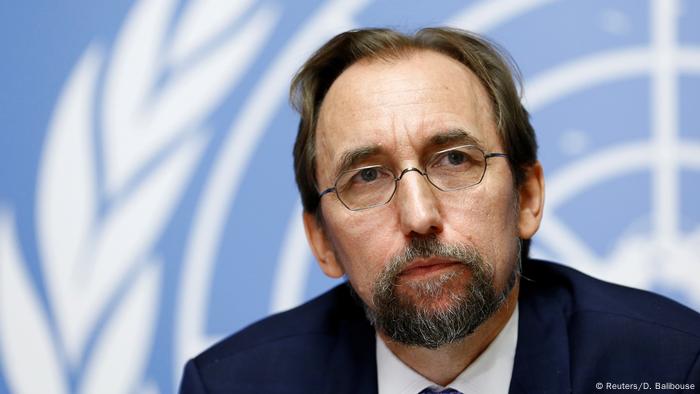 Zeid called on Myanmar "to end its current cruel military operation"
Speaking at the start of a UN Human Rights Council session, Zeid pointed to satellite imagery and reports of "security forces and local militia burning Rohingya villages" and extrajudicial killings.
"The Myanmar government should stop pretending that the Rohingya are setting fire to their own homes and laying waste to their own villages," he said.
"This complete denial of reality is doing great damage to the international standing of a government which, until recently, benefited from immense goodwill."
Rohingya have faced years of persecution in Myanmar. They have been denied citizenship rights and are viewed by the local authorities as illegal immigrants from Bangladesh. Myanmar's Buddhist majority is often accused of subjecting them to discrimination and violence.
Read more: The Rohingya people in Myanmar - What you need to know
Land mine allegations
Zeid said he was further "appalled" by reports of Myanmar authorities laying land mines along the border with Bangladesh.
Human rights watchdog Amnesty International said there were two land mine incidents on Sunday, including a blast that blew off a man's leg.
"All indications point to the Myanmar security forces deliberately targeting locations that Rohingya refugees use as crossing points," Tirana Hassan, Amnesty's crisis response director, said in a statement.
Amnesty says Myanmar has one of the few militaries, along with North Korea and Syria, which has openly used anti-personnel land mines in recent years.
On Saturday, the Rohingya insurgent group Arakan Rohingya Salvation Army declared a unilateral ceasefire, but the declaration was rebuffed by the Myanmar government.
Read more: Myanmar's Rohingya rebels - What you need to know
The spokesman for Myanmar's leader, Aung San Suu Kyi, said on Twitter: "We have no policy to negotiate with terrorists."
ap/kms (Reuters, AP, AFP, dpa)