Italian police said on Friday that they had helped break up an 11-person terror cell based in Berlin not long after Anis Amri allegedly plowed a truck into a Christmas market in the city, killing 12 people.
The operation to dismantle the group was completed at the end of January but is just now being revealed. The investigation into the group began after authorities picked up two of the cell's members in the Italian port of Ancona on December 4, 2016.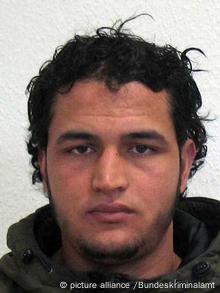 Members of the terror cell reportedly had ties to Anis Amri (pictured)
Congolese citizen Nkanga Lutumba and Moroccan citizen Soufiane Amri were planning to travel to Syria to join the so-called "Islamic State" (IS) terrorist group when they were picked up by the authorities, Italian police said.
From there, authorities continued their investigation into the two men, monitoring Lutumba and tracing calls back to the Berlin-based terror cell.
Links to Christmas market attacker
Three other members of the group were arrested at the border between Croatia and Serbia in December.
Italian police also said members of the terrorist cell were frequently in contact with Anis Amri, who was a regular visitor at the place where Soufiane Amri and Lutumba lived.
Amri was shot dead by Italian police on December 23, four days after carrying out the attack at the Berlin Christmas market.
Parallel German investigations led to four arrests on January 31.
blc/sms (dpa, AFP)