Following a decision to ban the Islamist association known as the German-speaking Islamic Circle in Hildesheim e.V. (DIK), police in the central German city carried out large-scale raids early on Tuesday morning, local media reported.
In raids similar to those already carried out in July and November last year, several business premises, the dwellings of eight people linked to the group, as well the mosque belonging to the association were all searched on Tuesday.
'Blinded fanatics'
Boris Pistorius Lower Saxony's interior minister and Social Democrat (SPD), said that in banning the DIK association,"a hotspot of the radical Salafist scene in Germany had been shattered."

"This measure is expressly not directed against the many Muslims who live peacefully here," Pistorius added.
"But against blind fanatics who abuse this world religion for their own purposes and support terror organizations such as the self-proclaimed 'Islamic State' (IS) and its inhuman goals."
Founded in 2015, the DIK made no secret of its Salafist attitude. All religious activities are committed to "orientate themselves to the understanding of the first three generations from the Prophet Muhammad" - a particularly fundamentalist thread of Islam.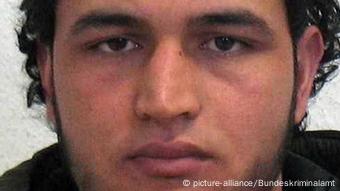 Berlin truck attacker Anis Amri was a member of Salifist circles in Hildesheim
According to German intelligence, more than 22 young men from the DIK circle have left Germany to join IS - either as fighters or as alleged aid convoys. Minors have also been radicalized by the banned association, authorities say.
Berlin attacker known to Islamist group
Among DIK's 300 members was nationally-active Salifist preacher "Abu Walaa." Considered among intelligence services as "IS' number one" in Germany he was arrested in November near Hildesheim and remains under investigation on suspicion of supporting a terrorist organization.
Anis Amri, the perpetrator of the deadly truck attack at a Berlin Christmas market in December, was also a member of Salafist circles in Hildesheim and is believed to have stayed in the DIK mosque.
ksb/rt (dpa, AFP)