Ralf Jäger might have felt his collar tighten as he faced the North Rhine-Westphalia (NRW) state parliamentary inquiry into the case of terrorist Anis Amri on Wednesday.
Despite a largely forgiving report published on Monday by criminal attorney Bernhard Kretschmer, who said he found no misconduct in the authorities' application of criminal and immigration law, the NRW interior minister is under intense scrutiny after his federal counterpart Thomas de Maiziere indirectly contradicted many of his statements during his testimony on Tuesday.
In January, Jäger had claimed his state's intelligence agency had "gone to the limits of the law" in dealing with the Tunisian in the months before he killed 12 people by driving a truck into a Berlin Christmas market in late December. But de Maiziere told the NRW parliamentary inquiry, "one would have had good reason to apply for secure detention at the end of October at the latest. But it wasn't even attempted."
"Amri had entered the country illegally, had changed his place of residence without giving the foreigners' registration office an address where he was reachable, and there was a risk of flight at least because of multiple changes of identity," de Maiziere added.
Mistakes made
Jäger does not appear to be getting any help from Germany's federal parliament, the Bundestag, either. According to a secret report leaked to Berlin public broadcaster RBB, a Bundestag task force has concluded that German intelligence agencies (both federal and state) had not properly assessed the potential danger that Amri posed.
The Bundestag spent two months examining the investigations on Amri, and came to the conclusion that there were flaws in the way that Germany's joint terrorism defense center (GTAZ) - an authority that coordinates state and federal terrorism intelligence - assessed potentially dangerous Islamists like Amri.
According to RBB, the 102-page report also said the German secret service, the BND, and the foreign citizens authorities needed to be in the loop when it comes to such assessments, as does the judiciary, so that deportations can be carried out more easily.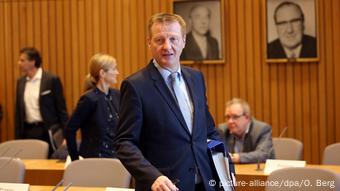 Jäger is under increased pressure to explain systemic failures
The story of Anis Amri's 18-month stay in Germany is complex. Having initially entered the country illegally in July 2015, the Tunisian had had an asylum application rejected in May 2016, but had received "tolerance" status until September of that year. He was due to be deported to Tunisia, but this could only be carried out once his identity had been established (he had given at least 14 different names, and various nationalities, while applying for asylum or social benefits across Germany).
Authorities were aware Amri had contact to Germany's Islamist scene, and of his history of drug-related crime: he was stopped in possession of drugs and false passports near the Swiss border at the end of July 2016. By that time, NRW state police had had him under surveillance since March (a measure that was stopped in September for lack of evidence).
He was then detained pending deportation, but, according to Jäger, was released on the grounds that his deportation could not be guaranteed within three months and Tunisia was denying his nationality. Amri was also the subject of a GTAZ meeting as late as November 2016.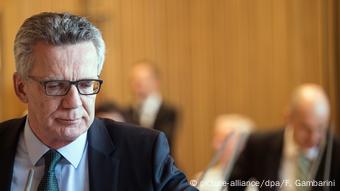 De Maiziere implemented new security measures in the wake of the Berlin attack
Security measures
The testimony given by other witnesses in the NRW parliamentary inquiry has reinforced this picture of bureaucratic confusion. Burkhard Schnieder, an NRW interior ministry official in charge of foreign citizens' affairs, told the inquiry on Wednesday that Tunisia had demanded Amri's original handprints by post, and that the migrant's documents had been passed between several different security authorities.
Meanwhile, the head of NRW's domestic intelligence agency, Burkhard Freier, admitted that Amri had been "assessed wrongly," and said that the increasing number of individuals categorized as "endangerers" by security services had made coordination more difficult.
The systemic failures did not prevent the German government from implementing new security measures in the aftermath of the Berlin attack, for which it was heavily criticized by opposition parties. These parties are now less than impressed by de Maiziere's apparent willingness to criticize the failures in NRW without acknowledging that his own federal authorities had made similar mistakes.
"The federal interior minister is refusing, against his better knowledge, to accept the responsibility of federal authorities in the case of Amri," Green party security policy spokeswoman Irene Mihalic told DW by email. "Of course mistakes were also made by the states, but we know today that cooperation and communication with the security forces at the level of the GTAZ did not work when it came to Amri."
Along with the socialist Left party, the Greens are demanding that federal security authorities testify before a Bundestag committee - against resistance by the government. "We must identify and remove the weak points as quickly as possible," Mihalic said. "The investigation of the worst Islamist attack in German history is still being blocked."