China is a dream for the European tourism industry. With a rising number of citizens from the vast country eager and able to travel the continent in large groups for short sightseeing-packed trips, it doesn't take a genius to figure out that the country holds major tourism potential.
This year, the south German state of Bavaria has decided to intensify efforts to tap the promising market with a major marketing offensive aimed at making the Chinese fall in love with the land of laptops and lederhosen and, most importantly, head there.
China already counts as the third most important overseas market for Bavaria's tourism industry after the U.S. and the Japan.
Anna-Maria Muck, head of public relations at Bavaria Tourism Marketing GmbH told DW-WORLD that China first appeared on the state's tourism radar after the Chinese government conferred the "Authorized Destination Status" on Germany, the first European country at the time, in July 2003, shortly after China allowed its citizens to travel abroad.
"We realized the immense tourism potential given China's size," Muck said. "That's when we decided that we had to ensure Bavaria would be included in their European program."
Bavarian virtual reality
Since mid April this year, a weighty eight-part television series on travel destination Bavaria has begun broadcasting on Chinese state television station "Shanghai."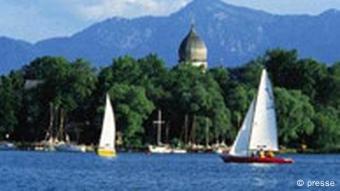 Bavaria's Chiemsee, or Lake Chiem, is Germany's largest lake. King Ludwig II. built one of his castles that's modelled after France's Versailles Palace on an island in the lake.
Chinese tuning into the channel on Saturday evenings can get a glimpse of picturesque castles, the idyllic Lake Starnberg, the famous snow-capped Zugspitze mountain nestled in the Alps, cutesy folk traditions complete with lederhosen and dirndls as well as a culinary trip through Bavaria's variety of hearty sausages and its annual lager frenzy, the Oktoberfest.
Shot by Chinese director Wang Guoping and his five-member camera unit in Munich last year, the team, in true Chinese fashion, traveled over 2,500 kilometers (1,553 miles) through 17 Bavarian cities in 18 days accompanied by members of Bavaria's tourism board.
The effort has obviously paid off: With audience ratings of around 100 million, the series has been a phenomenal success and proof that the Chinese are undoubtedly enamored of Bavaria's rustic charms. The series is now also available as a DVD for those who missed it.
Richard Adam, head of the Bavarian marketing offensive, is convinced that China is an important tourism market for Bavaria with immense growth potential. "The results are there for all to see, we're just seizing the moment," he said.
Tradition, football and beer
If all this fuss about folksy Bavarian traditions being a big hit among the Chinese might confuse some, Muck said that's exactly what the Chinese want.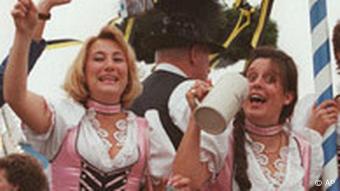 Oktoberfest visitors dressed in dirndls.
"They love countries with tradition so they're interested in all of Bavaria's classic clichés -- right from the princely castles to snow-capped mountains, traditional clothes to Bavarian customs," she said.
The TV series, however, is just part of a larger advertising campaign unleashed by Bavaria in China this year.
The state has become the first in Germany to woo Chinese tourists with a Web site in Chinese. "It includes information on the most important topics for Chinese -- football, food, culture and tradition, technology," said Muck. "A Bavarian visit for the Chinese also has to include trips to a few factories like Siemens and beer breweries," she added.
In addition, Bavarian Tourism officials have used the German tourism board office in Beijing to spread the word about Bavaria's fabled beauty and location in the heart of Europe at tourism fairs and conferences and via email newsletters to Chinese journalists.
Grüß Gott in Chinese?
China's largest publishing house, Wenhui, has just brought out two million copies of a glossy illustrated book on Bavaria. Set against a photograph of the fairytale Neuschwanstein castle, the book's Chinese title reads "Grüß Gott Bavaria," which literally means "Greet God" and is used as "hello" in Bavaria.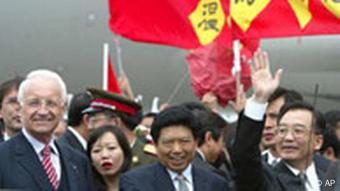 Not your average Chinese tourist: Edmund Stoiber, left, welcomes Chinese Premier Wen Jiabao, right, at Munich airport in early May.
The book begins with a photograph of a smiling Edmund Stoiber, the premier of Bavaria, pulling open a golden doorknob in the form of a dragon head, inviting the Chinese tourists to his Bavarian empire.
Apart from several glossy photographs depicting Bavaria's bucolic charms from lederhosen-clad lads, pink-cheeked maidens, brass instrument-playing umpah bands, a large pint of beer, hearty fried sausages and the famous Christmas market, there's also a photograph of a grouchy-looking Oliver Kahn, the goalkeeper of soccer club Bayern Munich.
"The Chinese are crazy about football, they love Bayern Munich and even 1860 München, where Chinese player Shao plays," said Muck.
The numbers game
All that alleged enthusiasm about Bavaria among the Chinese is now even translating into numbers. Last year, about 53,000 Chinese tourists paid a visit to the southern German state, up from 44,699 in 2002. This year Bavaria is gunning for 70,000.
The tourism strategists reckon that even if a mere one percent of China's 1.2 billion people were to come to Bavaria, that would make it an unbelievable 12 million tourists a year.
Bavaria's tourism experts for now however have their feet firmly on the ground. "Ours is a long-term project," Muck said. "We're looking at the next five years and by then we want to triple the numbers."