"The future of the Balkans is within the European Union." European Union (EU) leaders made this declaration during the 2003 EU-Western Balkans Summit in Thessaloniki, but what that means today in real terms remains as unclear as ever. Since those words were uttered, Croatia is the only western Balkan nation to become an EU member. Kosovo's independence from Serbia has further complicated any additional EU enlargement into the western Balkans. Few individuals even mention the word "enlargement."
"Enlargement is like a chicken with its head cut off," a Serbian diplomat told BuzzFeed. "It's still running, but really it's dead."
The promise of EU membership was likely a tactical one, mostly to do with the union trying to retain its influence in Balkan countries, regional expert Eric Gordy from University College London told DW. For years, the political establishments in power in Serbia, Bosnia and Herzegovina, Albania, Montenegro, Macedonia and Kosovo were eager to at least appear to be moving their countries towards the EU.
"The tactic has ever weaker pull," Gordy said. "It seems there is an ever louder voice against enlargement. The EU needs to offer a realistic membership path if it's to maintain its influence."
Read more: The Balkans: From Yugoslav wars to an ever-tense peace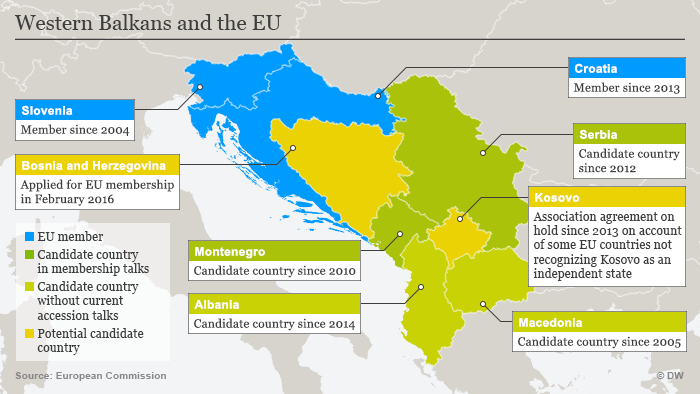 No deals on core values
The weakening of the West comes as a welcome turn of events for Russia, Turkey, China and Arab Gulf states. EU diplomats counter with rhetoric. "We want to bring these countries into the EU," Christian Hellbach, Germany's special coordinator for the Western Balkans, told DW. "It's no secret that this is going slowly because not all actors really have an interest in sustainable reforms." Rule of law, human rights and anti-corruption measures: this diplomatic formula for accession is heard daily in the Balkans. These are non-negotiable for the EU, Hellbach explained.
The Balkan region continues to struggle with the lack of an independent judiciary, media freedom, and misappropriation of public money by politicians. Moreover, political tensions seem unconquerable, such as Pristina and Belgrade's quarrel over Kosovo, the name controversy between Macedonia and Greece, and lack of popular will for constitutional reforms in Bosnia and Herzegovina from the country's three ethnic groups.
Read more: Cheated apartment buyers in Balkans live tragedy as justice falls short
Only Montenegro and Serbia are in talks with the EU about accession. Kosovo and Bosnia and Herzegovina are not even official candidates.
Gordy is skeptical of changes anytime soon given the unwillingness of Balkan elites to readily give up power. He instead sees two options: Balkan nations either await EU membership forever or the EU compromises on its membership criteria. "The EU has already done that," Gordy said, pointing to the EU entry of Bulgaria and Romania, despite their significant corruption problems, and of Cyprus, though the island's internal borders remain undefined. These are now warning signals for Brussels, and there seems to be little desire for bringing yet more problems into the Union.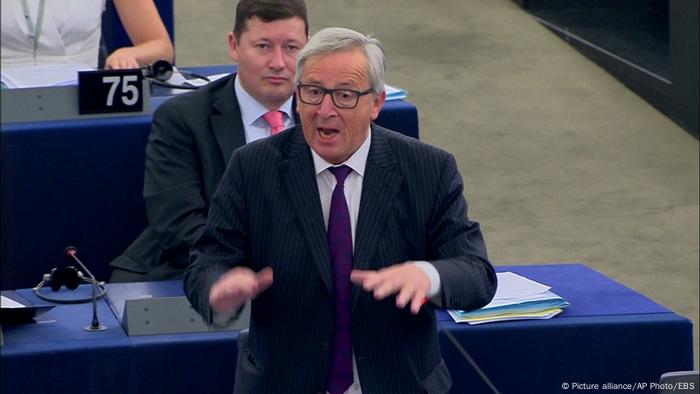 EU Commission President Jean-Claude Juncker already had enough on his plate in 2012 when he said enlargment was not an EU priority.
Dwindling interest - on both sides
"At the moment I can't focus on enlargement," said EU Commission President Jean-Claude Juncker in 2012. Economic crisis, refugees, Brexit, and the transatlantic relationship during a Trump presidency remain the EU's primary concerns. Doubt is on the rise in Germany, according to two polls, despite the country being seen in the Balkans as the engine of European unity. Two-thirds of Germans polled last fall are against EU enlargement in the near term.
"Even the EU would have trouble meeting its own criteria to join, if it were to join itself now," said Sevim Dagdelen, a German MP of the Left party. She thinks that many see the EU as responsible for cuts to social services and have grown disillusioned with the EU's promises of general welfare. "In light of all this, there is growing skepticism regarding enlargement," Dagdelen said.
Enlargement fatigue set in long ago in the Balkans. The absence of a concrete plan could lead to a loss of faith among the region's citizens, Serbian Foreign Minister Ivica Dacic recently said. "This is bad for us and bad for the EU," he said. And, indeed, EU enthusiasm in the Western Balkans continues to fade. This past June, a majority of students at the University of Belgrade spoke out against joining the EU.
"The EU's strongest card was its guarantee on the irreversibility of democratic reform," Gordy explained. But he thinks Brussels' weak response to authoritarian regimes in EU countries like Poland and Hungary have called the EU's commitment into question.
Read more: How to deal with a democracy crisis in Southeast Europe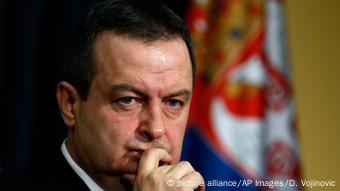 Serbian Foreign Minister Ivica Dacic believes the lack of an accession plan is hurting the EU's image in Serbia.
A Balkan Marshall Plan?
Germany is counting on the EU's financial strength to bring the Balkans closer to the EU. A customs union and common market for the six Balkan nations are often discussed - as is "Berlin Plus," a German plan to use EU funds to finance large infrastructure projects such a highway to connect Serbia, Kosovo and Albania." People take notice when we support such projects," Hellbach said.
Wednesday's summit in Trieste will focus most heavily on financial programs, akin to a Marshall Plan for the Balkans. Where the money would come from remains to be seen, meaning that while some Balkan politicians have rejoiced over the announcement of increased funding, they have also expressed concern.
"No cooperation should cause a slow down in enlargement plans or be a replacement for them," Montenegrin Foreign Minister Srdjan Darmanovic said.
For Balkan inhabitants, waiting in Europe's wings means a hard fight to survive, given the region's high unemployment and low income. Thousands of people, most of them highly educated youth, migrate from the Balkans to Western Europe every year - a situation that leaves some cynically thinking that they will only join the EU by trekking there on their own two feet.