Macedonia, required to formally be called the "Former Yugoslav Republic of Macedonia" or "FYROM," has been working on its Membership Action Plan - the pathway to becoming a NATO ally - since 1999, when Albania also received the nod. Balkan neighbors Croatia and Montenegro earned that status in 2002 and 2009, respectively.
Of them, only Macedonia remains outside the alliance today, stalled for almost a decade by an impasse with Athens over the name "Macedonia," shared by the former Balkan state and a region of Greece. Seeing Montenegro's flag raised outside NATO headquarters last week, with full membership accomplished in just one decade, reminded Macedonians all too clearly their dreams of Western acceptance, not to mention the NATO security embrace, remain unfulfilled.
"We were first in line and now it seems we are the last ones," says one Macedonian diplomat, who spoke only on condition of anonymity. "We are feeling very depressed about that."
From bloodied face to head of government
But new Prime Minister Zoran Zaev, in office only since the beginning of June, doesn't seem depressed - he seems driven. Zaev took over his country's government after months of instability in which he'd even been physically assaulted by his predecessor's supporters, who stormed the national parliament in April. Zaev has made no secret of the fact that bringing Macedonia into NATO and the European Union are his top priorities and that he's willing to be creative in ending the name dispute with Greece.
"I think there's new momentum," EU Enlargement Commissioner Johannes Hahn said alongside Zaev after their meeting. "I think we can use this situation and make progress."
Speaking later at NATO headquarters with Secretary General Jens Stoltenberg, Zaev explained his plans. While he called the blockade "not fair" in light of the many contributions Skopje has made to NATO operations, the prime minister said he's dedicated to improving relations with Greece, where he's sending his foreign minister on Wednesday, using an interim name that will win Athens' agreement to move forward.
Diplomatic sources and media reports say that is likely to be "Upper Macedonia" or the "Upper Republic of Macedonia."
"Standing in one place just causes crisis," Zaev said. "Even with the temporary reference we can receive an invitation from NATO ... and during the ratification of all the 29 member states of NATO we can still have two years" to find a permanent solution that will win Greece's backing for full ratification.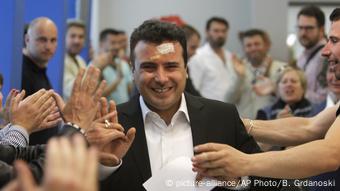 Zaev is ready to bond with Brussels
Russia's sphere of influence shrinks
While Stoltenberg underscored the need for Zaev's government to implement reforms, Zaev also alluded several times to reasons why allies should consider his country's membership in their own interest, pointing out that it's "important for the Western Balkans to be secure and stable." Like in fellow Balkan NATO aspirant, now member, Montenegro, the Kremlin has sought to line up a strong hand in Macedonia. The Macedonian diplomat confirmed that the pressure from Moscow is "not visible but it's everywhere - you can feel it."
The Organized Crime & Corruption Reporting Project (OCCRP), a investigative cooperative, last week published a dossier based on information from Macedonia's own intelligence services. "About nine years ago they had noticed that the Russian embassy in the country had been upping their intelligence activities," reporter Aubrey Belford told DW, using soft-power techniques such as paying media to run pro-Kremlin stories and trying to influence local politicians not to support further western integration.
"Russia's goal in the region is to just pry it out of the Western orbit," Belford explained, "keeping the country out of play and limiting NATO's expansion." One of the documents in the report cites the Russian ambassador in Skopje describing the aim to "create a strip of militarily neutral countries" in the Balkans including Bosnia-Herzegovina, Montenegro, Macedonia and Serbia.
A NATO source confirmed to DW that the alliance has its own evidence of Russian attempts to sideline Macedonian progress.
Gordana Delic, director of the German Marshall Fund's "Balkan Trust for Democracy" project, says Macedonia's Western friends bear some responsibility for the country's democratic deficits. "The name dispute is something that was heavily neglected by all sides," she told DW. "The political turmoil is a consequence of the global challenges but also of that neglect."
Skopje's invitation stamped soon?
Delic says it's not too late to fix that, if both NATO and the EU are prepared to provide "serious, experienced and dedicated assistance." While the Zaev government appears to be clean of the corruption and Russian-influence problems of the previous regime, Delic warns that the flip-side of this is that it also has few ties to its own police, military and security services. "The Balkans are an excellent platform for both the EU and NATO to exercise their unity in a smart and intelligent way," Delic believes. "Now it is time to finish the unfinished business. Integration of the Western Balkans into the trans-Atlantic community is a win-win situation."
Both sides have their views of what "unfinished business" means. NATO Secretary General Stoltenberg urged Zaev to focus on strengthening Macedonia's own rule of law as the best way to resist what he euphemistically termed "foreign interference." Zaev pledged he'd do that, but also told Stoltenberg he expects his country to be the "next good news coming from NATO," with the Macedonian flag soon being hoisted high at headquarters as the 30th ally.