Three shots rang out in central Skopje on June 1, just hours after ministers in Macedonia's new elected government officially took up their posts. It was an assassination attempt. The target: Nikola Todorov, health minister in the previous national-conservative VMRO-DPMNE government. Todorov survived the attack.
As health minister, Todorov was the focus of much criticism over an incident that shocked the nation. In February 2015, nine-year-old Tamara Dimovska died after having waited three months in vain for government assistance for medical treatment abroad. It was Tamara's grandfather who tried to kill Todorov.
Read: Macedona's president accuses Germany of spreading fake news
At the time, Tamara became a symbol for the fight against deep-seated corruption in Macedonia: a government that had spent hundreds of millions of euros on enormous Alexander the Great statues and newly-constructed baroque palaces but would not find 30,000 euros ($34,000) for a very sick child to get treatment abroad. Tamara's 60-year-old grandfather decided to take the law into his own hands after the state let the child die.
A corrupt state
Fears are high – as are the possibilities – that such an incident could happen again. Society in Macedonia, with its population of just two million, is deeply divided. That division is the result of almost 11 years of VMRO governance, and the two-year-long political crisis from which the tiny Balkan country has only just begun to emerge.
Read: Journalists targeted as crisis in Macedonia escalates
"The VMRO poisoned society with its febrile ethno-nationalism. The new government will have to cleverly defuse the situation, both internally and abroad," said Josip Juratovic, a Balkans expert and Social Democrat lawmaker in the German parliament, the Bundestag, told DW. "The political crisis is over for the time being, but the economic and social crises continue." The fact that Todorov was attacked on the same day that the new government, led by social democrat Zoran Zaev, took power, illustrates just how difficult the situation is.
During the decade in which VMRO leader Nikola Gruevski seemingly ruled as he pleased, Macedonia went from being a role model to one of the biggest problems in southeastern Europe. Under Gruevski's leadership, Macedonia, which the European Commission recently labeled a "captive state," degenerated into a demotatorship: a state in which one party alone controlled the justice, media and administrative systems. When Gruevski supporters stormed parliament on April 27 of this year, it demonstrated once again that the tentacles of his system reached all the way into the country's security apparatus.
Opinion: Skopje violence the result of planned destabilization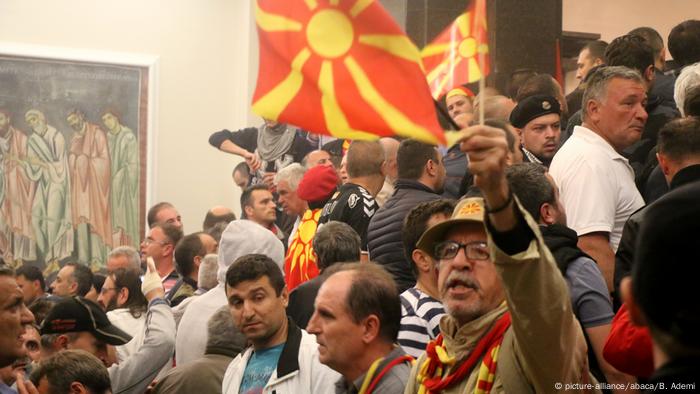 Supporters of VMRO occupied parliament after the Social Democrats voted in a new parliament speaker
Massive debt
The VMRO emerged victorious from last December's parliamentary elections, but was unable to put together a ruling majority. The Albanian DUI party, VMRO's coalition partner for eight years, shifted alliances and decided to work with the former opposition, the Social Democratic Union. But President Gjorge Ivanov, a confidante of the nationalist-conservative VMRO, refused to grant social democrat Zoran Zaev a mandate to form a new government. That despite the fact that Zaev had clearly gathered a parliamentary majority – 67 of 120 seats – by forming a coalition with smaller Albanian minority parties. Albanians make up 25 percent of Macedonia's population and are the country's largest minority group. Ivanov eventually relented in mid-May in the face of massive international criticism.
"Well, the crisis in forming a government is finally over, but I don't believe the crisis in Macedonia is," Tobias Flessenkemper, a senior fellow at the Centre International de Formation Europeenne (CIFE) in Nice, France. Flessenkemper, who chairs CIFE's Balkans Project, told DW it will be an "extremely difficult task to work through the past and initiate social change without triggering more antagonism."
Another problem is that no one can say with any certainty what the country's actual economic condition is. According to statistical data, Gruevski and his party racked up some 5 billion euros in debt over the last eight years. It is said that the project "Skopje 2014" cost 700 million alone. The highly controversial undertaking was ordered and overseen by Gruevski himself. To fulfill his aim of affirming and glorifying Macedonia's antique roots, he had hundreds of pseudo-historical monuments and baroque buildings erected throughout the capital. Part of the money was also invested in Gruevski's client network, being doled out to those who had helped him win elections over the past decade.
Read: Erdogan a role model for 'strongmen' in the Balkans?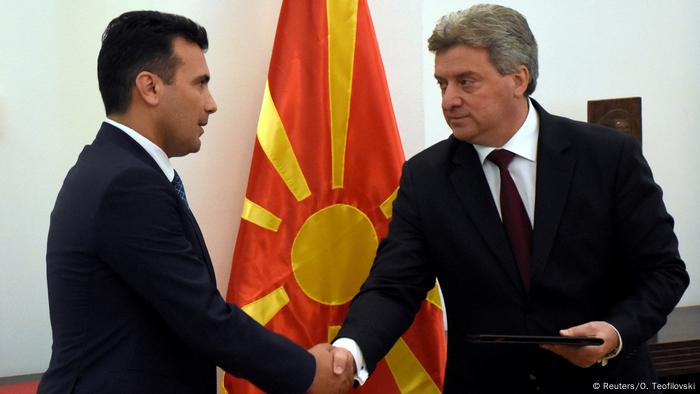 Macedonia President Gjorge Ivanov hands the mandate to govern to Zoran Zaev
Name dispute with Greece
Zaev's coalition, which includes two ethnic Albanian parties, also faces major international challenges. "EU and NATO membership are the main priorities of the new reform government," said Zaev after selecting his cabinet. The main hurdle, next to implementing necessary domestic reforms, remains the quarrel with neighboring Greece over the name Macedonia. Greece has been blocking its smaller neighbor in NATO since 2008, and in accession talks with the EU since 2009. Macedonia's new foreign minister, Nikola Dimitrov, has already announced that he will travel to Athens soon. "That is where we have the biggest problem," said Dimitrov. Yet, there is no solution in sight. First, problems at home must be dealt with, then compromises can be negotiated with neighbors.
The Bundestag's rapporteur for Macedonia, Thorsten Frei (of Chancellor Angela Merkel's Christian Democrats), is of the opinion that the government now has its future in its own hands. "Germany and the EU stand with Macedonia. If there is progress, then I am certain pressure will be put on Greece in the name dispute," as Frei told DW. But he says it is too early to open negotiations on EU accession, "because years of political conflict have meant set backs to the integration process. First Macedonia has to deliver something."