"Membership in the EU and NATO remains our highest priority", Macedonian Prime Minister Nikola Gruevski said during his party's rally in Skopje on May 18. Some of his supporters cheered him wearing T-shirts with Russian President Putin and waving Russian flags.
According to many observers, this contradiction between Gruevski's words and the pro-Russian folklore among his supporters reflects the current divisions in Macedonian society after months of deep political crisis and following a serious security incident in the city of Kumanovo that claimed 18 lives.
But what looked like a typical internal Balkan conflict might be developing into a new chapter in the standoff between Russia and the West. At least that is what Moscow is saying these days.
"The events in Macedonia are being orchestrated from the outside quite blatantly", Russian Foreign Minister Sergei Lavrov stated on May 20.
At the same time, he acknowledged Moscow's support for the conservative government in Skopje. This is the last of a series of statements made by the Russian official, which surprised many people in the poor Balkan country with two million inhabitants.
Since the end of the civil unrest between Macedonian security forces and Albanian guerillas in 2001, there has hardly been any comment from Moscow on the political situation in the country. Unlike its neighbors, Serbia and Greece, which have close historical and cultural ties to Russia, Macedonia has never managed to catch Moscow's attention in the past. "Macedonia is not and never was a vital part of Russian foreign policy", Julija Brsakoska-Bazerkoska, professor of international relations in Skopje, told DW.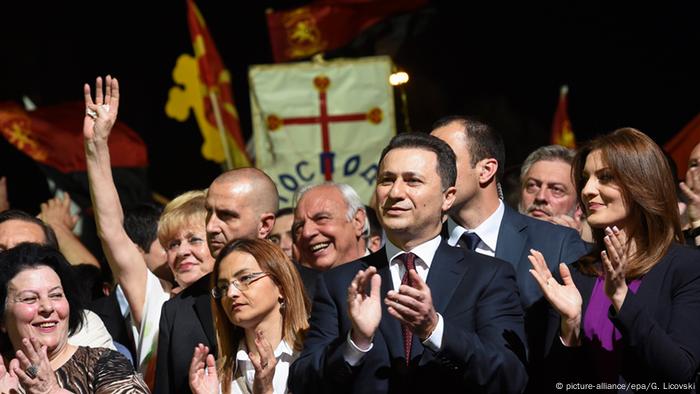 Macedonian PM Gruevski (center) among his supporters
The 'Turkish Stream' pipeline
According to Lavrov, Gruevski's refusal to join the European sanctions against Russia and his willingness to cooperate in the construction of the "Turkish Stream" gas pipeline were behind the disturbances allegedly provoked by the West.
"If you look at the geography of the region, Macedonia is the best place for constructing the extension of the newest energy infrastructure project in the region, the so-called Turkish Stream," Vladimir Chizhov, the Russian ambassador to the EU, told Bloomberg TV last week.
But some analysts doubt that the pipeline will be built at all. As Nikola Kjurchiski from the Russian Presidential Academy in Moscow told DW, there are many reasons to believe that this project will end in Turkey, because otherwise it would have to comply with the EU's internal market rules. Furthermore, as Kjurchiski explains, Russia already has enough pipelines to transport its gas to Europe - and sells less and less gas every year.
"The 'Turkish Stream' is a very expensive and unprofitable project," Kjurchiski said, adding that such a pipeline should not be built at all.
Since Macedonia's political crisis shows no signs of ending anytime soon, Russia's meddling is increasingly seen as an attempt to assert its influence in the Balkans - with or without the promised projects for the energy-hungry region.
U.S. Secretary of State John Kerry said in February that a number of European countries - including Macedonia - were "in the line of fire" when it came to relations between Washington and Moscow.
Gruevski under increasing pressure
Meanwhile, Prime Minister Gruevski finds himself under huge pressure from the opposition in the country. There is evidence that he lost European and American support because of the wiretapping scandal and the violence in Kumanovo. His nine-year hold on power is often criticized as authoritarian by domestic and Western media and politicians. Such views are strengthened by the fact that pro-government media and analysts in Macedonia have shown a fascination for Putin's style of ruling. Although opinion polls in the small Balkan country reflect strong support for the goal of Macedonia's EU and NATO membership, some analysts believe Gruevski is welcoming the Russian support, trying to position himself in a much bigger geopolitical game.
"Since losing ´the support of the EU and USA, Gruevski is desperately looking for support from a global power, and that is why he is turning to Russia. He has no choice," Kjurchiski said.
Unconfirmed reports suggest that Moscow has significantly increased staff numbers at its embassy in Skopje. At the same time, there is an upsurge in news from and about Macedonia in the leading Russian media outlets.