Austria currently holds the rotating European Union presidency and Kneissl said the need to find a way to work with Moscow was shared in the EU.
"I see Russia as a partner … we have to take a pragmatic approach in terms of working together with Russia in Syria … that is not only my position, we have discussed it at various instances, also inside the European Union, that we have to work with Russia in Syria," said the career diplomat.
The anti-immigrant Freedom Party, FPÖ, joined the conservative Austrian People's Party, ÖVP, in a coalition government led by Chancellor Sebastian Kurz after last October's elections.
While she was nominated by the FPÖ, Karin Kneissl herself, is not a member of the far-right party, and she sought to insulate herself from the party's controversial anti-immigrant, pro-Russia program in the Conflict Zone interview.
Russia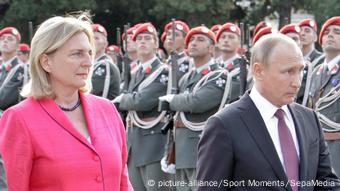 Austrian Foreign Minister and Russian President Vladimir Putin in Vienna, June 5, 2018.
The leader of the FPÖ has called for the European Union sanctions against Moscow to be lifted.
Despite the FPÖ's support for Russia, Kneissl backs continued EU sanctions against Moscow for its annexation of Crimea and support for separatists in eastern Ukraine: "We have condemned that and we keep our sanctions enforced on that."
"We, the Austrian government have based our coalition contract on keeping in tandem with the European Union whatever regards the sanction regime," Kneissl told DW's Michel Friedman in Vienna.
When pressed on the Freedom Party's five-year cooperation agreement with Putin's United Russia party, Kneissl deflected, "I don't comment what parties do. I don't comment what deputies do," adding, "It's not up to me to tell the deputies what to do."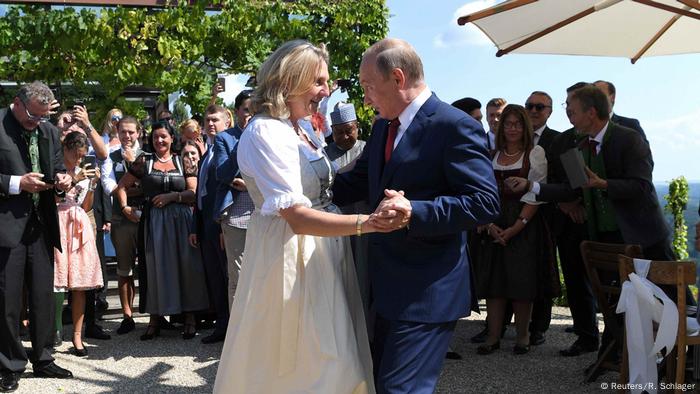 Austrian Foreign Minister Karin Kneissl and Russian President Vladimir Putin at her wedding in Gamlitz, August 18, 2018.
On inviting Russian President Vladimir Putin to her wedding this summer: "It was a spontaneous act. I had met him beforehand. We had had a long exchange of ideas of how we see certain things."
"I didn't hug him. We danced. Yes, and I have danced with several men in my life before," she said.
Kneissl added, "I invited him and I don't regret it."
Crusades, migrants and testosterone
FPÖ leaders have called for zero immigration to Austria and have described Islam as misogynistic and fascist. Discussing the wave of mostly Muslim refugees who came to Europe three years ago, Kneissl had a word of caution.
"In most times of crisis it's women and vulnerable who are among the refugees … around 80 percent of those who arrived in 2015/2016 are young men between the age of 18 to 30 and that this can create a problem."
Before joining the current coalition government in Austria, Kneissl was a career diplomat. She speaks multiple foreign languages including Arabic and has earned a doctorate in international law. In 2012 she published a book which sought to explain politics through the hormone testosterone.
In the interview with Friedman, she expanded on her theory, "At all instances in history, you had young men when they are unable to create for themselves a status, that violence can follow. We had that in the Middle Ages. We had it. The Crusades were one way of channeling out testosterone and that you can also read in scripts of the Catholic Church."
Unity in Europe
Addressing the EU procedures launched against Hungary and Poland, Kneissl told Friedman that it was irritating to still be discussing the rule of law in Europe in 2018.
"We have the topic of rule of law on council meetings and this in itself I would say is an irritating development because we are not speaking only about Hungary. You can start the same discussion on Bulgaria on Romania and on many other countries."
Challenged to provide her own view of the European Parliament's vote to sanction Hungary, Kneissl declined to do so.
"Sorry but I'm not in charge of now deciding on who does what in Hungary."
Kneissl said the EU was very united when it came to Brexit. "We have a lot of friction inside the European Union but we do not have any friction when it comes to Brexit. There is a high degree of cohesion," Kneissl told Friedman.
Will there be a no-deal Brexit? The Irish border is the key says Kneissl.
"We don't know yet. 80-90 percent of the withdrawal agreement are agreed upon. The remaining 10 20 percent deal with the question of Ireland/Northern Ireland, with the so-called backstop solution," Kneissl said ahead of an EU summit in Salzburg.