The leader of the Austrian Freedom Party, Heinz-Christian Strache, on Saturday called for a "Islamization ban," describing Islam as "misogynistic," "anti-liberal," and as having "a fascistic worldview."
Speaking at the FPÖ's New Year gathering in the city of Salzburg, Strache told several thousand party loyalists that Austria should "quickly put an end to this policy of Islamization [...] otherwise we Austrians, we Europeans will come to an abrupt end."
When asked for clarification by Reuters, an FPÖ spokesperson said that any law against extreme Islam would mirror those introduced after World War II, which banned Nazi symbols and political affiliation.
In Austria's population of 8.7 million individuals, around 600,000 are Muslim, some of whom arrived in the course of Europe's recent migration crisis.
The FPÖ has long positioned itself as a political "defender of tradition" in Austria, recently cultivating a strong anti-Muslim message that includes calling for a ban on face veils.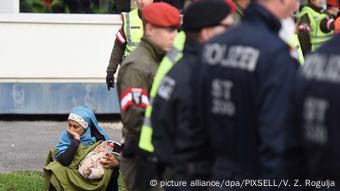 Austria turned many migrants back at the border
'Zero or minus migration'
Strache also directly addressed the Austrian People's Party's (ÖVP) announcement made this past Wednesday that it would like to introduce a upper limit on the number of asylum applications this year. The ÖVP's aim is to reduce applications by half, from the 35,000 seen in 2016 to 17,000 in 2017.
"We don't need an upper limit or the upper limit to be reduced by half - we need zero immigration, actually minus immigration, because all illegal individuals and criminals belong outside of the country."
According to Eurostat, Austria had 85,500 first-time asylum applications in 2015, making it the third-highest country for such applications in Europe that year.
Strache additionally laid blame for Austria's migration woes on the EU. He said that although the country did not want to leave the bloc, it did want to see the EU reform because of what he said were failures in its migration policies
Hefty criticism
Alongside the EU, Strache criticized numerous politicians directly. He described Austrian Federal Chancellor Christian Kern, a Social Democratic Party politician and former head of the Austrian Federal Railway, as "one of the co-perpetrators of those human trafficking organizations."
During Saturday's gathering, Strache also tweeted that Kern and the foreign minister, Sebastian Kurz, from the ÖVP, "both copy FPÖ suggestions and are in other ways also very similar to one another."
Non-profit organizations were also targeted during Strache's speech. He criticized Caritas, an organization that helps those most in need, for using tax money to aid asylum seekers. The state, not charities, should take charge of social care to ensure that money is spent efficiently, he said.
Upcoming elections
Strache's FPÖ party narrowly lost the long-postponed presidential election this December, but the party's candidate Nobert Hofer achieved 47 percent of the vote. The FPÖ is currently polling at 30 percent, making it Austria's strongest party. Looking ahead at future parliamentary elections in 2018 and primaries in 2017, Strache said that "the time is ripe" for an FPÖ victory and that the party's campaign message will be based on security, direct democracy, migration and social justice.
cmb/tj (dpa, Reuters)