In an interview with German magazine Der Spiegel, the Austrian foreign minister said "many of countries have no interest in us sending back their citizens."
Severe measures are necessary in order to address the number of failed deportations of rejected asylum seekers or those who have committed a criminal offense, Kurz said.
'Less-for-less principle'
According to plans from Vienna, countries that refuse to take back their citizens are expected to receive noticeably less development aid from Europe.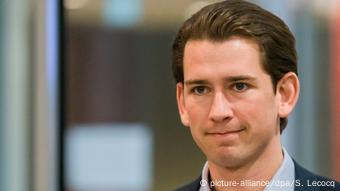 Austrian Foreign Minister Sebastian Kurz
"The money transfers from the refugees from Europe to their home country are an important economic factor," according to Kurz.
The EU therefore has to act according to the "less-for-less principle," Kurz said - meaning that those you do less will receive less financially.
In short, "for countries that are unwilling to take back their citizens, the funds for development cooperation must be cut." Even the threat would lead to a massive rethink, Kurz told Der Spiegel.
Tighter borders
In light of the recent terror attack on a Berlin Christmas market, the Austrian foreign minister also demanded better security of European external borders.
"If we cannot control who emigrates to the EU and who lives here, that is a security risk," Kurz said, adding that it would be "fatal to equate refugees with terror."
On the other hand, he said, it was a mistake to believe that refugees could never become criminals or terrorists.
"I warned a year and a half ago that the refugee routes could also be used by terrorists, which unfortunately proved to be right," he added.
Visegrad allies
Throughout the refugee crisis, Vienna has allied itself with the Visegrad group - Poland, Hungary, Slovakia and the Czech Republic - against the EU's migrant policy.
Earlier this year, Austria was also instrumental in the closure of the Balkan route used by migrants to travel to northern Europe after it tightened its border controls and set a ceiling on asylum applications.
As recently as November, Austria also sent 60 troops to Hungary to help build infrastructure along the border with non-EU member Serbia. Defense Minister Hans Peter Doskozil insisted, however, that the soldiers would not be armed, nor involved in intercepting refugees who make it into Hungary after overcoming the fence, rolled out along the Hungarian-Serbian border.