On Saturday, Mikhail Gorbachev, the last leader of the Soviet Union, criticized Western countries for their policies since the fall of the Berlin Wall in 1989.
"The world is on the brink of a new Cold War. Some say it has already begun," said the 83-year-old Gorbachev, referring to the separatist standoff in eastern Ukraine.
Gorbachev, on a visit to Berlin to commemorate 25 years since the wall came down, accused the West, especially the United States, of not keeping promises it had made since the Cold War, of instead declaring itself the winner and taking advantage of Russia's weakness.
"The events of recent months are the consequences of short-sighted policies … ignoring the interests of partners," he said.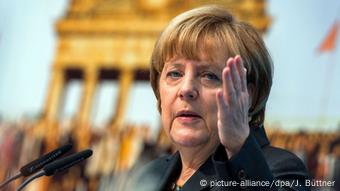 "There was no turning back then. It is thanks to their courage that the wall was opened": Merkel
Writing history
In a speech in Berlin, German Chancellor Angela Merkel said that November 9, 1989, was "a day that showed us the yearning for freedom cannot be forever suppressed."
"During the course of 1989, more and more East Germans lost their fears of the state's repression and chicanery, and went out on the streets," Merkel said. "There was no turning back then. It is thanks to their courage that the wall was opened."
When the German Democratic Republic declared it would lift travel restrictions on its citizens in 1989, Merkel, at the time 35, had been working as a physicist in East Berlin. She recalled: "There had been a lot of excitement for weeks. There were tanks that had been on my street since October 7."
The Reuters news agency quoted her as saying in an interview with German television that it was a "miracle that everything happened peacefully." She added: "There was just this incredible feeling of happiness. It was a night I'll never forget."
In a separate speech on Saturday, Merkel told an audience at a commemorative event in Berlin's New National Gallery: "This city wrote history. The human urge for freedom cannot be suppressed forever."
Hundreds of thousands of people have gathered in Berlin ahead of Sunday's celebrations. On Friday, a 15-kilometer (9-mile) path of lights was inaugurated, illuminating the route through central Berlin where the wall once stood. The lifting of travel restrictions and the subsequent fall of the Berlin Wall are seen as the catalyst for the reunification of Germany, the implosion of the Soviet Union and thus the destruction of the Iron Curtain.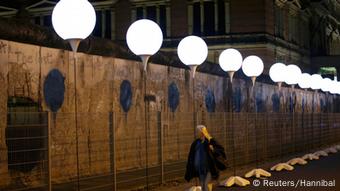 A path of lights now stands where the wall once divided the East and the West
Taking part in Sunday's ceremonies will be German President Joachim Gauck, a former pastor and human rights activist in the East, and former Polish Solidarity movement leader and later Polish President Lech Walesa. Festivities will include performances by leading German entertainers such as Udo Lindenberg and Die Fantastischen Vier, as well as the British pop star Peter Gabriel.
sb/mkg (dpa, Reuters)