At the end of her two-day visit to China, German Chancellor Angela Merkel on Friday called for better data protection assurances for German firms in future cooperation with Beijing.
"Data is a deciding factor, and for companies data protection is naturally also fundamental," she told reporters during a visit to the southern city of Shenzhen — China's Silicon Valley.
Read more: Germany and China — trade partners and competitors
Merkel said that during her talks with Chinese leaders on Thursday in Beijing, she spoke "critically" about China's cybersecurity law, saying it lacks protection for companies' intellectual property and raises human rights concerns.
The law, which went into effect last June, requires foreign firms keep data on servers located in China. The cross-border transfer of data is also highly regulated, posing an issue for German automakers who collect data needed for autonomous cars to drive.
Merkel said she hopes to secure a memorandum of understanding with China concerning autonomous driving in order to gain more security for German carmakers.
Merkel in high-tech China
While in Shenzhen, Merkel attended the opening ceremony for an "innovation center" that was set up by the German Chambers of Commerce Abroad. She also met with Guangdong Governor Li Xi.
Around 600 German companies have plants or offices in Guangdong province, where Shenzhen is located.
The chancellor also visited a Siemens plant in the area that produces devices used for clinical diagnostics, as well as Chinese biotech startup iCarbonX, which uses artificial intelligence in a platform for health data.
Read more: Sieren's China: Germany playing technological catch-up
After taking in a morning of Chinese and German high-tech innovation, Merkel noted that Germany needs to do more to address digitalization and changes in the labor market.
"We are not at the forefront in all fields, but one can also see in German companies that we are a global leader in some areas," she said. "But that needs to be developed day by day."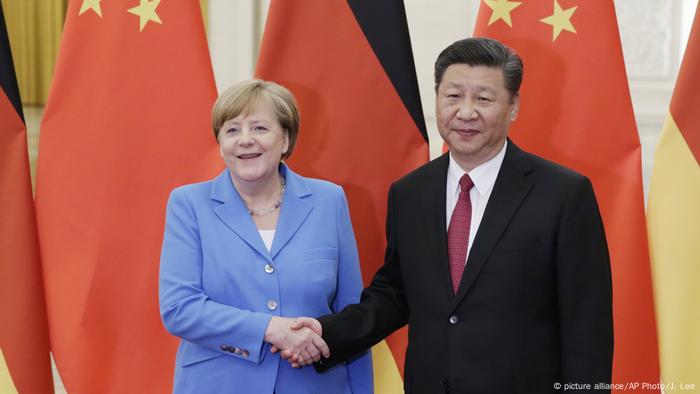 Merkel praised Xi for reducing tarriffs on car imports, but urged for Beijing to ease limits on foreign investment
Keeping quiet on Trump
Merkel's two-day trip to China was overshadowed by issues with North Korea and Iran.
The chancellor dodged reporters' questions about US President Donald Trump's decision on Thursday to pull out of a summit with North Korean leader Kim Jong Un.
On Thursday, Merkel met with Chinese President Xi Jinping in Beijing, where she welcomed China's decision to reduce import tariffs on automobiles.
In earlier talks with Chinese Premier Li Keqiang, the leaders underscored their countries' commitment to the Iran nuclear deal, which Trump announced he was pulling out of earlier this month.
rs/sms (AFP, dpa)