India on Tuesday ruled out deployment of troops to Afghanistan even as it pledged to eradicate the "scourge" of terrorism for peace and stability in the region.
India says its decision not to send troops to Afghanistan is based on its policy of helping the worn-torn country through economic and humanitarian aid.
"There shall not be boots [soldiers] from India on the ground [in Afghanistan]," India's Defense Minister Nirmala Sitharaman said at a joint press conference with visiting US Defense Secretary James Mattis on Tuesday. After holding talks with Indian officials, Mattis flew to Kabul, where along with NATO chief Jens Stoltenberg, he met with President Ashraf Ghani.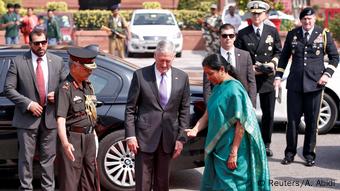 India on Tuesday put a damper on requests from US Defense Secretary James Mattis for 'further efforts to promote Afghanistan's democracy, stability and security.'
Both parties emphasized the need to combat terrorism with Sitharaman urging Mattis to raise the issues of alleged safe havens for terrorists in Pakistan with Islamabad.
"The very same forces which find safe haven in Pakistan are the same that hit New York and Mumbai," she said.
Last month, US President Donald Trump announced his Afghanistan policy, ending a long period of ambiguity over the US role in Afghanistan under his administration.
In his speech, Trump admitted that his first instinct was to pull out US troops from Afghanistan but after months of deliberation he decided against it. He stressed that "the consequences of a rapid exit are both predictable and unacceptable," which could leave a "vacuum" that terrorists "would instantly fill."
Trump also criticized Pakistan's "lack of cooperation" with Washington over the Islamic country's alleged support for Islamists in Afghanistan. At the same time, Trump lauded India and said his administration would seek a greater Indian participation in Afghanistan and South Asia.
India, too, accuses Islamabad of aiding jihadi proxies in the region. Many experts claim that Pakistan uses Islamist militants to destabilize the government in Kabul, increase its clout in the war-torn country and minimize New Delhi's influence on President Ghani.
If the US and India have similar interests in Afghanistan then why is New Delhi reluctant to send troops to Afghanistan? Does "no troops on ground" also mean that India won't provide military equipment to Kabul?
It appears that despite being on the same page over the threat of proxy Islamists, Washington and New Delhi differ on logistics.
Read more: Has Trump's Afghanistan policy destabilized South Asia even more?
Positive image and goodwill
Security and defense analysts in India say the decision to not get involved militarily in Afghanistan is sensible and well-calculated.
"The deployment of troops by foreign powers in Afghanistan has led to disastrous consequences. It is a historical fact and India understands it very well," Happymon Jacob, a professor of disarmament studies at the New-Delhi based Jawaharlal Nehru University, told DW.
Jacob says that NATO forces are on their way out of Afghanistan, hence there is little India can achieve on its own.
"More importantly, if things go wrong, India stands to lose the goodwill it enjoys among the Afghan public and leadership," he added.
The Indian government enjoys a better reputation among the international community over its role in the Afghan conflict. Indian politicians say that while they are supporting Afghanistan economically, Pakistan, on the other hand, is backing Islamists to destabilize the country. Islamabad denies these allegations.
Read more: Unhappy neighbors - Afghanistan, India, Iran wary of Pakistan's 'jihadist support'
So far, New Delhi has provided more than $3 billion (2.55 billion euros) to assist the Afghan government in the battle against the Taliban, whose regime was toppled by the US in 2001. India has been Afghanistan's biggest regional donor since the US invasion of Afghanistan and has been involved in building the war-ravaged country's infrastructure. India is also providing training to the Afghan army and police.
"Indian troops won't be able to help Afghanistan in any case. It will only drag the country into an unwinnable and costly intervention and tarnish its positive image," Rajesh Rajagopalan, an expert on international politics, told DW.
Read more: How active are Indian jihadists in Afghanistan?
Indian stakes in Afghanistan
"Although India's refusal to deploy its army to Afghanistan is not related to Pakistan's possible retaliation, it is likely that in such a scenario Indian forces in Afghanistan could become prime targets of Pakistan-backed militant groups like the Haqqani Network," Rajagopalan added.
Read more: India's partition and 70 years of proxy jihad
Despite its decision against sending troops to Afghanistan, India certainly does not want its regional rivals China and Pakistan to dictate terms on the conflict.
"India must convey to Kabul and Washington that its support is tied to its inclusion in all deliberations on the Afghan conflict. Islamabad and Beijing shouldn't be allowed to have a free hand," Jayadev Ranade, a strategic analyst, told DW.
China is already part of a Quadrilateral Coordination Group - comprising Afghanistan, China, Pakistan and the United States - that was established to end the protracted Afghan crisis. The grouping has not achieved any significant breakthrough so far, with Islamabad and Kabul at loggerheads over the militancy issue, and Beijing and Washington lacking trust.
Read more: 'China and Russia want US out of Afghanistan'
"India already provides both training and military equipment to Afghanistan, although on a small scale. This assistance could probably be increased. The Afghan air forces needs better fighter jets and helicopters, and this is an area where India could help Kabul," said Rajagopalan.