In the midst of the holiday season, with many people still in a "Christmas coma" due to overindulging on rich holiday foods, the World Health Organization (WHO) has again warned that far too many are seriously overweight – adults and children alike.
In Germany, obesity in children and adolescents in particular has reached alarming proportions, says Juana Willumsen, the agency's expert for childhood obesity. She called for a much more "rigorous approach" to what the WHO recently labeled one of the "most serious public health challenges of the 21st century."
Advertising for junk food and sweets urgently needs to be limited, Willumsen said in an interview with the German press agency (dpa) on Friday.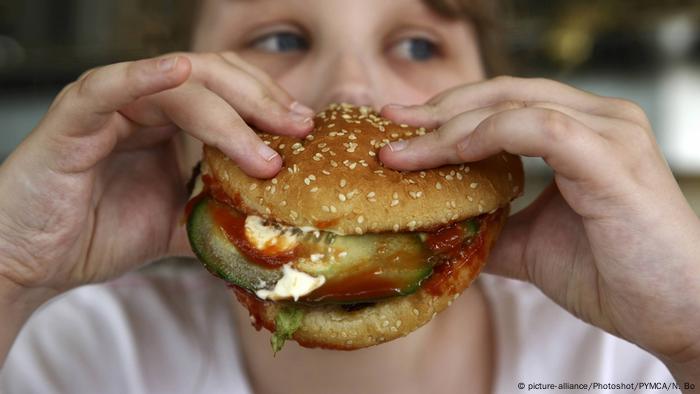 The ubiquitous hamburger: a "calorie-dense" product
Read more: Obesity in kids and teenagers rises tenfold in last 40 years – WHO study
"Manufacturers' self-regulated restrictions are not enough," she said, adding that studies have shown they "don't work" because they often only drop ads from cartoons or programs for kids under five.
Inefficient self-regulation
Youngsters are "highly susceptible to advertising up to the age of 16" concerning high fat, salt and sugar (HFSS) products, the WHO expert argued, demanding that "commercials must be clearly regulated, compliance must be monitored and violations punished."
"Beer is especially fattening," Willumsen also said, suggesting tighter regulations on beer commercials in a country where adolescents are legally allowed to drink beer at the age of 16 – and where the traditional high-calorie brew is even known as "liquid bread."
Statistics show that in 2016 in Germany, 6.9 percent of girls were obese, along with 11.2 percent of boys aged five to 19. Since 1980, the percentage of obese boys has almost tripled.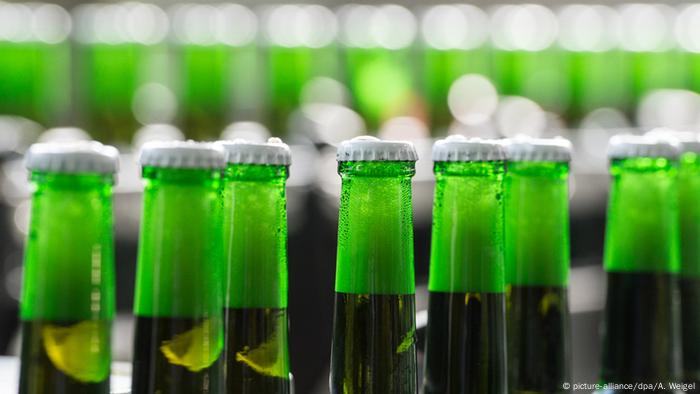 Beer is full of calories, thus the 'beer belly'
'Emotional debate'
The German Advertising Federation (ZAW) was not immediately available for comment on Friday.
On its website, however, the ZAW has a statement on what it calls an "emotional debate about advertising and children," arguing that food commercials are in fact highly regulated in Germany, in particular for children and adolescents. "It is forbidden to interrupt children's radio and TV programs with commercials," the ZAW writes.
Read more: Can the ad industry become sustainable?
The federation says a lack of physical exercise and the "family lifestyle" are in fact to blame for childhood overweight and obesity.
For the most part, the parents decide what a child eats and drinks, the ZAW concludes. "Their influence is commanding."
Epidemic of childhood obesity
Germany is by no means alone with the problem of childhood and adolescent obesity. Spain last year saw almost 13 percent obese boys, China recorded 15.4 percent and the US a whopping 23.3 percent. India, on the other hand, recorded 2.4 percent of heavily overweight boys.
Studies have shown that food ads – the food and beverage industry spends hundreds of millions of dollars every year to market its products to children and teenagers – clearly affect children's food choices, preferences and promote unhealthy eating habits.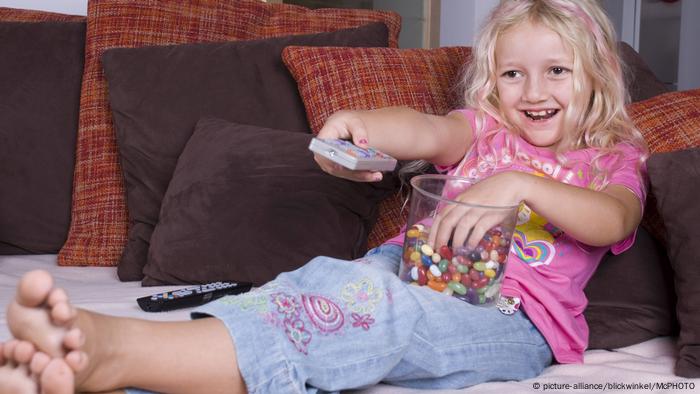 Commercials often get kids hooked on nutrient-poor snacks
Like the WHO, US food policy experts have for years demanded that "in the absence of effective industry self-regulation, it is imperative for the government to step in." "The majority of food advertising viewed by children and adolescents promotes calorie-dense, nutrient-poor products, and most young people encounter these messages numerous times each day," according to an article in the American Journal of Public Health in 2012. The authors point out that children don't have "the highly developed behavioral control mechanisms necessary to self-regulate their consumption of innately desirable but nutrient-poor foods."
The WHO warns that overweight and obese children are likely to remain obese into adulthood, and "more likely to develop non-communicable diseases like diabetes and cardiovascular diseases at a younger age."
In children, various methods to measure healthy weight are available, depending on the age. For adults, the most commonly used qualifier is the Body Mass Index (BMI) which quantifies muscle, fat and bone in an individual.