It's "a growing and disturbing global public health crisis," write the authors of a new study, which suggests more than 2 billion people are overweight or obese.
They estimate that in 2015 more than 700 million people were obese with a body-mass index (BMI) of more than 30. Another 1.5 billion people were assessed as being overweight with a BMI between 25 and 30.
BMI is an attempt to quantify muscle, fat and bone in an individual and, ideally, should be less than 25 in a healthy person.
An international research consortium led by the Institute for Health Metrics and Evaluation at the University of Washington in the US analyzed data from 68.5 million people.
And according to their evaluation it's not only adults who need to lose weight. Worldwide, about 7 percent of children, aged 2 to 4 years, are obese.
Using projections, the researchers assessed the worldwide status of obesity and being overweight.
Their report was published on Monday (12.06.2017) in "The New England Journal of Medicine."
Where the fattest people live
Since 1980, the percentage of obese people has increased in most countries, the researchers say. In 73 countries, the number has even doubled.
Egypt tops the list of adult obesity with about 35 percent of their population. Saudi Arabia and the US are also high on the list.
The US has the highest percentage of obese children and teenagers: nearly 13 percent of all people under the age of 20 are overweight in America. Canada and the Gulf States follow close behind.
Looking at pure numbers, India and China have the highest number of obese children; the United States and China have the highest number in obese adults. This can be explained in partly by the high population of these countries.
Over all, more women than men are obese. This difference does not show so much in children, but it becomes common in people aged 25 years and older.
Also, it seems the higher the income and the education of a nation the higher the percentage of people who are overweight.
In Africa and South East Asia, obesity is still quite rare compared to the rest of the world. In Bangladesh and Vietnam only 1 percent of people are obese - the lowest rates worldwide.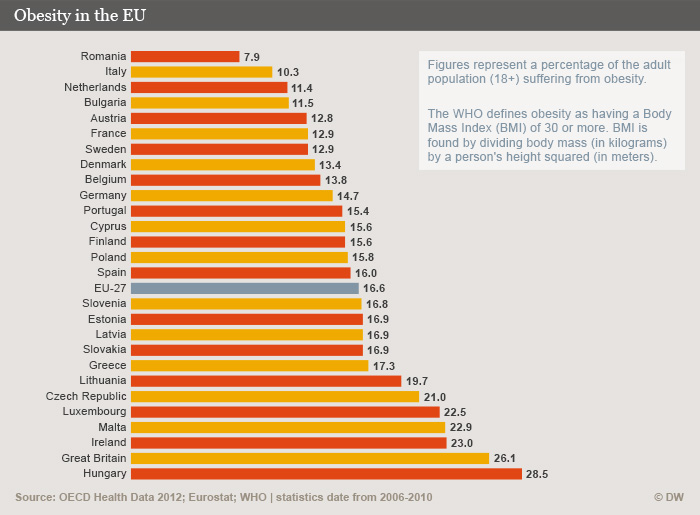 A matter of extrapolation
This is not the first study that has warned of an alarming rise in obesity across the world.
For example in 2014 US health researchers reported in "The Lancet" that since 1980 obesity had soared in all countries, especially among children.
They found that in 2014 about 640 million adults were obese.
When you compare those data to the data in the study published now, the numbers vary a bit - 604 million in the new study as opposed to 640 million in the old one.
This may have something to do with the way such studies are done. Researchers tend to only look at a small part of a population and then extrapolate their findings to the world population.
Moreover, definitions may vary. Depending on the study, an adult may be people older than 18, or 20 years.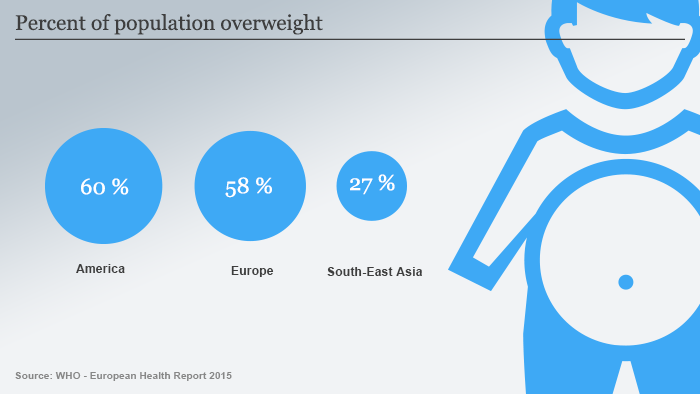 Fat people die younger
But no matter which study you look at: they all show that the world population is growing fatter and fatter - and at an alarming rate, as the researchers of the 2017 study put it.
The most probable reason, say the report's authors, is an "increased availability, accessibility and affordability of energy-dense foods, along with intense marketing of such foods."
The World Health Organization has called on European lawmakers for better regulation of advertising targeted at children, especially on foods.
"People who shrug off weight gain do so at their own risk," says Christopher Murray, director of the Institute for Health Metrics and Evaluation at the University of Washington.
The risks, he adds, are cardiovascular diseases, diabetes, cancer "and other life-threatening conditions."
Their study found that in 2015 about 4 million people died due to excess body weight.
Another study, published in The Lancet in 2016, found that being overweight can cut life expectancy by between one and ten years.
The authors write that too little physical activity due to urbanization and lifestyle changes might also play a role in the world getting more and more obese, but it is "less likely", they conclude. They say that's because the worldwide rise in weight gain started long after those lifestyle changes took place.
Still, sedentary lifestyles may be riskier than being overweight, researchers at the University of Cambridge warn.
They say that a lack of exercise causes more deaths across Europe than obesity itself.
"A 20-minute brisk walk each day could suffice in reducing the risk of early death," the researchers say.
To make sure you live a long and healthy life, you should definitely eat fewer calories and do more exercise.
In a nutshell, this is what all these studies are trying to tell us.