When polling stations closed at 6 p.m. on Sunday it quickly became clear that Chancellor Angela Merkel had won a second-term due partly to the failure of the Social Democrats (SPD) to mobilize their traditional core voters.
The SPD lost approximately 10 million voters compared to 1998, when Gerhard Schroeder was swept to power and formed a coalition government with the Green party. This time around, two million SPD voters stayed at home.
But they weren't the only ones. A large section of Germany's 62.2 million eligible voters didn't bother making the journey to polling stations, resulting in the country's lowest electoral turnout in post-war history. Turnout was at a record low of 70.8 percent against 77.7 percent four years ago. In 1972 it was as high as 91.1 percent.
Failing to reach voters

Part of the blame for the low turnout can be attributed to the lackluster campaign. Voters struggled to tell Chancellor Angela Merkel's conservative Christian Democrats (CDU) and the center-left Social Democrats apart. This was underscored in a tepid TV debate between Merkel and her SPD challenger Frank-Walter Steinmeier.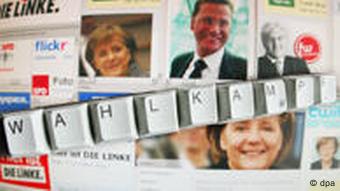 Twenty-eight parties were vying for seats in the Bundestag

The editor of the weekly Die Zeit, Josef Joffe, called the election campaign a farce. "All in all, we're looking at a campaign that barely fulfils its classical role of accentuating differences and giving voters a clear choice," said Joffe.
A survey conducted by Forschungsgruppe Wahlen found that 68 percent of respondents felt that the two parties' policies "differed hardly at all."
Politicians argued that they were in an awkward position having to fight an election campaign as Germany tries to emerge from an economic recession that could push unemployment to nearly five million by late 2010.

Compulsory voting?
Bild am Sonntag newspaper said nearly half of Germans polled ahead of the parliamentary elections were in favor of introducing compulsory voting. In eastern Germany the figure was 52 percent, while it was 46 percent in the West.
Three European countries, Belgium, Luxembourg and Greece, currently have a system of compulsory voting.
nrt/AP/AFP/dpa
Editor: Nancy Isenson