Russian President Vladimir Putin won a landslide re-election victory on Sunday, garnering 76.7 percent of the vote with more than 99 percent of precincts reporting.
Addressing his supporters at a victory rally in Moscow, Putin said the election result was a recognition of what had been achieved in the past few years, despite difficult conditions.
He said Russia had a great future ahead of it, so long as its people stayed united.
Read more: Putin's certain victory: What you need to know about the Russian presidential election
Turnout lower than previous elections
Communist candidate Pavel Grudinin is set to secure the second place followed by ultranationalist Vladimir Zhirinovsky, who is on track to a third place finish.
Turnout was reportedly 67 percent, which would be higher than at Putin's last electoral victory in 2012.
Analysts believed Putin had been aiming for a high voter turnout to secure a clear mandate for his fourth term in office.
'Alarming' irregularities
Golos, Russia's most independent election monitoring group, said it received dozens of complaints, reporting more than 2,500 electoral irregularities and violations across the country. The issues included several ballot boxes hidden from view of observation cameras and last-minute changes to voter registration lists.
Read more: Vladimir Putin is counting on female turnout
The group said Saturday it had registered an "alarming" rise in complaints about employers forcing or pressuring their workers to vote as part of an apparent effort by authorities to boost the turnout and hand Putin a clear mandate.
Russia's Central Election Commission said on Sunday it was responding to 670 claims of violations, including ballot stuffing.
France dismisses Crimea results
France became the first Western country to openly criticize the vote, saying it would not recognize the results in Crimea due to Russia's illegal occupation of the peninsula.
"Challenging borders by force is contrary to international law, including commitments made by the Russian Federation," said the French foreign ministry, adding that it was "concerned by the militarization" in the region as well as human rights abuses.
The polls are taking place four years to the day since Russia annexed Crimea from Ukraine.
DW's Russia correspondent, Miodrag Soric, was turned away from a polling station in Kazan as he tried to report on the election.
However, he was allowed to film at another voting center, just five minutes away.
Getting people to the polls
Critics alleged that officials had compelled people to come to polling booths to ensure that the one-sided contest did not prompt people to stay at home.
On Russia's Pacific coast, in the Khabarovsk region, local officials brought eggs, tinned peas, and frozen pike to be sold at a discount of between 10 and 30 percent to voters at polling stations.
"By doing this we hope to attract voters to the polling stations and we think we can increase turnout," said Nikolai Kretsu, chairman of the consumer market committee in the regional administration. "The second objective is to strengthen allegiance towards the authorities."
Read more: Khodorkovsky: Nobody knows where Putin will drag Russia
Putin, who campaigned under the slogan "a strong president, a strong Russia," on Friday appealed to Russians to "use their right to choose the future for the great Russia that we all love."
At the same time, he warned that failing to cast a ballot would mean that "this decisive choice will be made without your opinion taken into account."
In the run-up to the polls, Putin pledged to raise wages, inject more funding into healthcare and education and to modernize dilapidated infrastructure.
Russia's last presidential elections in 2012 saw protests across the country against Putin's return as head of state. The vote was marred by allegations of fraud. The country's opposition movement also made a strong showing.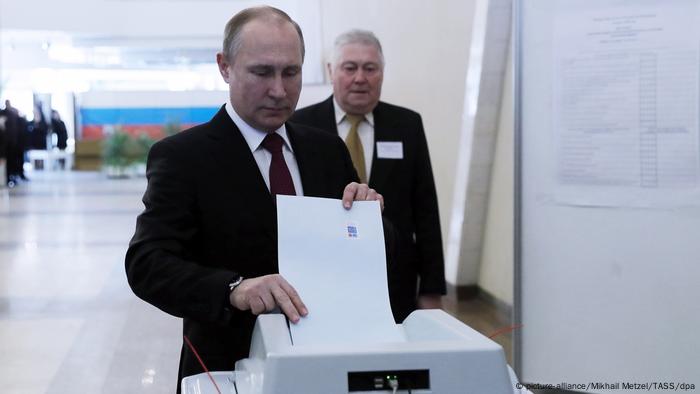 Vladimir Putin has campaigned as the only candidate "strong" enough to protect Russia from perceived threats
Navalny boycotts vote
Putin's most vocal critic, opposition leader Alexei Navalny, was barred from taking part in the race because of a criminal conviction that many believe to be politically motivated.
Navalny said he had boycotted the presidential election and urged other Russians to do the same.
"On election day, one should usually want to say 'I voted,' but in fact I'm here to say that I didn't go to vote," he said in a video posted on YouTube.
Read more: Where is the Russian economy headed?
amp,ap,ls,nm/se (AP, AFP, Reuters)
Each evening at 1830 UTC, DW's editors send out a selection of the day's hard news and quality feature journalism. You can sign up to receive it directly here.