The weekend will be marked with celebration throughout Poland. US troops are arriving and will be given a hero's welcome. It is an historic moment. The last time foreign soldiers were greeted by a majority of Poles was more than 200 years ago. Then, it was Napoleon's army.
Shifting the US military presence from Germany, where 36,000 soldiers are based, to Eastern Europe has been long under discussion. Germany no longer needed defending once the Iron Curtain fell, and it was expensive to maintain such a large presence there. Nothing changed on the ground, however, until Russia annexed Crimea in 2014. That led Poland's Foreign Minister Radoslaw Sikorski to request two US brigades for more protection.
Protests from Moscow
One of those brigades is now on its way to Zagan, about 60 miles from the German border - 3,500 soldiers from Colorado, along with 87 tanks and 400 Humvees in an operation called "Atlantic Resolve." New troops will rotate in every nine months, with similar rotation stationing taking place around the region all the way to Romania.
The troop rotations are how NATO gets around its pledge to Moscow, following the fall of the Soviet Union: that it would not permanently base large numbers of forces east of Germany, provided the security situation remained unchanged. Moscow has protested the operation nonetheless, having conducted military exercises of its own since 2007. These have included tens of thousands of soldiers along Russia's western borders or in neighboring Belarus to train for operations against Poland and Estonia.
Threat to the Baltic
The US military presence is in the service of its NATO allies. A joint alliance force, known as Enhanced Forward Presence (EFP), is set to join, with Poland and the Baltic states of Lithuania, Latvia and Estonia each receiving a multinational battalion. All are NATO members. On January 19, 500 German soldiers are scheduled to leave their base in Bavaria for Lithuania, where they will lead 500 hundred additional soldiers from other countries. British troops will be in charge in Estonia, Canadian troops in Latvia and additional US troops are expected to arrive in April to take over operations there. The forces, always in constant rotation, will be stationed in northeast Poland near the "Suwalki Gap," named for the city that sits an equidistant 40 miles from Russia's Kaliningrad exclave and Belarus, a Russian ally.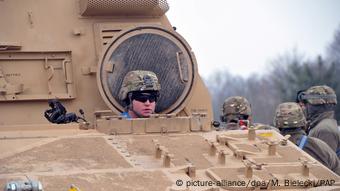 NATO is constantly rotating troops in order to skirt a pledge to Moscow
Military experts have long since warned Russia could easily cut off supply lines there if it were to advance on the Baltic states, the NATO members most threatened by a Russian military presence, despite a build-up in their own comparatively weak forces since 2014.
Grandpa cried
The NATO operation was the most significant outcome of the alliance's summit in Warsaw in July 2016. Donald Trump's presidential election victory has the region worried that the US may back out of Barack Obama's commitment to place US forces there. Trump has said that the US should not defend NATO members who have not fulfilled their financial obligations. Poland and the Baltic states are in relatively good standing with the alliance.
Russia's state media have criticized the deployment of NATO troops, calling it "aggressive." In all, the forces dedicated to the defense of the region from Estonia to Romania will total less than those stationed to defend West Berlin until 1989.
Many of today's young Poles have no memory of that time and what the presence of US troops means to the region. "When President Clinton first came to Poland," one young Polish man said, "grandpa cried."