Near the end of a December 17, 2015 press conference, a journalist asked Russian President Vladimir Putin about Donald Trump.
"He is a striking person. Talented, no doubt," the Russian president said, calling the billionaire American an "absolute leader in the presidential campaign." Trump was leading the Republican primary race at the time. "He talks about relations with Russia on a new, deeper level," Putin added. "How could we not welcome this? Of course we welcome this."
Trump returned the favor a few days later, saying it was a great honor to be praised by a man "so highly respected in his own country and abroad."
Under mounting pressure
A lot has happened since this exchange of niceties. Trump won the general election and will be inaugurated on January 20. During the campaign, he was ridiculed in both the press and by his democratic opponent, former Secretary of State Hillary Clinton, as "Putin's puppet." Both Trump and Russia dismissed this as pure campaign rhetoric.
New accusations have surfaced since the election, putting Trump under pressure. The American intelligence community blamed Putin personally for the hacking of the Democratic Party in an effort to damage the Clinton campaign. Trump himself admitted that Russia was responsible for the cyberattack, but denies any relationship with Russia and the risk of blackmail that an explosive but unconfirmed report claims.
Kremlin in waiting
Russia responded euphorically to the Republican candidate's victory. There was applause in the Duma, Russia's parliament, and champagne from the right-wing populist Vladimir Zhirinovsky. "Yes, we celebrated for three days," Dmitry Peskov, Putin's press secretary, said on television at the end of December.
The mood wasn't shared in diplomatic circles. "The professionals knew this only makes the game more difficult for us," Aleksei Venediktov told the well-known radio station, Echo of Moscow, where he serves as editor-in-chief. He gave two reasons that Russia should be cautious of Trump: his "very reactionary policies" and his "very impulsive" nature. The Kremlin should be wary and wait, he said.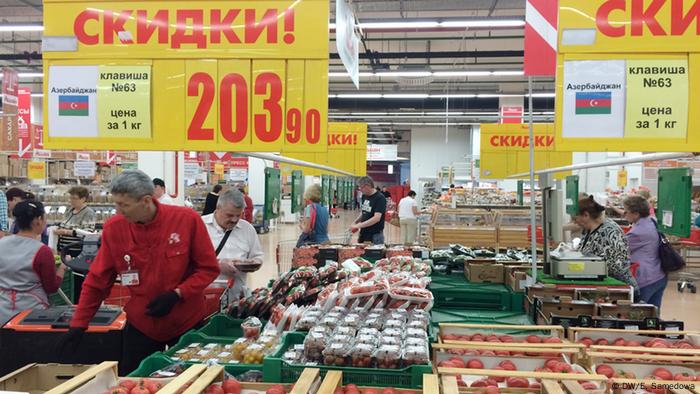 The consqeuences of sanctions are evident in Russian supermarkets - certain foods can no longer be found
Putin wants respect
In fact, Putin has done just that. Moscow has delivered Trump two written messages - post-election congratulations and Christmas greetings - and made one phone call. An in-person meeting is in the works, but a time and date have yet to be set.
One of Putin's central messages has gone unchanged for months: Russia's readiness to return to good relations with the US. How that would play out remains to be seen.
"I believe Putin wants Russia to be heard more," said Alexei Kudrin, Russia's former finance minister and once-close confidant of Putin, at a November meeting in New York. This is especially so for world events affecting Russian interests, he added, which Putin has partly accomplished, referring to Russia's involvement in Syria and Ukraine.
High on Putin's wish list for Trump may be the lifting of sanctions, put in place in 2014 following Russia's actions in Ukraine, though no one expects this to happen overnight. Recognizing Russia's annexation of Crimea may also be a desired policy goal. They are related matters that Trump signaled during the campaign he would be open to discussing.
Russia certainly wants US assurances that Ukraine will never join NATO, part of its years-long desire to see the Western military alliance kept far from Russian borders. This includes Russia's criticism of a missile defense shield for Eastern Europe. However, like sanctions, expectations for doing away with it are low.
Sphere of influence
Nor would Russia want to see Ukraine - or any of other former Soviet republic, such as Georgia or Moldova - move closer to the European Union. Whether official or not, Putin wants a greater say in global problems, like Syria, and something akin to a veto power for matters concerning its immediate sphere of influence.
Experts have been speculating for months what Putin could offer Trump in return. This remains a largely unanswered question, except in the fight against Islamic terrorism. Both Trump and Putin are agreed on this point, as far as Russia can tell, but less certain is if that will be enough.