Amidst an anticipated shift in US foreign policy under President Trump and a turbulent beginning to his presidency, Washington is signaling to allies in East Asia that they can count on continued US support on a number of issues that include countering a belligerent North Korea and addressing Chinese maritime ambitions.
US Secretary of Defense James Mattis will be in Seoul on Thursday to meet with the South Korean Minister of National Defense Han Min koo. Mattis will continue to Tokyo on Friday to meet with Japanese Minister of Defense Tomomi Inada.
These initial gestures by the Trump administration toward two of the US' strongest allies in the region indicate a shred of normalcy at the beginning of a US presidency that has begun to exceed expectations in unconventionality.
Secretary Mattis' visit to East Asia is the first overseas trip by any of Trump's cabinet secretaries. This, according to the US Department of Defense, "underscores the commitment" of the United States to "enduring alliances" with South Korea and Japan. President Trump also spoke with South Korea's acting president Hwang Kyo ahn on Monday to reassure the US' "ironclad" commitment to defending South Korea.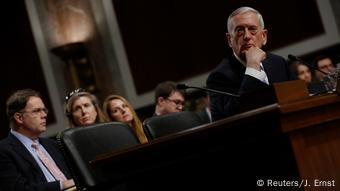 US Secretary of Defense Mattis was Trump's first confirmed cabinet member
"Secretary Mattis is a huge advocate of alliances," Roy Kamphausen, Director of the Washington D.C. office of the National Bureau of Asian Research (NBR), told DW. "Asia is not a region that is associated with his core national security experience," he added, emphasizing that Mattis had a reputation as a strategic thinker and student of security challenges."This visit underscores the value he places on informed policymaking."
Normal relations?
In interviews on the campaign trail, candidate Trump created uncertainty over US commitment to alliances and said allies would have to pay more for protection. South Korea and Japan have expressed concern that this rhetoric would translate into policy, but the tone from President Trump has thus far been tempered.
"I think we need to consider that last year much of this talk had largely to do with election rhetoric," Collin Koh Swee Lean, a research fellow at the Maritime Security Program at the S. Rajaratnam School of International Studies in Singapore, told DW.
"Another factor to consider is that Trump himself has scant knowledge and understanding of the inner workings of the existing alliance system," he added, saying that Trump's access to crucial information about the state of alliances may have given him a better understanding.
During an interview with CNN in March 2016, Trump said that the US was paid "peanuts" for keeping 28,500 troops in South Korea. "I would want South Korea to pay us a lot of money," said Trump. "South Korea is a money machine, and they should pay us very substantially for protecting them."
According to numbers published in the Wall Street Journal, after a 2014 deal, Seoul agreed to pay $866 million or 40 percent of the total cost of keeping US troops in the country.
In another CNN interview, Trump said that the US would be "better off" if Japan protected itself against the "maniac in North Korea." At the time, he also said that he would consider letting South Korea and Japan develop nuclear weapons.
And the recent emphasis on "America First" in Trump's inauguration speech also provided little reassurance to allies around the world.
"With Secretary Mattis' visit, there should be a clearer idea of what 'America First' will mean for the region," Shihoko Goto, senior Northeast Asia associate at the Wilson Center in Washington, told DW. "Greater clarity in the US position regarding Asia will be expected from the visit," added Goto. "It is clear that the status quo will be shaken, and that should be seen as a chance for Tokyo and Seoul to reset relations and redefine their own defense strategies as well."
Dependent on defense
While Mattis' visit is being welcomed in South Korea and Japan, both nations are still dependent on strategic alliances with the US and would have little bargaining leverage if more demands were placed on them in exchange for military support.
"The new administration will undoubtedly call for reforming the existing alliance in light of the changes in the security situation in the region," said Goto.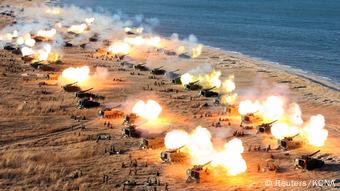 The North Korean army conducting an artillery drill in December 2016
Although it is unclear if more demands will be placed on US allies in East Asia, the challenges posed by China and North Korea will persist. If the US were to pull military support for allies like Japan and South Korea, there would be the potential for the entire region to be destabilized as both nations would respond by increasing unilateral defense mechanisms.
"Even if Trump is still keen for the allies to bear greater share of the defense burden, it's unwise to keep airing this in public," said Collin, adding that public demands could unsettle allies and cast doubt on Washington's security commitment to the region. "Such details would be better tackled behind the scenes through bilateral alliance mechanisms," said Collin adding that without US deterrence, South Korea and Japan would have the incentive to develop nuclear weapons to counter North Korea.
Defining the agenda
At the top of the list for South Korea is responding to its nuclear neighbor to the north. On Tuesday, Mattis and his South Korean counterpart Han announced that the two countries were going ahead with a plan to deploy a missile defense system built by the US aerospace and defense company Lockheed Martin.
Known as Terminal High Altitude Area Defense (THAAD), the system is designed to deter a missile attack from the North, which has been making aggressive statements recently about launching long-range missiles. Conversely, China sees the placement of THAAD systems in South Korea as a threat to its own ballistic missile capacity and said it would threaten regional stability.
For Japan, containing China is at the center of its strategic alliance with the US. Japan hosts 54,000 US military personnel and its annual budget to support the bases amounts to around $1.7 billion.
Collin said that for many years the two nations had become wary of Beijing's growing economic and military clout and assertiveness, which include intensified military forays through the Japanese archipelago into the Western Pacific.
As the strategic landscape in East Asia continues to tremble, US policy in the region seems to be stable for now, even with the Trump administration's rejection of the Trans-Pacific Partnership and tough talk on alliances.
"The advent of a new administration in the United States is shifting the geopolitical landscape across the globe, and East Asia is no exception," said Goto. "At the same time, US interest in the region remains unchanged and a stable and prosperous Asia will be key for the United States to flourish, especially at a time when foreign markets elsewhere are languishing."