The European Union (Withdrawal) Bill aims to convert around 12,000 EU laws and regulations into UK domestic laws on the day Britain leaves the bloc in March 2019.
After an eight-hour debate on Monday, the House of Commons voted 326-290 in favor of the bill's second reading, which allows it to pass to the next stage of the parliamentary process.
Read more:
UK Brexit immigration plan revealed in leaked document
Tony Blair: Brexit not needed to curb EU immigration
Earlier in the day, Brexit Secretary David Davis said "a vote against this bill is a vote for a chaotic exit from the European Union."
"The British people did not vote for confusion and neither should Parliament," he said.
Welcoming the vote, Prime Minister Theresa May issued a statement: "Although there is more to do, this decision means we can move on with negotiations with solid foundations and we continue to encourage MPs (lawmakers) from all parts of the UK to work together in support of this vital piece of legislation."
The bill goes into the Committee stage where each element of the bill will be scrutinized before it goes to the House of Lords for its consideration, before coming back for a further vote in the House of Commons.
Ministerial powers
The bill proposes the broad use of existing "Henry VIII powers" that allow ministers to amend legislation without full parliamentary scrutiny.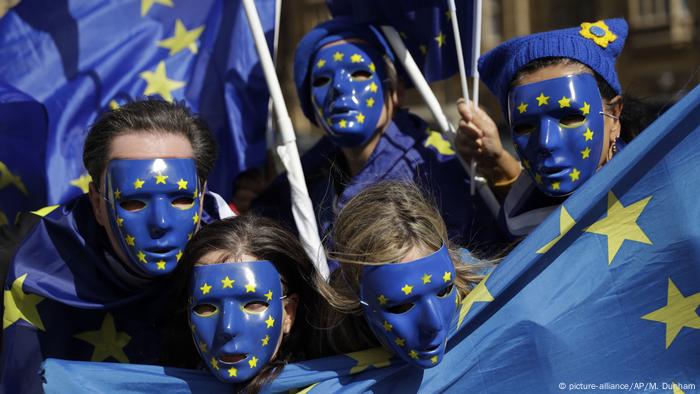 Anti-Brexit demonstrators gathered outside the parliamentary building
Opponents of the bill likened it to a "power grab" by the government, giving ministers powers to amend what are described as "deficiencies" in EU law.
Labour lawmaker Wayne David told the House of Commons the bill was "poorly thought out, complex and undemocratic ... a power grab by this government."
Some critics have gone so far as to compare the bill to the 1933 Enabling Act in Germany, which gave Chancellor Adolf Hitler's cabinet the power to enact laws without the involvement of the Reichstag.
Read more:
Brexit negotiator dismisses EU's 'silly' remarks on progress
German business leaders criticize UK's Brexit tactics
Others are concerned the Conservative government could use such powers to water down environmental standards, employment regulations or human rights protections.
The main opposition Labour Party and the smaller Liberal Democrats said they would vote against the EU withdrawal bill, but to win the vote they needed support from pro-EU lawmakers among the governing Conservatives.
The Conservative Party formed a minority government and signed a "confidence and supply" agreement with Northern Ireland's Democratic Unionist Party for its 10 members to vote with it on key issues.
jm/mm (Reuters, AP)