Critics and human rights groups on Tuesday slammed Uganda's new "social media tax." The country's government was accused of imposing onerous taxes to fund wasteful spending while failing to tackle corruption.
The upfront fee of 200 shillings ($0.05, €0.04) a day was introduced on July 1. It is payable in addition to the usual internet data charges and covers access to apps such as Facebook, Twitter, WhatsApp, YouTube, and Skype, as well as dating sites Tinder and Grindr.
Uganda's president, Yoweri Museveni, proposed the tax in March to curb online gossip on Facebook. He had suggested the country's finance minister should levy a tax to "cope with the consequences." The government hopes to collect about €85 million ($100 million ) this year from the levy.
Read more: Uganda backpedals on proposed social media tax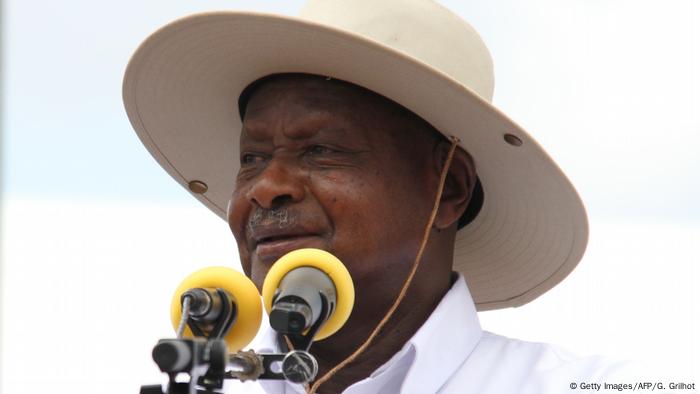 Yoweri Museveni has been Uganda's president for three decades
The tax is 'anti-social'
The reasons for the tax were "anti-people, were anti-social, not development-oriented," human rights lawyer Ladislaus Rwakafuuzi said. Activists filed a petition at the country's constitutional court, but such lawsuits can take years before a verdict is reached.
Rights group Amnesty International urged Ugandan authorities to scrap the tax, calling it "a clear attempt to undermine the right to freedom of expression." Social media users used the hashtag #ThisTaxMustGo to slam the tax.
Read more: African authoritarian regimes' dread of social media
This is not the first time the Ugandan government has been accused of interfering with access to information online. Two years ago, during a tightly-fought presidential election, WhatsApp, Twitter and Facebook stopped working for many Ugandans. Museveni sought to justify the 2016 social media shutdown by citing security concerns.
Museveni's election strategy turned out to be a damp squib. On polling day, almost 1.5 million Ugandans circumvented the shutdown by switching to VPNs (Virtual Private Networks). A VPN enables users to access servers outside the country, over which the Ugandan authorities have no control. Some users have been using VPNs to avoid the new levy.
Dozens of protesters — describing themselves as "the young citizens of Uganda" — warned that unless the tax is lifted by noon (9 a.m. UTC) Friday they will "mobilize the country" against it.
kw/kms (AP, AFP, Reuters)
Every evening at 1830 UTC, DW editors send out a selection of the day's hard news and quality feature journalism. You can sign up to receive it directly here.