At a politically charged rally in Cologne on Friday evening, Turkish Youth and Sports Minister Akif Cagatay Kilic honored the "heroes" of last July's botched coup attempt, whose "courageous intervention" stopped putschists from overthrowing the government.
Friday's speech before some 400 Turkish nationals living in Germany was one in a series of referendum rallies officials have planned around Europe. Turkish government ministers have campaigned in favor of a key constitutional reform that would expand the powers of President Recep Tayyip Erdogan. Turkish nationals living abroad are eligible to vote in next month's plebiscite.
Although Kilic vowed that the event would not address any political issues, his speech was accompanied by a series of films celebrating the defeat of the military-backed putschists and praising Erdogan. However, the sports minister, who grew up in the western German state of North Rhine-Westphalia, did not directly advocate the controversial reforms while on stage.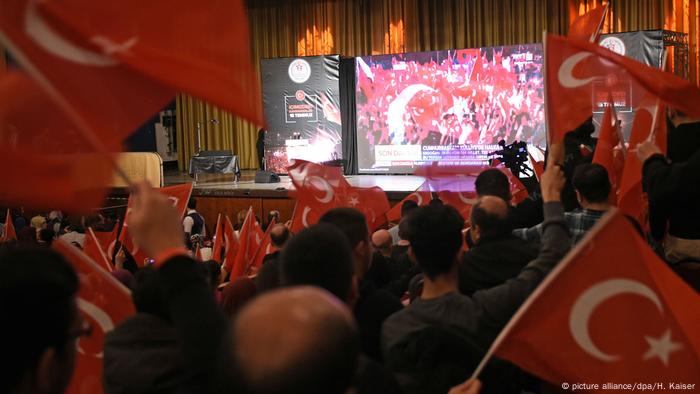 A 400-strong crowd showed its support for the Turkish government ahead of next month's referendum.
DW material seized
Kilic also took a moment to thank the German media for attending the event, adding that he thought "our friends will take something away from here."
His relationship with the German press has in the past become hostile. In September, after being interviewed for Deutsche Welle's "Conflict Zone" talk show, Kilic ordered Turkish authorities to confiscate the DW team's video material after reportedly telling his press spokesperson that he did not want the interview to be broadcast.
DW TV host Michel Friedman, who conducted the interview, said their exchange touched on the fallout from July's coup attempt, as well as press freedom and the status of women.
DW filed a lawsuit in a civil court in Ankara for the return of footage. The Turkish government remains in the possession of the video.
German government okays rallies
Kilic's Cologne rally took place on the same day the Federal Constitutional Court in Karlsruhe ruled that the German government can legally ban Turkish officials from campaigning in Germany. According to Germany's highest court, neither constitutional nor international law entitles ministers from other countries to come to Germany and perform official functions. Any refusal from the German government was a matter between two between two foreign states, the court added.
A handful of German cities prohibited Turkish officials from holding campaign rallies last week, citing security concerns. The move prompted Erdogan to accuse Germany of "Nazi practices."
However, the German government has indicated that it does not intend to introduce a top-down ban on rallies following the constitutional court's decision.
Explaining the move, deputy government spokeswoman Ulrike Demmer referred to the high value placed on freedom of expression in Germany. "What we demand of others, we should live by ourselves," she said.
The leader of the German Social Democrat parliamentary group, Thomas Opperman, urged Turkish politicians to show restraint. "Anyone who wants to talk here needs to play by the rules," he told the "Frankfurter Rundschau" broadcaster. However, Opperman rejected any outright ban. "We cannot abolish freedom of expression here in Germany just because we don't agree with Erdogan's views."
dm/rc (dpa, AFP)