Two more gas turbines appear to have been delivered to Russian-controlled Crimea, according to two Reuters reporters who saw the equipment at the port of Feodosia, potentially deepening a row over sanctions compliance in which Germany's Siemens has become embroiled.
Although Reuters has no independent confirmation the equipment on the dock was Siemens-made turbines, their dimensions and shape match publicly-available photographs of Siemens gas turbine systems, which each consist of two major components: the turbine itself and a generator.
Siemens said earlier this week that at least two of a total of four turbines it sold to Russian state firm Technopromexport had been delivered to Crimea against its wishes and without its knowledge. Russia seized the region from Ukraine in 2014 and it is now subject to European sanctions on energy technology.
The sanctions do allow the use of these turbines in Russia, but not in Crimea.
Litmus test for EU sanctions
On Tuesday, the German multinational had filed a lawsuit against Technopromexport, the Russian state company building the Crimean power plants, requiring it to return the turbines to their original destination on the Russian mainland, Taman.
If the equipment in Feodosia is indeed Siemens-made, it would show that Russia is pressing ahead with its plan despite the Siemens lawsuit and a warning this week from the German government that the use of Siemens turbines in Crimea could harm future German investment in Russia.
A spokesman for Siemens said on Monday it did everything possible to ensure compliance with sanctions. Technopromexport and Russia's energy ministry declined to comment.
Turbines needed
Russia needs four turbines in total for new power stations on the Crimean peninsula, which Ukraine cut from its electricity grid after it lost control, three people close to the project told Reuters.
Two of the turbines are for a power plant under construction in the city of Sevastopol, and the other two for a plant being built in Simferopol, they said. On Wednesday evening, a large convoy of police cars and jeeps arrived at the port and one of the sets of equipment was then driven out under escort.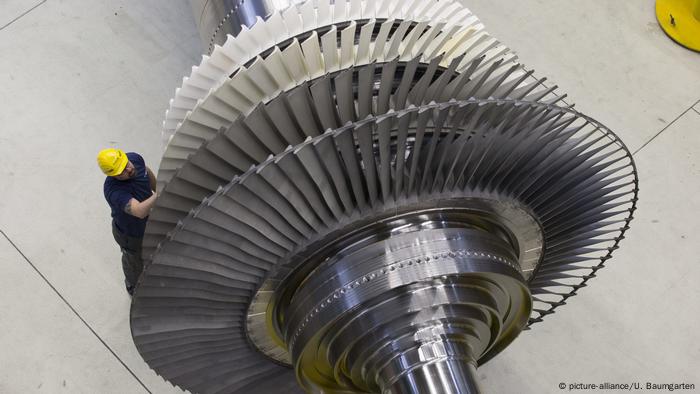 Siemens is suing the Russian company that sent turbines to Crimea. The case is a test of EU sanctions against Russia
President Vladimir Putin promised the region's residents last year that he would ensure a stable power supply.
Siemens has said the two turbines it has confirmed had been transferred to Crimea had been among four sold to Technopromexport for use in a power plant in Taman. Taman is on the Russian mainland 10 km (eight miles) east of Crimea across the Kerch Strait.
A source close to the Crimea power plants project last week said the plan was to deliver the second set of two turbines produced by Siemens to Feodosia port this month.
bb/bea (Reuters)