In excerpts from his interview with Axios on HBO released online Tuesday, US President Donald Trump said he planned to end the constitutional guarantee of citizenship for the US-born children of noncitizens.
Trump said he believed that an executive order would be sufficient to make the change. "It was always told to me that you needed a constitutional amendment," he told Axios. "Guess what? You don't."
Trump went on to say that he would make the change using an executive order.
The 14th Amendment
The right to citizenship for all people born in the United States is enshrined in the 14th Amendment, the first item of which reads: "All persons born or naturalized in the US, and subject to the jurisdiction thereof, are citizens of the US and of the state wherein they reside."
Changing an amendment to the constitution via Congress requires the support of two-thirds of the House of Representatives and the Senate and the backing of three-quarters of state legislatures at a constitutional convention. Any attempt to change it via presidential executive order would be likely to face legal challenges.
Later on Tuesday, House Speaker Paul Ryan said that Trump's methodology needed a fact check. "Well, you obviously cannot do that. You cannot end birthright citizenship with an executive order," Ryan said in an interview with radio station WVLK.
Omar Jadwat, director of the Immigrants' Rights Project at the American Civil Liberties Union in New York, told AP that the constitution was very clear on this. "If you are born in the United States, you're a citizen," he said, adding that it was "outrageous that the president can think he can override constitutional guarantees by issuing an executive order."
Read more: Gab goes dark after Pittsburgh synagogue attack
A hostile border
The order is one of several changes to US immigration policy that Trump has proposed. Trump has also barred a migrant caravan coming from Central America from entering the country. The Trump administration has already targeted immigration through a travel ban on people from several Muslim-majority countries, separating children from their family at the border and asylum policies that seek to exclude refugees. This week he dispatched more than 5,000 regular troops to the border with Mexico.
He also opposes protections for people brought to the United States as children, who are known as "Dreamers."
Trump's latest migration-related proposal comes in the heat of the midterm election campaigns. The US votes on November 6, with opposition Democrats hoping to make inroads in both the Republican-controlled houses.
Democrats have condemned Trump's rhetoric on immigration as inflammatory. Senator Chris Coons, a member of the Senate Foreign Relations Committee, told MSNBC that Trump "was driving a false narrative on immigration" to stoke fear and turn it into an election issue.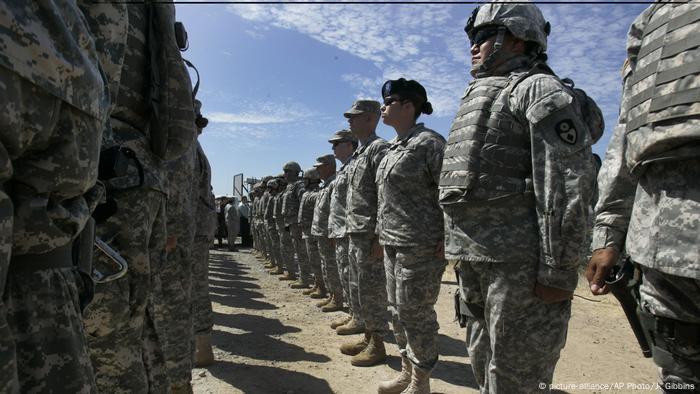 Troops from Task Force Sierra near the Mexico border in San Diego in late September
Read more: Understanding the populist narrative
Birthright citizenship not unique to US
Trump claimed that the US was unique in granting birthright citizenship. "We're the only country in the world where a person comes in, has a baby and the person is essentially a citizen of the US for 85 years with all of those benefits," he told Axios. "It's ridiculous. It's ridiculous and it has to end."
The facts say otherwise, however. A 2010 study by the right-wing Center for Immigration Studies showed that 30 countries offered birthright citizenship, including Canada, which like the US grants citizenship to children born to people in the country without authorization.
Read more: Why the US midterm elections matter for America and the world
jbh/msh (AFP, AP, Reuters)
Every evening at 1830 UTC, DW's editors send out a selection of the day's hard news and quality feature journalism. You can sign up to receive it directly here.