Facebook has been summoned to a district court in the southern city of Würzburg in what could mark a precedent in the fight against hatred and agitation in social networks.
The public hearing will take place on Monday to decide on an interim injunction against Facebook Europe - the first time the social media giant will take the stand in a German court over the spread of multiple "fake news" posts.
Bavarian lawyer Chan-jo Jun filed an injunction on behalf of a young Syrian refugee who says his photo is being spread on social media with claims he is a terrorist, or a ruthless criminal.
"Facebook is unusually difficult about implementing German law," Jun tells users who visit his law office's Facebook page. "Slander and abusive insults are against German law, but not against its community standards."
Widely shared fake news
Modamani gained instant fame with a selfie he took in 2015 with the German chancellor when she visited the Berlin refugee shelter where the young newcomer was housed. He posted the picture on social media with no idea of the reception it might get, Modamani told DW in last month. German media snapped up a photo of the brief moment, and over the months, it has resurfaced on social media, too.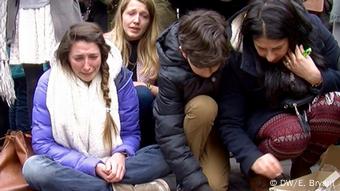 A moment of silence a day after the suicide bombings in the Belgian capital
Whenever there's a refugee-related incident, he's trotted out as Merkel's model refugee, "and the crimes are blamed on him," argues Jun. No one should have to put up with that, so now "Modamani is fighting back," says the IT attorney, who has filed various legal complaints against the US social networking company, including demands that Facebook comply with Germany's hate speech laws.
Fighting back against slander
Most recently, the photo of Modamani and false claims that he was part of a group that tried to set fire to a sleeping homeless man in a Berlin subway station in December was shared more than 500 times. It did not sufficiently violate Facebook's community standards to be removed, the attorney says, adding that his client's image and the deprecatory comments can still be found on Facebook.
Earlier in 2016, fake news content showed the 19-year-old refugee's image in connection was the terrorist attacks in March in Brussels, claiming he was one of them and had just pretended to be a refugee, with some sites insinuating Merkel took "a selfie with a terrorist."
In case of failure to comply with an order to stop circulation of the fake news about his client, Chan-jo Jun wants Facebook fined by up to 250,000 euros ($264,000.) The lawyer also says it's high time to end the "cat and mouse game" involved in having to pursue Facebook in the registered jurisdiction of its European headquarters in Dublin.