Representatives of the Syrian government and opposition had been set to meet in Switzerland on Monday as part of a UN-endorsed 18-month peace plan. But a dispute over whether armed opposition groups should have a seat at the table appears to have kept the sides at loggerheads.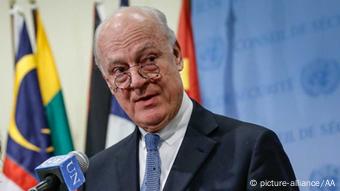 UN Syria envoy Staffan De Misturais trying to kickstart this week's talks between the opposition and Syrian government in Geneva.
But Kerry - the United State's top diplomat - says he hopes these sticking points would be resolved within the next two days and that the ball, metaphorically speaking, is in the Syrians' court.
"They have to be serious," Kerry said during a visit to Laos. "If they are not serious, war will continue. Up to them - you can lead a horse to water; you can't make it drink."
The UN's Syria envoy Staffan De Mistura said he hoped the peace talks would begin on Friday, with a suspension of fighting to be agreed between all groups except "Islamic State" (IS) and the Islamist al-Nusra front.
Kerry's efforts are part of the biggest diplomatic push yet to resolve a conflict that's spiraled into a civil war involving regional players including Turkey, Iran and Saudi Arabia. It's also sparked the worst refugee crisis ever to hit post-war Europe.
Sticking points
The Syrian government in Damascus has said it is ready to attend talks, but the opposition's High Negotiation Committee - which includes political and armed opponents of President Bashar al-Assad - has refused to participate until Damascus halts bombardments, lifts blockades, and releases detainees - steps outlined in a United Nations Security Council resolution last month.
Kerry, speaking to reporters, rejected statements from opposition figures that Washington was leaning on the opposition to sit down with the Syrian government.
"I don't know where this is coming from. Maybe it's a pressure thing or an internal political thing, but that is not the situation," he said.
But Kerry did not deny that Washington is still squarely behind opposition groups fighting on the ground.
"The position of the United States is and hasn't changed, that we are still supporting the opposition politically, financially and militarily," he added.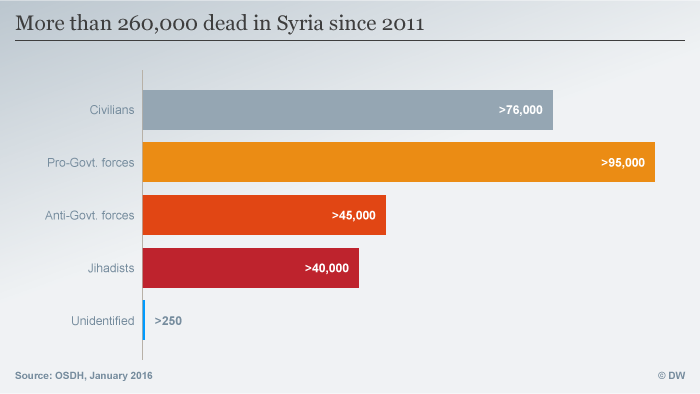 Russia, Iran dig in
A further complicating matter in Syria peace talks is that disagreements with Russia and Iran - both of whom are supporting the Syrian government militarily and diplomatically - are at odds with the US and western powers over which opposition groups should have a seat at the table.
Another meeting of the International Syria Support Group, of countries supporting the Syria peace process, had been "tentatively" called for February 11.
jar/jil (AP, Reuters, AFP)