The UN announced that the latest talks to end Syria's five-year civil war might face new delays as world powers dispute whom they will allow to represent the opposition. The war, which began as a series of peaceful protests against President Bashar al-Assad, has killed more than 250,000 people and forced several million from their homes.
"It's likely that the date of the 25th might slip by a few days simply for practical reasons," Farhan Haq, a spokesman for UN Secretary-General Ban Ki-moon, said Thursday.
Haq said UN officials would re-evaluate preparations over the weekend and make a decision about the Monday start of the talks in Geneva. US Secretary of State John Kerry backed up Haq's assessment that any delay would prove minor.
"It may be a day or two for invitations but there is not going to be a fundamental delay," Kerry said Thursday. "The process will begin on the 25th, and they will get together and see where we are," he added.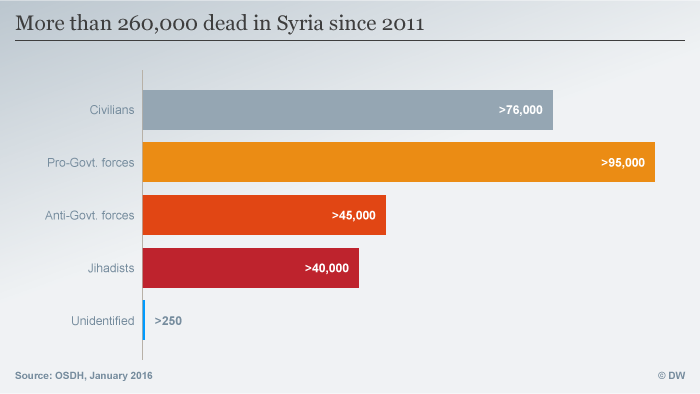 Stalled multifront discussions
Diplomats continue to scramble to resolve the key question of who will represent Syria's fractious opposition at the talks with the Assad regime. The main coalition of opposition bodies, the High Negotiations Committee, had announced a delegation to the talks on Wednesday, but its composition quickly came under fire. The group named Mohamed Alloush, a political leader of the Saudi-backed armed group Jaish al-Islam, as its chief negotiator at the talks.
The National Coordinating Committee for Democratic Change called it "not acceptable" that the delegation's chief would come from the armed opposition. "This sends the wrong political message to the Syrian people," the committee charged.
The United States, Turkey and Iran have also sparred with one another and Russia over which groups to invite. Russia and Iran support the Assad regime, while the United States, Turkey and many European nations ally with various rebel factions.
Disagreement also remains over whether one or two delegations will represent the opposition. Making the High Negotiations Committee the sole representative, which the body insists on, excludes other opposition groups, as well as minorities such as Kurds who also have much at stake in a post-Assad Syria.
The pro-regime Al-Watan reported that Russian officials wanted a joint opposition delegation, with half the members chosen in Moscow and the rest by the High Negotiations Committee. However, some opposition figures have said they would stay home rather than participate in talks dominated by Russia.
mkg/bw (Reuters, AFP, dpa, AP)