For years, the numbers of immigrants arriving in Germany has continued to rise. In 2013, 1.2 million people immigrated to the Federal Republic. Even after taking into account the number of people who have left Germany in the same period, Germany has still seen a net increase of 430,000 inhabitants. And the trend continues to grow. In light of these figures, does Germany need an immigration reform?
No consensus in politics
Opinions vary - both within the coalition of Chancellor Angela Merkel's Christian Democrats (CDU) and the Social Democrats (SPD), as well as within the individual parties themselves.
"No," for example, says Interior Minister Thomas de Maizière of the CDU. "The existing legal rules are sufficient to accommodate the immigrants," he said a few weeks ago at the release of the annual migration report.
Members of the Greens, on the other hand, believe that the Federal Republic needs a law to control immigration and to give migrants legal certainty.
Sitting on the fence is the SPD whose answer is: "Yes and no."
Leader of the SPD's parliamentiary group, Thomas Oppermann, is in favor of a points system similar to that used in Canada - a plan which has also received support from the SPD leader Sigmar Gabriel. In an opinion article for Germany's Frankfurter Allgemeine Zeitung, Oppermann recently called for a law which regulates which type of immigration Germany does and doesn't need.
'Threat to social security system'
Speaking on Tuesday at a presentation of the SPD points system proposal, Oppermann refused to be deterred by criticism from other parties, saying that "the debate has gathered speed."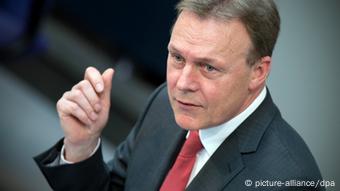 SPD's Thomas Oppermann has called for a points system similar to Canada's
"This project is actually a project which the grand coalition must deal with," Oppermann said, adding that if not, "the matter will be put to the vote at the general election."
Oppermann also warned that without new rules, Germany risks developing huge gaps in certain professions. "That threatens our social security system, especially pensions," he said.
Since 2012, just 24,000 highly-skilled workers have immigrated to Germany under the Blue Card scheme which requires proof of a minimum salary and a university degree.
The SPD parliamentary leader criticized the current scheme, claiming that the system shuts out, for example, IT specialists who don't have a university degree.
Oppermann also said that the German jobs market must be opened up to refugees, arguing that by enrolling them onto language courses quicker, their potential will be increased.
Other SPD politicians, such as North Rhine-Westphalia's state premier Hannelore Kraft and chairman of the party for Schleswig-Holstein, Ralf Stegner, are against the points plan, however. Kraft and Stegner have warned of increasing pressure on wages by migrant workers and have called instead for more qualification measures for Germany's unemployed.
CDU disputes immigration
The only party to have clearly positioned itself in the debate so far is the CDU's sister party, the CSU, which strongly rejects the immigration law.
"If a country has a million immigrants annually, then we do not need a law with more immigration," CSU party leader Horst Seehofer said last month.
Seehofer is also particularly opposed to the noticeable influx of asylum seekers from Kosovo to Bavaria in southern Germany.
"There is no political persecution in Kosovo and Albania," Seehofer argued, adding that Germany was not the "social service for the whole world."
CSU General Secretary Andreas Scheuer has also previously spoken out against an immigration measure. Such a project is "as superfluous as sand in the Sahara," he scoffed.
In the CDU, however, General Secretary Peter Tauber has called for legal immigration control. For him, it is "primarily a political signal to immigrants that they would be welcome in Germany," he said.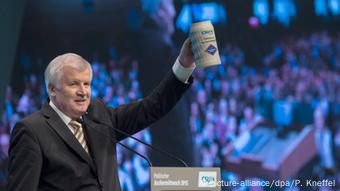 CSU's Horst Seehofer: "We are not the social service for the whole world."
Ultimately, Germany needs skilled migrants to offset the aging of the population and the resulting labor shortage. With this in mind, Tauber has attempted to persuade his fellow party members who oppose any new legislation on immigration. It's only in his party's business department, however, that he's succeeded in gaining approval, with the CDU Economic Council also in favor of a needs-based scoring system for immigrants.
German Chancellor Angela Merkel, however, is apparently waiting to see how the debate evolves. Her opinion on the subject is "not yet final."
Immigration yes - but without a law
Surprisingly united, on the other hand, are Germany's Left Party and industry representatives. Both are in favor of immigrants, but reject a law to control them based on points.
"We are against selection with a points system," said the migration policy spokesperson of the Left, Sevim Dadgelen, arguing that "the benchmark for taking on newcomers should be for human rights and not how a person can be used in job market."
The President of the German Chamber of Industry and Commerce (DIHK) Eric Schweitzer said in a newspaper interview, that as two-thirds of immigrants were from EU countries, no law was necessary.
For the remainder, Schweitzer said there were sufficient and comprehensive rules, which can be further optimized. "What we do not need is a debate on a new immigration law," said Schweitzer.