David Silva scored from the penalty spot and Gerard Delofeu from open play to secure a 2-0 morale boost for Spain in their friendly in Paris on Tuesday evening.
As well as being a meeting of two of Europe's top teams, the game was notable as another experiment using a video referee during a FIFA match.
This excitement was particularly palpable in Germany as the refereeing team happened to be German; Felix Zwayer was in charge of matters on the pitch, but Tobias Stieler was in radio contact nearby, watching the game on a batch of monitors.
The technology did alter the outcome. Twice, Stieler - the so-called Video Assistant Referee - was able to override Zwayer on crucial decisions. The video referee waved away Antoine Griezmann's offside goal for France that Zwayer and his on-pitch assistants would have let stand, while also approving Delofeu's goal, which Zwayer had initially disallowed for offside. Assuming no other changes, the game could have ended 1-1 without the technical input.
Read: Dortmund's Dembele leads new generation of French talent
No respite for the Netherlands
Italy showed no mercy against the floundering Netherlands on Tuesday. Days after manager Danny Blind's sacking and a defeat to Bulgaria that put the Dutch dreams of World Cup qualification in jeopardy, the Azurri managed to overturn an early deficit to win 2-1 at the Amsterdam Arena.
An Italian own goal had opened the scoring, but Eder equalized within minutes. Leonardo Bonucci added another later in the first half - both Italy's goals came from set pieces against the Dutch, now under the stewardship of caretaker coach Fred Grim.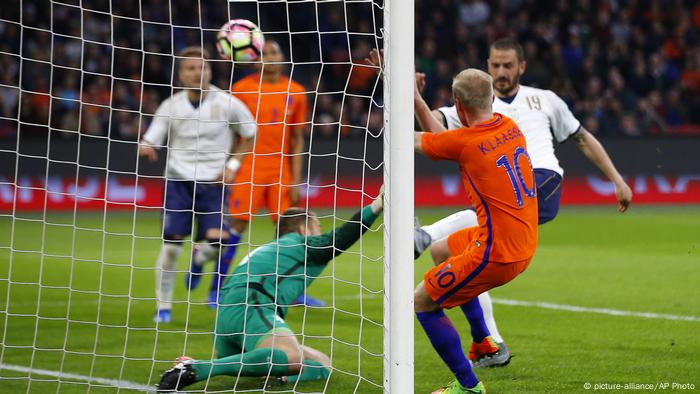 Bonucci (shirt number 19, in white) was on hand to mop up the loose ball at a set piece, making it 2-1 Italy
Read: 'Our last world class generation was in the 1980s' - Holland need a new coach
To the east, Belgium and Russia played out a 3-3 draw. Belgium had led 3-1 at half time on a Kevin Mirallas penalty and a Christian Benteke brace, but Russia scored in the 74th minute and then in stoppage time to salvage a draw.
Iceland, Sweden, Guinea, Morocco, Bosnia-Herzegovina and Georgia were among the other winners on the night amid a raft of international friendlies across Europe and Africa.
International friendly results, March 28
Georgia 5-0 Latvia
Russia 3-3 Belgium
Estonia 3-0 Croatia
Macedonia 3-0 Belarus
Egypt 3-0 Togo
Albania 1-2 Bosnia-Herzegovina
South Africa 0-0 Angola
Morocco 1-0 Tunisia
Luxembourg 0-2 Cape Verde
Cameroon 1-2 Guinea
Portugal 2-3 Sweden
Ireland 0-1 Iceland
Austria 1-1 Finland
Netherlands 1-2 Italy
France 0-2 Spain
msh (AFP, dpa, Reuters)