South Korean President Moon Jae-in has called on his ministries to devise "firm and resolute responses" to the proposal by the administration of US President Donald Trump to impose a new round of what Seoul sees as deeply unfair tariffs on a number of Korean exports to the US.
The early exchanges in what has the possibility of degenerating into a trade war have seen South Korea deliver a wide-ranging complaint to the World Trade Organization in Geneva calling for Washington to lift duties of up to 60.81 percent that were imposed on South Korean steel products and transformers in May 2016.
There are some in Seoul who also believe the tariffs contravene the Korea-US free trade agreement.
Seoul is now hoping to convince the US to scrap plans to impose anti-subsidy and anti-dumping duties on steel and aluminum products – although Trump's "America First" policies will make that a difficult task.
The US Commerce Department has released a report claiming that imports "threaten to impair the national security" and proposing a tariff of at least 24 percent on all steel imports or a minimum of 53 percent on steel imports from 12 named countries, including South Korea and China. The report also suggests quotas to further curtail imports.
Read more:
US 'America First' tariffs on washing machines and solar panels anger China, South Korea
Is Trump using North Korea threat as trade leverage with South?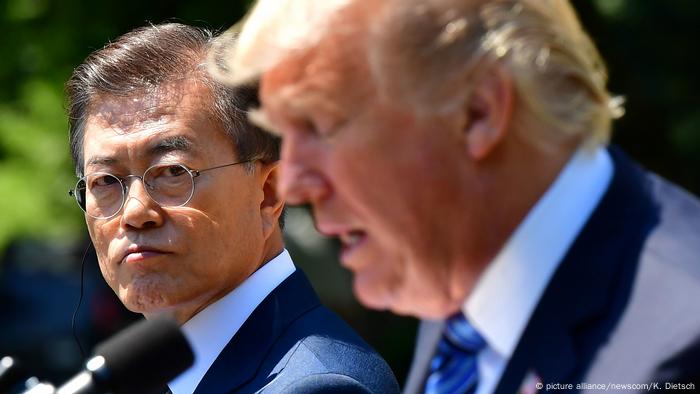 Amid US pressure, Moon has called on his government to seek out new markets for South Korean goods
Protectionist policies
Trump has made no secret of his protectionist economic policies, which were front and center during the election campaign and had clear appeal to workers in US industries feeling the full force of global competition.
As well as facing down the US in the WTO, Moon has called on his government to seek out new markets for South Korean goods in order to keep the nation's recent economic growth on track. But there is also a sense that while South Korea wants to keep trade and security issues completely separate, the US administration sees them as linked and that security, potentially, can be a source of leverage.
"The US, under Trump, is using the free trade agreement with South Korea as a ploy to put pressure on Seoul as a way of encouraging the South to fall into line on North Korea and continue to demand that they halt their nuclear weapons and ballistic missile programs," said Stephen Nagy, a senior associate professor of international relations at Tokyo's International Christian University.
"Trump does not like to lose and he will use whatever tools that are to hand in order to make South Korea fall into line on this," told DW.
Resorting to the WTO has, in the past, helped smaller states stand up to more powerful economies and Nagy says it is "very possible" that the organization may find in Seoul's favor – but any such final ruling would "inevitably impact the broader South Korea-US security situation."
Read more:
Trump's 24 hours in South Korea - North Korea, trade high on agenda
Trump 'furious' over Seoul's North Korea 'appeasement'
Limited push-back
"Moon is able to push back to a degree, but it is clear that he cannot exert too much pressure as he must keep in mind the security guarantees that the US has historically provided," pointed out Nagy, who is also a fellow of the Asia Pacific Foundation of Canada.
Song Young-chae, a professor in the Center for Global Creation and Collaboration at Seoul's Sangmyung University, agrees, saying there is a sense in South Korea that Trump is exerting pressure on Moon's government because of some fundamental policy differences.
"Trump is not at all happy with many of Moon's policies – and it must be pointed out that is not surprising given that these two leaders are quite a long way apart on the political spectrum – and the direction the government here is taking," he told DW.
"The disagreement is on economic and trade issues, but that also spreads over into other areas, such as security," he said. "Trump is not happy at the direction Seoul is taking towards China and, in particular, North Korea, so he wants to change that direction."
Song says there is a good degree of opposition to many of Moon's economic policies in the South as well, including the way in which he is encouraging unions to become more outspoken and willing to use confrontation with management.
Read more: North Korea 'very willing' to hold talks with US
Trade as leverage
"I can understand that runs counter to what a businessman like Trump thinks is appropriate in business, but there is concern that trade is being used as a form of leverage for security issues," he said.
Other nations in the Asia-Pacific region that do a large amount of trade with the US are watching developments very carefully as they are aware that their relationships might also come under pressure.
Last week, Trump accused Japan of relying on a "variety of nontariff barriers" to keep US-built cars out of the domestic market. That is being interpreted as the opening shots in a campaign to force Tokyo to liberalize its market for foreign vehicles.
In the Economic Report of the President submitted to Congress on Wednesday, Trump claimed that Japan has "unique" safety standards that serve to keep US vehicles out of the market, along with "hindrances" in the distribution and service networks, as well as "insufficient" transparency in the sector.