In neighboring Belgium, authorities said early Saturday they have boosted checks on their borders, especially with France, following attacks in Paris that left at least 120 people dead.
Authorities also urged increased vigilance for major events in Belgium over the weekend, but said it was not necessary to increase the alert level.
"Reinforced border checks have been established on the borders within the framework, especially of a close collaboration with the French authorities," said Belgium's national center for threat evaluation, OCAM.
"As a precaution, a heightened awareness of the police services was requested for all big events planned at the weekend in Belgium as well as for the football match on Tuesday," it added.
Reinforced effort
A crisis center within the Belgian Interior Ministry was activated overnight Friday and the Belgian security council will meet Saturday, said Belgian Prime Minister Charles Michel. "We will have to reinforce our effort" against terrorism, he added.
Michel offered his condolences to the French people, tweeting: "Belgium is at France's side." Interviewed live on French-language RTBF public radio, Michel said earlier he was "sickened by this tragedy."
Belgians have also suffered from extremist attacks, including the killing of four people at the Jewish museum in central Brussels in 2014 by a jihadist gunman. In January, security forces killed two suspected jihadist fighters in Verviers, in eastern Belgium, who they claimed were planning imminent attacks on police.
Germany reviewing threat level
German authorities are also analyzing the country's threat level after the Paris terror attacks. "Germany remains in the focus of international terrorism," a spokesperson for the Interior Ministry in Berlin said early Saturday, noting that German security officials were in close contact with their French counterparts. German Interior Minister Thomas de Maiziere offered his French colleague every possible support, including German special forces.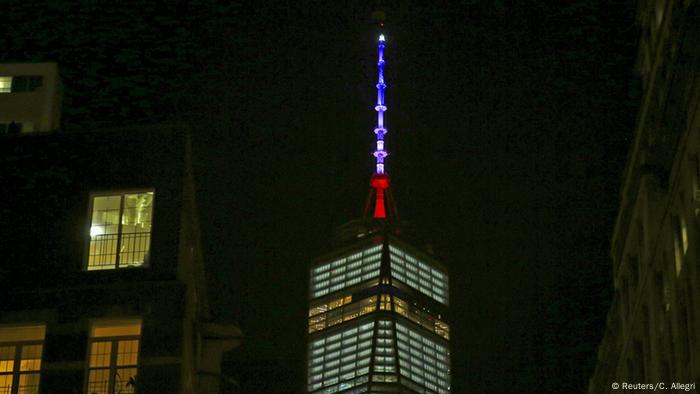 In solidarity with France, One World Trade Center in New York was lit up in the French colors on Friday night
New York and Boston increase security
In the United States, New York, Boston and other major cities bolstered security on Friday night, but law enforcement officials said the beefed-up police presence was precautionary rather than a response to any specific threats.
The New York Police Department said officers from its Counterterrorism Response Command and other special units were deployed in areas frequented by tourists, and at the French Consulate in Manhattan.
"Teams have been dispatched to crowded areas around the city out of an abundance of caution to provide police presence and public reassurance as we follow the developing situation overseas," the NYPD said in a statement.
US Department of Homeland Security Secretary Jeh Johnson said in a statement that "we know of no specific or credible threats of an attack on the US homeland of the type that occurred in Paris tonight."
In Boston, the police department said it had deployed additional resources and was working closely with federal authorities, but saw no credible threat in the city, where Islamist militant sympathizers set off homemade bombs at the Boston Marathon finish line in April 2013. Massachusetts State Police said they had taken "several actions," including bolstering security around the State House in Boston.
mik/cmk (Reuters, dpa, AFP)