The suspect's fingerprints were found on the driver's side door of the Polish-registered truck, German public broadcasters NDR, WDR and the "Süddeutsche Zeitung" newspaper reported on Thursday.
The "Berliner Zeitung" newspaper also reported that traces of Amri's fingerprints were uncovered on the truck's steering wheel. If the reports are proven true, it would be the clearest evidence linking lead suspect Anis Amri to Monday's attack.
Amri had also previously offered to act as a suicide bomber on known Islamist chat sites, German news magazine "Der Spiegel" reported on Thursday, citing security sources. German authorities listened in on the conversation while investigating so-called "hate preachers." During the chat, Amri also reportedly talked about how he could obtain weapons.
At the time, authorities believed that Amri's offers and statements were so encoded that they were not enough to detain him, "Der Spiegel" said.
Later on Thursday Chancellor Angela Merkel and Interior Minister Thomas de Maiziere met in the federal attorney general's office to discuss the investigation. Afterwards, de Maizere told the press that the police had found more and more evidence pointing in Amri's direction, and Merkel expressed her support for the hard work of all the different authorities involved.
Police raids in western Germany
In their search for Amri, police raided a refugee shelter early Thursday morning in Emmerich and apartments in Dortmund where the Berlin Christmas market attack suspect reportedly lived prior to moving to the German capital, authorities said. Around 100 officials, including special units, were involved in the operations.
While confirming that anti-terror operations in connection with the Berlin attack occurred, the Federal Prosecutor's Office told DW no arrests took place. The spokesman added that operations have been conducted across Germany in the search for Amri.
Earlier on Thursday, the mass-market daily "Bild" reported four people who allegedly had contact with Amri were arrested in Dortmund. The paper said Germany's chief federal prosecutor confirmed the arrests. Public broadcaster WDR also reported that four people had been taken into custody.
In Berlin, the Christmas market at Breitscheidplatz where the attack took place reopened to the public. Berlin police tweeted photos of the pedestrian area being secured with concrete blocks. Organizers decided to reopen the square without bright lights or party music out of respect for the victims.
Officials under fire
The international manhunt for the prime suspect in Berlin's deadly truck attack raised questions and public ire on Thursday, with many wondering how Anis Amri was able to avoid arrest and deportation despite being on the radar of German security agencies.
"The authorities had him in their crosshairs and he still managed to vanish," German news magazine "Der Spiegel" said on its website.
German officials revealed on Wednesday that they had already been investigating the 24-year-old Tunisian months before Monday's rampage. Authorities even held him in a detention cell for a day and kept him under covert surveillance for six months before halting the operation.
"He was even in deportation detention, but had to be released after a day," Stephan Mayer, the interior affairs spokesman for Germany's conservative union in the Bundestag, told German RBB-Inforadio on Thursday. He added that the case shows where the deficits lie in Germany's asylum policies and called for the duration of deportation detention to be extended.
ID papers believed to belong to Amri were found under the driver's seat of a 40-ton truck that rammed through a crowded Christmas market in Berlin on Monday, killing 12 and wounding 48. Out of those injured, 14 remain in life-threatening condition.
'I ask him to turn himself in'
The attack, Germany's deadliest in recent years, was claimed by the militant "Islamic State" (IS) group. Amri reportedly communicated with IS at least once, researched how to build explosive devices online and was on a US no-fly list, "The New York Times" reported late on Wednesday, citing an unnamed US official.
German prosecutors have issued a Europe-wide wanted notice for Amri, offering a 100,000 euro ($104,000) reward for information leading to his arrest. They have warned that the Tunisian could be armed and dangerous.
One of Amri's brothers expressed disbelief on hearing he was wanted and urged him to turn himself in on Thursday.
"I ask him to turn himself in to the police," Abdelkader Amri told the Associated Press. In separate comments to news agency AFP, he said if Amri turned out to be involved, "he deserves every condemnation. We reject terrorism and terrorists - we have no dealings with terrorists.
False lead wasted time
Many in Germany are also wondering how Amri was able to slip away from the crime scene on Monday - with some levying criticism at the police.
The "Süddeutsche Zeitung" criticized authorities for wasting time for initially focusing on a Pakistani suspect after the assault, in what turned out to be a false lead.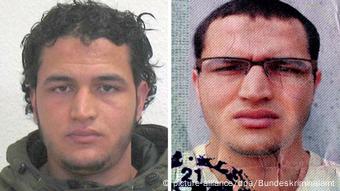 Anis Amri, pictured above, evaded deportation and was under surveillance for six months this year
It emerged on Wednesday that the rejected Tunisian asylum-seeker is believed to have ties to the radical Islamist scene in Germany and used six different names and three different nationalities. He also evaded deportation despite his asylum application being rejected due to red tape with Tunisia, which long denied he was a citizen. He received a Tunisian passport on Wednesday, the same day police across Europe began searching for him.
"People are rightly outraged and anxious that such a person can walk around here, keep changing his identity and the legal system can't cope with them," said Rainer Wendt, who heads the German police union.
Merkel policy criticized
The apparent security failings triggered renewed criticism of Chancellor Merkel's liberal refugee policy, which saw nearly 1 million people arrive in 2015.
The record arrivals of people fleeing war and poverty in the Middle East and Africa stoked the popularity of the anti-migrant, nationalist Alternative for Germany (AfD) party which has accused Merkel of putting the country at risk.
On Thursday, Bavaria's State Premier Horst Seehofer defended a statement he made hours after the Berlin attack in which he called for a review of Germany's migration policies.
"A responsible politician must also take a look at the consequences of such an event," the leader of the Bavarian Christian Social Union (CSU), the Bavarian sister party of Merkel's Christian Democratic Union (CDU), told the Funke media group.
The statement drew cross-party scorn, as Seehofer released it before authorities had even issued an official statement on the attack or provided information about the suspected perpetrator.
But even members within the chancellor's own CDU party criticized what they saw as the potentially dangerous shortcomings of the current system.
"Nationwide, there are a large number of refugees about whom we don't know where they're from or what their names are. And that's a potentially major security issue," said CDU member Klaus Bouillon, the interior minister of the state of Saarland.
Israeli, Italian victims identified
An Israeli woman who was reported missing in Berlin has been identified as one of the victims of the truck attack, an Israeli Foreign Ministry spokesman confirmed on Thursday.
The ministry identified her as Dalia Elyakim and said she was visiting the German capital with her husband, Rami. Her husband was seriously injured in the Christmas market attack and remains hospitalized. His condition is reportedly not life-threatening according to the ynet news portal.
Italian officials also confirmed later on Thursday that a 31-year-old Italian expat named Fabrizia Di Lorenzo was also among the victims.
At least one other foreign national died in the attack. The hijacked truck's Polish driver was found dead in the cab with gunshot and stab wounds.
rs/sms (AP, AFP, dpa, Reuters)