The last remnants of the Iron Curtain will be swept aside Friday when the European Union scraps the internal border restrictions for nine mostly eastern European EU members to create a vast free-movement zone embracing 24 countries from Portugal to Finland.
The new signatories of the Schengen Treaty, named after the Luxembourg border village where the no-frontiers pact was born in 1985, will join the current 15 members in enjoying the benefits of deregulated cross-border movement. It's a bit like an early Christmas present at a peak travel time -- some 400 million Europeans will be able to travel by road, rail and ship with increased ease.
After two years of preparation, the Czech Republic, Estonia, Hungary, Latvia, Lithuania, Malta, Poland, Slovakia, and Slovenia will join the oldest EU states -- Britain and the Republic of Ireland excluded -- plus Iceland and Norway in the extended zone pushing the area's outmost borders hundreds of kilometers eastwards.
The expansion is expected to continue with Cyprus and Switzerland planning to sign on soon. London and Dublin prefer to remain outside and keep their own visa regimes, rather than the "one visa for all" policy that applies to the Schengen countries.
As well as having border controls removed, the nine signatories will also see travel document checks abolished at their airports in March. All border controls can be re-established temporarily in case of emergency, for security reasons or when people move en-masse, such as for sporting events.
New border, new responsibilities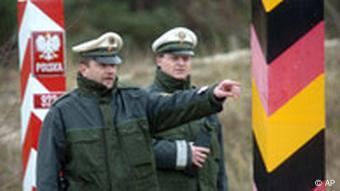 German officers will pass border duties to Polish cops
In return for free-movement, the new countries will be obliged to provide data to the Schengen Information System (SIS) so police and customs officers can access information about people, vehicles and goods.
The nine signatories will also sign up to new measures which will allow extended police and judicial cooperation including cross-border surveillance and the "hot pursuit" of suspects across frontiers. Internal freedom within the Schengen Zone will also lead to tightened security on its new eastern reaches, placing increased responsibilities on its latest members.
Celebrations to mark the extension of the Schengen Agreement were planned along the newly opened borders. European Commission chief Jose Manuel Barroso and Justice Commissioner Franco Frattini will be there as the barriers come down.
"We will live and circulate in an area of 24 countries without internal borders. This is a unique and historic accomplishment," Barroso said on Tuesday. "The lifting of the European Union's internal borders brings opportunities for people living, circulating and doing business in Europe," he said.
A cause for celebration
The festivities began early Thursday on the Slovakia-Austria border, one of the many locations which marked the outer boundaries of Europe's East-West divide, when Slovak premier Robert Fico and Austrian Chancellor Alfred Gusenbauer sawed through a border post on their common frontier on Thursday.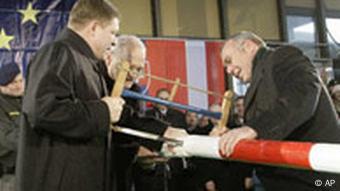 The opening of the Slovak-Austrian border is symbolically marked
The symbolic gesture took place at the crossing point between Berg in Austria and Petrzalka in Slovakia and was aided by Slovak President Ivan Gasparovic. Concerts, fireworks and even a disco evening at the Petrzalka-Berg crossing on the Slovak-Austrian frontier will mark the occasion.
"We are standing here at the border between Bratislava and Vienna to take away the most important symbolic barrier," said Slovak premier Fico. "From midnight tonight, you can travel 4,000 kilometers (2,485 miles) from Tallinn in Estonia to Lisbon in Portugal without any border controls." The Austrian and Slovak capitals are Europe's closest, just 40 kilometers apart.
Austrian leader Gusenbauer focused on the final days of the Iron Curtain's legacy. "It's an historic occasion following the destruction by the first and second world wars and the division of our continent by the Iron Curtain."
"Free borders in a free Europe: who would have dared to even dream of that in 1985," he added.
Slovak President Gasparovic, sipping champagne under a European flag bearing the slogan 'Christmas without borders,' said, "I propose a toast that this frontier never be closed again."
A zone of security
Schengen "is not about criminality, it is not about insecurity or fear. It is a bigger zone of peace, security and stability," said Gusenbauer.
The Austrian chancellor was echoing the words of European Parliament President Hans-Gert Pöttering who focused on the security aspects of the expanded Schengen Zone at the summit for EU leaders in Brussels last week.
"It is a visible sign that the former divisions in Europe, the borders on the ground and in people's minds, are being overcome," he said. "This will lead to greater freedom and security, not only for the citizens of the nine future Schengen countries, but also for the European Union as a whole."
Border residents fear crime wave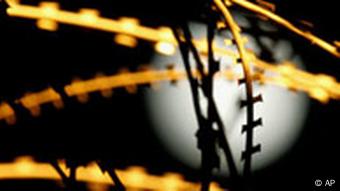 As one barrier is lifted, many more are erected
However, not everyone is convinced. Polls in Germany and Austria show that many people are concerned that the Schengen zone's expansion east will spark a "Made-in-Eastern Europe" crime wave.
One survey shows that around 59 percent of former East Germans view Schengen's expansion negatively with local media reporting a boom in house alarms and reinforced doors.
In Ebersbach, a small town of 8,500 in former East Germany on the Czech border, the concern is evident in the barbed wire stretched over house windows and the newly-formed residents' border security association.
In Austria, a poll by ORF public television put the number of those opposed to the border deregulation at 75 percent. One Austrian town, Deutschkreutz which lies a few kilometers from the Hungarian border, is even planning to hire a private security firm to patrol the streets.
The concern is also felt on the other side of the border. "It will allow more criminals to come, for example from Austria, mostly from the Turkish minority and from former Yugoslavia," Ondrej Kralik, a Slovak policeman who has worked 11 years at various border crossing points told news agency AFP.