Russian police on Saturday arrested hundreds of protesters rallying against President Vladimir Putin ahead of his inauguration on Monday, an independent monitor said.
OVD-Info, a group monitoring political repression in Russia, said it had received reports of more than 1,000 people being arrested nationwide, nearly 500 of them in Moscow. Citing its own sources, it also said pro-Kremlin Cossacks had hit protesters with leather whips at protests in the capital.
In central Moscow, police arrested opposition leader Alexei Navalny (above) along with several others. "Navalny appeared on Pushkin Square and was quickly detained," said opposition politician Leonid Volkov. "The detention was absolutely illegal."
Read more: Alexei Navalny: 'There is no pro-Putin majority'
In St. Petersburg, hundreds of people gathered, chanting: "He is not our tsar."
'He is not our tsar'
Navalny, who was blocked from running in the March presidential election, had urged Russians to take to the streets and protest against Putin's fourth presidential term.
"Craven old man Putin thinks he is a tsar," the opposition leader said in another tweet ahead of the protests. "But he is not our tsar."
Read more: Who are the allies of Russia's Vladimir Putin in Germany?
Although protests have sprung up in scores of cities across Russia, authorities have refused to give organizers permission.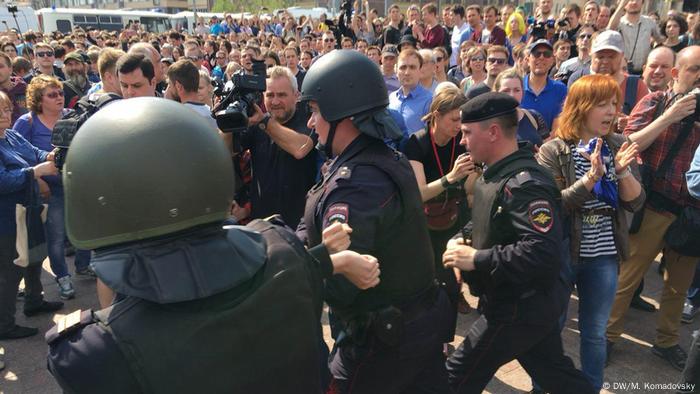 Police confront protesters in Moscow
The large-scale protests showed that Navalny's opposition, although largely dismissed by officials and all but ignored by state-run television, has considerable support across the country.
''I think that Putin isn't worthy of leading this country. He has been doing it for 18 years and has done nothing good for it," said Moscow demonstrator Dmitry Nikitenko. "He should leave for good."
'Right to protest'
Human rights groups have warned Russian security services from taking a heavy-handed approach against protesters, with Amnesty International on Friday urging authorities to allow peaceful protests to go ahead unhindered.
"The Russian authorities must learn from their past mistakes, when the repeated refusal to grant permission to hold protest rallies has been a patent violation of human rights," said Denis Krivosheev, who serves as Amnesty's deputy director of Eastern Europe and Central Asia.
Read more: Is it time for Germany to revisit its relationship with Russia?
"Rather than brutally stamping out dissent, the Russian government should respect the rights to freedom of expression and peaceful assembly. Thousands are expected to take to the streets in Moscow and other Russian cities on Saturday, and it is their right to protest."
Russia witnessed one of its largest mass protests since the end of the collapse of the Soviet Union in the run-up to Putin's third term as president. In response, Russian security services launched a brutal crackdown, arresting hundreds of protesters.
Putin is to be sworn-in Monday for a new six-year term after winning re-election in March with 77 percent of the vote. Navalny wanted to challenge Putin at the ballot box, but was blocked because of a felony conviction that prohibited him from running for office.
Navalny's supporters consider the charge against him nothing more than a political maneuver intended to marginalize him during the campaign.

bik,ls/aw (AP, AFP, dpa)
Each evening at 1830 UTC, DW's editors send out a selection of the day's hard news and quality feature journalism. You can sign up to receive it directly here.