Croatian authorities reported Thursday that more than 6,000 people had entered the country in the past day, putting a strain on resources. In the town of Tovarnik, the main entry point from Serbia, large crowds of migrants gathered at the train station waiting to be taken to refugee centers for registration.
Interior Minister Ranko Ostojic said the situation was under control for the moment, but warned that "if huge waves start coming through Serbia we must consider different moves."
The government has set up a crisis body to deal with the thousands of migrants who began transiting through Croatia after Hungary closed its border with Serbia and imposed a crackdown on migrants earlier in the week. One minister said the country was expecting around 20,000 people over the next two weeks.
Hungary has until now been a main EU gateway for migrants fleeing conflict in the Middle East and Africa, many of whom aim to eventually reach Austria and Germany.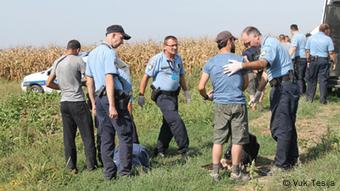 Many refugees walked into Croatia through the corn fields
Slovenia next
Slovenia, sandwiched between Croatia and Austria, is now preparing to receive large numbers of refugees moving north. Speaking after talks with Austrian Chancellor Werner Faymann, Slovenian Prime Minister Miro Cerar said his country would abide by the rules of Europe's Schengen Zone, largely enabling border-free travel.
He also said Slovenia would receive asylum requests, but not create a "corridor" for migrants to simply pass through the country into Austria.
"We need to deal with the problem where our [the EU's] external borders begin," Faymann said, and reiterated his call for an EU summit on the issue.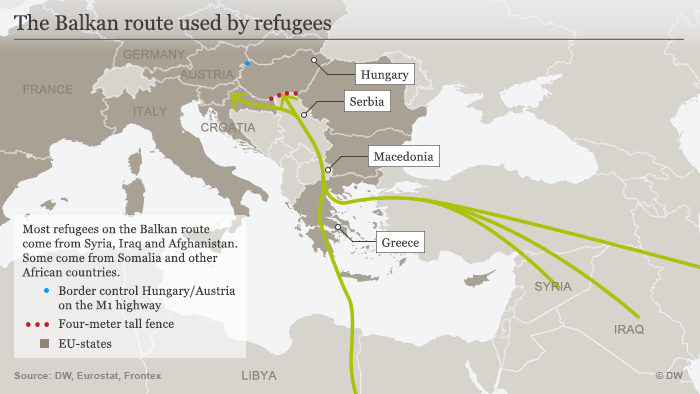 Bottlenecks at the border
Further north on the migrant route, hundreds of people were waiting to cross into Germany from Austria on Thursday. Many of them had camped at the border overnight while German authorities carried out passport checks as part of new security controls introduced over the weekend.
A police spokesman quoted by Reuters said the number of refugees arriving in Germany had more than doubled on Wednesday to 7,266. Officers said "almost all came from Austria," with about 2,000 arriving on trains and the rest by road or on foot.
Germany is expecting to receive some 800,000 refugees this year - about four times as many as last year and a significant amount more than other EU member countries.
On Thursday, Germany's Economy Minister Sigmar Gabriel appealed for other European countries to help shoulder the burden. "Germany is helping. The question is, who is helping Germany?" he asked in a video message.
Germany has been trying to persuade EU members to agree to a proposal to redistribute 120,000 refugees around the 28-country bloc under a compulsory quota system. The EU parliament backed that plan in an emergency vote on Thursday, and it will be considered at a meeting of EU interior ministers on Tuesday.
nm/msh (Reuters, AP, AFP, dpa)