The biggest corporations in Germany lag behind their blue-chip counterparts in France, Poland, Sweden, the US and the UK when it comes to the amount of women they have in key leadership positions, according to a new report.
The study by the German-Swedish Allbright Foundation, a charitable organization which campaigns for higher female representation in business and economic leadership positions, finds that of the six countries examined, no country has a more male-dominated corporate culture than Germany.
"In Germany, finding ways of getting more women into senior corporate management positions is seen as a difficult challenge whereas in other countries, it is seen as a means of creating new possibilities," the report's editors state.
Read more: Germany marks Equal Pay Day with gender wage gap discussion
The companies examined are the 30 members of Germany's DAX stock market index, the largest companies in terms of book volume and market capitalization in Europe's largest economy.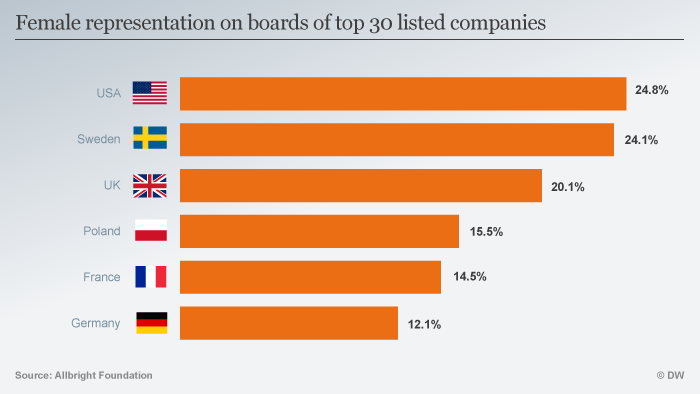 According to the report, Germany is bottom of the class in a number of important areas. Not a single one of the 30 German companies reaches a proportion of at least 30 percent female representation on its management board, the only one of the six countries with this unwanted distinction.
In fact, more than one-third of the German companies do have a single woman on their board at all while just 16.7 percent have at least two on the board.
No woman, no CEO
"It is no coincidence that so many forward-looking companies such as Apple, Google, Skype and Spotify come from the US and Sweden, where the economies are particularly open to diversity," the report states.
Not all the DAX companies are severely castigated — for example, Allianz, Daimler, Deutsche Bank, Siemens and SAP all have at least two women on their management boards although since the departure of Kim Hammonds, Deutsche Bank no longer qualifies for that category.
At the other end of the spectrum, 11 of the 30 largest German companies do not have a single woman on their executive board. Bayer, Beiersdorf, Covestro, E.on, Fresenius Medical Care, Infineon, HeidelbergCement, Linde, RWE, ThyssenKrupp and Vonovia are in that category although Beiersdorf and Vonovia are set to appoint females to their boards later this summer.
The report also makes the point that while Germany has had a female chancellor for the past 13 years, not a single one of the top 30 German companies currently has a female CEO.
Like in other categories, Germany is the only country with that lowly distinction although of the other five countries profiled, only the UK and Sweden have more than one female CEO in their top 30 listed companies, and they only have two at that.
Germany lagging behind
Although none of the countries profiled hit a desired gender balance of at least 40 percent female representation at board level, all fare better than Germany, which has just 12.1 percent female representation at board level. The US (24.8 percent) leads the way, with Sweden (24.1 percent), the UK (20.1 percent), Poland (15.5 percent) and France (14.5) coming behind.
Read more: Women in Germany balance career goals with pressure to parent
In terms of individual companies having at least 30 percent female representation at board level, Sweden leads the way with 34.5 percent of its companies hitting that target. The US (30 percent), the UK (23.3 percent), Poland (20 percent) and France (10 percent) all come ahead of Germany, which stands at 0 percent on that metric.
'Things can be done differently'
The report notes that a change in the social climate for women in Germany is an important step in getting more women into leadership roles in business. For example, it points out that while 75 percent of German women are employed, only half of them work full time due to other social pressures, such as family care obligations.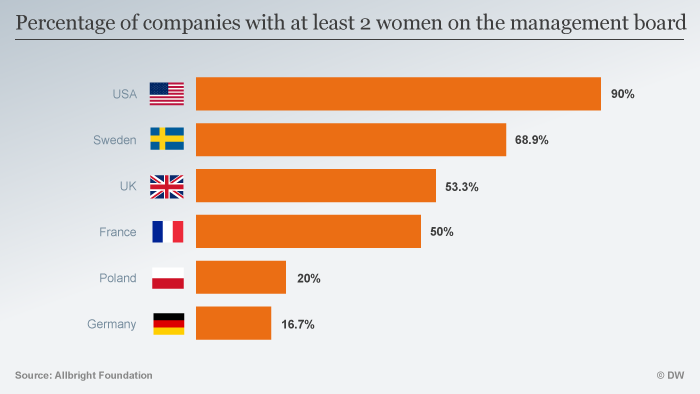 However, it argues that the key change needed is in the attitude of corporate leaders towards having women in top roles. It also notes that although there is a gender quota in Germany for female representation at supervisory board level, this does not translate into adequate female representation at the more powerful management board level — an example of how the German 'dual board' system holds back the cause of gender balance.
The report concludes by urging Germany's business and political leaders to take action to bring more women into senior positions and to note the country's poor ranking in comparison to other countries.
"The report of the Allbright Foundation show that things can be done differently," it says. "Other countries are way ahead of us in terms of gender equality. Not only in the US but also in Sweden, Britain, Poland and even France," it states.
"Studies have long shown that gender diversity has a positive effect on a company's success. Mixed teams are more successful because they bring together different experiences and perspectives. Diversity brings new insights, more creativity and more innovative solutions."