Greens parliamentarians Katja Keul and Volker Beck said Monday they had sent a compensatory draft law to all parliamentary groups in the Bundestag, urging them to remove this "monstrous disgrace" in Germany's legal history.
Homosexual acts were criminalized from 1871 under Paragraph 175 in the penal code of the then German empire and sharpened under Hitler from 1935.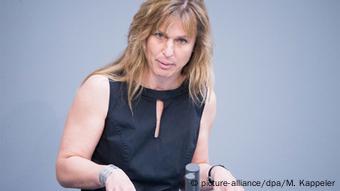 Parliamentarians Keul (pictured) and Beck want a repeal within weeks
The paragraph was retained in post-war Germany's law books. It was abolished in former communist East Germany in 1968. Not until 1994 was it abolished in unified Germany, including what had been West Germany.
In May, German Justice Minister Heiko Maas of the center-left Social Democrats (SPD) welcomed an expert report, saying his ministry would draft legislation to quash convictions and provide compensatory arrangements.
He said the German state has burdened itself with guilt because it had made difficult the lives of "so many people."
The Funk Media Group, based at Essen in the Ruhr District, quoted Beck and Keul on Monday as saying that legislative steps should be finalized in the coming weeks, before the end of Germany's parliamentary summer recess.
"An end must be put to the continuing scandal that men in the Federal Republic of Germany have to live with the stigma of having been convicted because they were homosexual," the Bundestag deputies wrote in a preamble to their draft law.
50,000 prosecuted and convicted
Germany's federal anti-discrimination bureau (ADS) in its report last May estimated that in the post-war era, from 1945 until an easing in 1969, more than 50,000 persons, mostly men, were prosecuted and convicted, some to jail terms lasting years.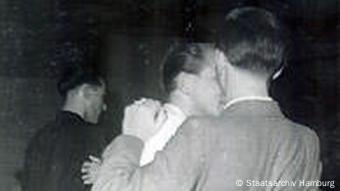 Two men dancing in 1952, when being gay was criminalized
They often lost their jobs and apartments, and were socially marginalized. Even after 1969, some 3,500 persons were convicted.
Expert urges repeal
The report compiled by the Munich constitutional law expert Professor Martin Burgi recommended collective rehabilitation of those convicted via repeal legislation to spare those convicted of facing individual scrutiny.
He proposed monetary compensation via a special fund.
"These injustices should no longer be tolerated by lawmakers," said ADS director Christine Lüders.
Germany's Lesbian and Gay Federation (LSVD) demanded that the repeal be implemented in Germany's current legislative period ahead of next year's federal elections.
It said "time is pressing" because the now elderly "victims of persecution of homosexuality" needed the restoration of their dignity before they passed away.
ipj/kl (AFP, dpa)