The Berlin Wall Foundation held a ceremony on Tuesday to remember Chris Gueffroy, a young waiter who was shot dead as he attempted to flee East Germany on February 5, 1989.
Following a prayer service at a church on the former death strip, local dignitaries laid a wreath at the site where the 20-year-old launched his escape attempt 30 years ago.
The Berlin Wall separated communist East Germany (GDR) from West Germany between 1961 and 1989. In that period, at least 140 people were fatally shot as they tried to leave the GDR illegally via the notorious border fence. Gueffroy was the last of those victims.
"Their fates show how great the suffering and how strong their desire for freedom must have been," Axel Klausmeier, the director of the Berlin Wall Memorial, told DW.
Read more: The last victim of the Berlin Wall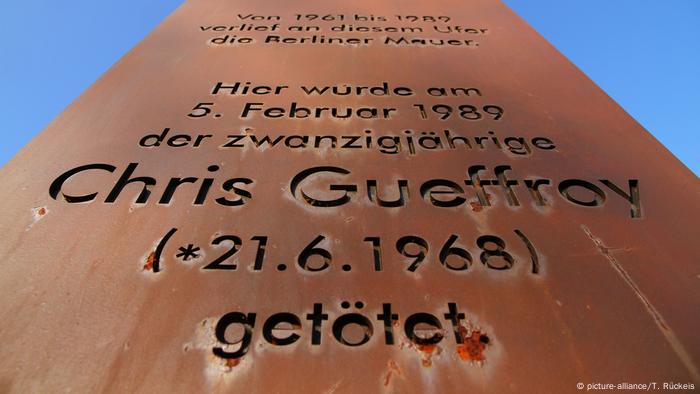 A monument dedicated to Chris Gueffroy stands on the banks of the Britz canal
Ill-fated plan
On February 5, 1989, Gueffroy and his friend Christian Gaudian crept under cover of darkness towards Berlin's Britz canal, where they hoped to slip across the border. At midnight, they began to scale the 3-meter (9.8-foot) wall undetected. Having safely made it over, they approached the last metal fence separating them from West Germany. That's when things went wrong.
The flood lights came on, sirens started screeching, and the border guards opened fire. Gueffroy was hit twice in the chest and died instantly. His death came just nine months before the Berlin Wall came down on November 9, 1989.
Gaudian, who survived with serious injuries, was arrested and later sentenced to three years in prison for attempted illegal border-crossing.
Read more: Stolen children of East Germany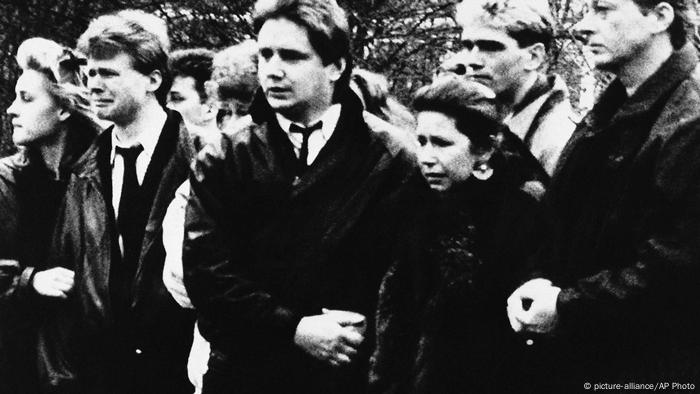 Chris Gueffroy's mother attends a funeral for her son on February 23, 1989, in East Berlin
East Germany was a repressive state that kept tabs on its population with the help of an extensive surveillance network and the secret police, or Stasi. Citizens could be persecuted or locked up for showing disloyalty to the state, with offenses ranging from listening to subversive music to planning an escape to the West.
It's unclear just how many people were killed at the frontier because the Stasi often sought to cover the deaths up or coerce victims' families into silence. They also tried — and failed — to keep Gueffroy's killing a secret.
His case led to international protests, prompting GDR leader Erich Honecker to announce an end to the policy of shooting would-be escapees.
Klausmeier, of the Berlin Wall Foundation, told DW that the wall's remnants serve as a reminder that "dictatorships can be peacefully overcome, if the political conditions allow it."
Read more: Understanding East Germany — A never-ending look at the past
Dream of escape
Gueffroy grew up under the watchful eye of the GDR authorities with dreams of becoming an actor or a pilot. But after finishing school he refused to choose a career in the National People's Army and, as a result, was denied the right to go to university, severely limiting his options.
He worked as a waiter for many years, but in January 1989, when he learned he was going to be conscripted into the army, he hatched an escape plan. His decision to make the crossing on February 5 was based on a false rumor that the order to shoot people attempting to cross illegally had been suspended.
Read more: Putin's Stasi identity card discovered in German archives
While he was the last person to be shot at the Wall, he was not the last individual to die in an attempted escape. Just over a month after Gueffroy's death, another young man, Winfried Freudenberg was killed when he fell from an improvised gas balloon traveling high over West Berlin.
Marcel Furstenau contributed to this report.
DW editors send out a selection of the day's hard news and quality feature journalism. You can sign up to receive it here.