Germany, which lacks legislation on fracking, began formal legislative debate on Thursday, with opposition parties strictly opposed and the natural gas industry saying Henrick's draft bill was too restrictive.
The controversial method is widely used by the United States to boost its shale oil and gas output but is widely discouraged in Europe, in all but Britain, Poland and Romania. Germanys environmental agency has already warned against it.
On Wednesday, Denmark said it had stopped its first exploratory well for shale gas, accusing the French concern Total of using an unauthorized chemical.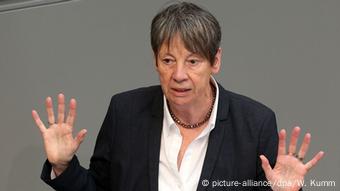 Only under "strick rules," says Hendricks
Hendricks favors renewables
Hendricks, from Germany's coal mining state of North Rhine-Westphalia and a center-left Social Democrat (SPD) in Chancellor Angela Merkel's conservative-led cabinet, told the Bundestag she personally favored renewable energy sources.
Any ban required, however, a scientific basic of argument, Hendricks said, adding that she was open for suggested bill amendments.
The draft adopted by Merkel's cabinet in April would allow strict fracking trials from 2016 and only allow it in geological strata below 3,000 meters (9,842 feet). It would be banned in water supply catchments, also used by Germany's mineral water bottlers and breweries.
Commercial extraction of natural gas could start in 2019.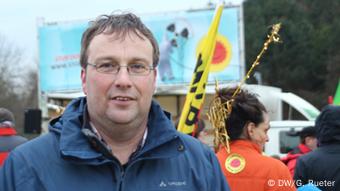 Only a fossil fuel "escalation," says the Greens' Kirscher
Greens and Left slam bill
Opposition Greens and the Left party slammed Hendrick's draft bill during Thursday's first plenary reading in the Bundestag's Berlin chamber.
Fracking was a "new level of escalation" in fossil fuel extraction, said the Greens deputy parliamentary group leader Oliver Krischer.
"One doesn't have to be a prophet to know that the United States will pay dearly for [its] short-term gas boom," Krischer said, adding that it would end up having to drink "poisoned" groundwater.
Left party environmentalist Hubertus Zdebel described fracking as a "danger for humankind and nature."
"Fracking contaminates the ground and potable water with chemicals, methane set free and waste water separated during extraction," Zdebel said.
'Secure local gas supply'
Joachim Pfeiffer, an economics expert among Chancellor Angela Merkel's governing Christian Democrats (CDU), said Germany could secure its own natural gas supply for 13 years fully by fracking its own known geological deposits.
Opinion had already been split among Merkel's own CDU. One hundred of her deputies recently demanded additional exclusion zones to protect ground water, ahead of Thursday's first bill reading.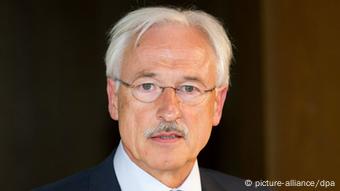 Kalkoffen wants more fracking lee-way
The German oil and gas extraction association warned that Germany's geological industry, which includes training in drilling methods, risked becoming insignificant if fracking was completely banned.
"The draft bill goes too far in some points," said the association's chairman, Gernot Kalkoffen.
Germany's 50-year practice of extracting its own gas from natural underground chambers had sunk since 2004 from 20 to 10 percent of overall supply, he said.
In consequence, Germany imported more natural gas from countries in which less strict environmental standards were applied, Kalkoffen said, in an indirect reference to exporters such as Russia.
'Lubricated' fault lines linked to quakes
Fracking or hydraulic fracturing is a process used to extract gas or oil from shale rock by injecting a mixture of water, sand and chemicals at high pressure into underground strata to release fossil fuel hydrocarbons deposited eons ago.
Last month, the US Geological Survey (USGC) said central and eastern US areas were increasingly being jolted by earthquakes triggering by drilling fluids used in fracking.
"The picture is very clear" that wastewater injection could result in movements along geological fault lines, said USGC geophysicist William Ellsworth.
ipj/kms (AFP, dpa, Reuters, AP)