Kremlin opponents across Russia took to the streets on Sunday to protest planned hikes to the retirement age, just as authorities were holding regional elections on the same day.
Hundreds took part in the demonstrations across 25 towns and cities, including in Moscow and in St. Petersburg.
The protests were called by opposition leader and anti-corruption activist Alexei Navalny, who is currently serving a 30-day jail sentence in connection with an unrelated protest back in January. Around 50 of his supporters were arrested ahead of Sunday's rallies, although that failed to stop them from going ahead.
Another 150 people were arrested at the various protests, according to independent monitoring group OVD-Info.
The Russian government plans to raise the retirement age by five years — from 60 to 65 for men and 55 to 60 for women. Average life expectancy in Russia is 66 for men and 77 for women.
The proposal has triggered a rare public outburst and seen President Vladimir Putin's approval rating suffer a 15-percent hit.
Despite sitting behind bars, Navalny still made his presence felt ahead of the demonstrations. "For 18 years, Putin and his government have stolen from the budget and squandered it on meaningless projects. Now the money's run out and we have to steal from pensioners to make ends meet," Navalny's social media team posted as they called on the public to take to the street.
The Kremlin's pension reform plan appears to be the most unpopular government move since it scrapped several Soviet-era benefits back in 2005.
Read more: As Russia votes, pension protests could bring surprises
Little effect at the ballot box
However, that discontent appeared unlikely to translate at the ballot box, as Russians on Sunday voted for their governors, local lawmakers and other officials. In Moscow, for example, mayor and Putin ally Sergei Sobyanin is expected to win by a landslide despite refusing to take part in any electoral debates leading up to the vote.
OVD-Info reported of several scuffles between observers and police volunteers at Moscow polling stations.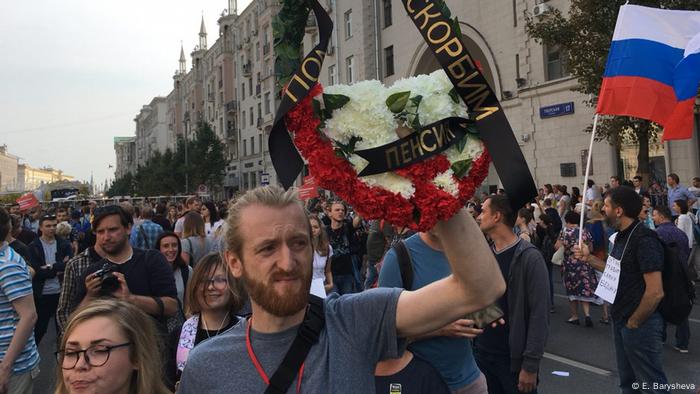 Sunday's protests against the Kremlin's pension reforms saw a spate of arrests and scuffles outside polling booths
Sunday's vote is also expected to be marred by low turnout, mainly due to widespread discontent over the government's pension reforms. "Obviously the dissatisfaction with the pension reform will be expressed in a reduction in the percentage of voters for the ruling party, as well as overall electoral activity," Valery Fedorov, the head of the Russian Public Opinion Research Center, said in comments carried by the Interfax news agency last week.
Meanwhile, Google reportedly removed a YouTube advertisement by Navalny in which he promoted Sunday's protests. Authorities complained to Google that it violated Russian election law, according to a Navalny aide.
dm/rc (AP, AFP, Reuters, dpa)
Each evening at 1830 UTC, DW's editors send out a selection of the day's hard news and quality feature journalism. You can sign up to receive it directly here.